06/12/2015
Bonne ambiance ce vendredi soir
Toutes les équipes ont bien participé et la compétition a été assez équilibrée.
Victoire de Manu à l'intérieur des Number 1 et sympathiques prestations des autres équipes (Polytech vifs, Jeunes souriants, Dream Team fiers et Bimp exubérants)
Rapidité cinéma
01 Dirty dancing (Bill Medley & Jennifer Warnes-(I've Had) The Time Of My Life)
02 L'Ile Aux Enfants
03 The Invaders (Les Envahisseurs)
04 Le Grand Blond Sirba (Vladimir Cosma)
05 Will Smith-Men In Black
06 Arabesque (Muder she wrote)
07 Les dents de la mer-Main Title (Theme From 'Jaws')
09 (Qui veut la peau de roger rabbit)Amy Irving-Why Don't You Do Right (1988)
10 Bagdad Cafe (Jevetta Steele-Calling You)
11 Hélène et les garçons
12 Le roi Lion (Jason Weaver, Rowan Atkinson & Laura Williams-I Just Can't Wait To Be King)
13 The Full Monty (Hot Chocolate-You Sexy Thing)
14 Drôle de dames/Charlie's Angels-Theme
15 Ally McBeal-Vonda Shepard-Searchin' My Soul
16 Colargol
17 Psychose-Psycho (The Murder-Bernard Hermann)
18 Jacques Cardona-Inspecteur Gadget
19 Francis Lai-Un Homme Et Une Femme (Francis Lai)
20 Jan Hammer - 2 flics à Miami/ Miami Vice Theme
Ecrit
thème 1 70's international
01 The Police-Message In A Bottle
02 ABBA-Voulez-Vous
03 Patti Smith-Because The Night (composé par Bruce Springsteen)
04 Pink Floyd-Wish You Were Here
05 Deep Purple-Smoke On The Water
06 Ramones-Sheena Is A Punk Rocker
07 Creedence clearwater revival-Hey tonight
08 Earth, Wind & Fire-Fantasy
09 AC/DC-High Voltage
10 Blondie-Atomic
Number 1 17 Polytech 16 Jeunes 15 Dream team 14 Bimp 10
thème 2 chanson française
01 Ma Pomme (Maurice Chevalier)
02 Si j'avais un marteau (Claude François)
03 William Sheller-Le Carnet A Spirale
04 San Francisco (Maxime Le Forestier)
05 Qui Saura (Mike Brant)
06 Barbara-L'aigle Noir
07 La Maladie D'amour (Michel Sardou)
08 Boby Lapointe-La Peinture À L'huile (génie mathématiques-système bi-binaire)
09 Dream In Blue (François Valéry et Sophie Marceau)
10 La Poupée Qui Fait Non (Michel Polnareff)
11 28° à l'ombre (Jean Francois Maurice)
Polytech 19 Jeunes 17 Bimp 16 Dream team 16 Number 1 16
Thème 3 rock collection de Laurent Voulzy
01 The Beatles-A Hard Day's Night
02 The Rolling Stones-(I Can't Get No) Satisfaction
03 Them-Gloria
04 Massachusetts (Bee Gees)
05 The Beach Boys-I Get Around
06 Mamas & The Papas-California Dreamin'
07 Donovan-Mellow Yellow
08 Mr. Tambourine Man (Bob Dylan)
09 Little Eva-The Locomotion (repris par Kylie Minogue)
Number 1 17 Dream team 14 Polytech 14 Bimp 13 Jeunes 12
total écrit Number 1 50 Polytech 49 Dream team 44 Jeunes 44 Bimp 39
Rapidité
01 Jean-Michel Jarre-Oxygène, Pt. I
02 R.E.M.-Losing My Religion
03 Daft Punk-Robot Rock
04 The Doors-Strange Days
05 sylvie vartan et Carlos-2'35 De Bonheur
06 The Who-Won't Get Fooled Again
07 Jimi Hendrix Experience-If 6 Was 9
08 Alphaville-Sounds like a melody
09 Green Day-Sassafras Roots
10 Led Zeppelin-The Song Remains The Same
11 Nirvana-On A Plain
12 Elvis Presley-In The Ghetto
13 The Kinks-Sunny Afternoon
14 Talk Talk-It's My Life
15 Rage Against the Machine-Bullet in the Head
16 Lady Gaga-Poker Face
17 Eagles Of Death Metal-I Want You Soo Hard (Boy's Bad News)
18 Amélie Morin-J'étais venue pour dire bonjour
19 Pixies-Hang Wire
20 Manu DiBango-Soul Makossa
21 Iron Maiden-To Tame A Land
22 Century-Lover why
23 ZZ Top-Beer Drinkers & Hell Raisers
24 Madness-Embarrassment
25 Les Charlots-Aperobic
bilan des 2 rapidités
Number 1 14 Jeunes 10 Dream team 10 Polytech 6 Bimp 3
total du total Number 1 64 Polytech 55 Dream team 54 Jeunes 54 Bimp 42
A bientôt
30/11/2015
Fête ce samedi (je ne serai pas aux manettes)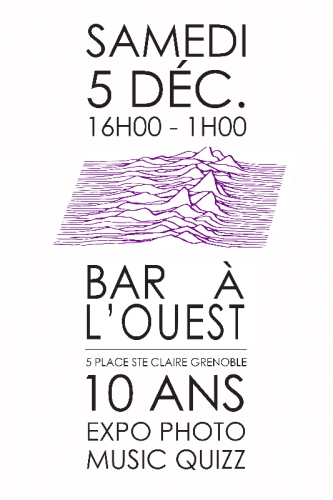 Bon on est un peu à l'arrache, comme d'hab, mais

ce samedi

05 décembre, on fête enfin les 10 ans d'existence de l'Ouest avant que 2015 soit définitivement parti
e en fumée. Alors venez nous rejoindre un moment à partir de 16h et jusqu'à 1h du mat. On sera toute l'équipe au complet, pour vous accueillir avec l'aide précieuse de Radio Campus, pour des quizz, des trucs à gagner, des trucs à manger, des trucs à boire, des trucs à voir et écouter. Enfin, vous dire merci surtout pour ces 10 ans! A

samedi

!
23/11/2015
14/11/2015
Lors du dernier blind-test j'avais choisi un morceau des Eagles of Death Metal sans savoir qu'ils devaient se produire au Bataclan ce vendredi 13. Le public a été victime du terrorisme islamiste et le bilan est très lourd (une centaine de morts environ).
Une pensée émue pour ces victimes ainsi que ceux des autres attentats. Et un clip du groupe pour ne pas oublier.
11/11/2015
Bonne ambiance chaleureuse, colorée et sympathique. Belle victoire des poneys jaunes qui étaient au dessus du lot. Trois autres équipes ont été valeureuses (jean machine sympathique comme toujours). Il manquait teucheu chez les lémuriens putrides (il leur aurait rapporté beaucoup de points). Saluons le retour de Léna la brune. Et les Ni liste... toujours drôles.
Rapidité cinéma
01 zapping
02 Richard Simon-Capitaine Flam
03 La Famille Bélier (Je vole (Louane Emera)
04 Thalassa
05 E.T-Flying (hommage à Melissa Mathison la scénariste décédée)
06 Cobra (Jean Beauvoir-Feel the Heat)
07 Quel Temps Fait-Il À Paris (du Film «Les Vacances de Monsieur Hulot»)
08 Le Corniaud -Generique
09 Pulp Fiction-(Chuck Berry-You Never Can Tell)
10 Bewitched (Ma Sorcière Bien Aimée)
11 journal TF1 (années 70)
12 Lalo Schifrin-Mission Impossible
13 Les Jeux De Vingt Heures
14 Titanic (Céline Dion-My Heart Will Go On)
15 Blues Brothers-Everybody Needs Somebody To Love
16 Ratatouille (Le Festin)
17 Vidocq
18 Tu Veux Ou Tu Veux Pas
19 Fantasia chez les ploucs (Ekseption-Peace Planet)
20 Phenomena (The Valley-Bill Wyman & Terry Taylor)
21 Stu Phillips (K 2000-Knight rider)
22 Histoire Sans Paroles (Chicken Reel)
23 La marche de l'empereur (The frozen world-Emilie Simon)
24 jesus Christ Superstar-Superstar
25 Charles Fox-Wonder Woman
26 Il Etait Une Fois La Revolution/Giu Li Testa
27 Dark Crystal (The Pod Dance-Trevor Jones)
28 La feline-Cat People (David Bowie -putting out fire)
29 Angelo Badalamenti (Theme from Twin Peaks - Fire Walk With Me)
30 Le Mystere Du Lac
Ecrit
Theme 1 rouge
00 Blood Red (Slayer)
01 Banlieue Rouge (Renaud)
02 UB40 (formulaire inscription anpe anglaise)- Red, Red Wine
03 Red Hot Chili Peppers-Breaking The Girl
04 Le Poisson Rouge (Bourvil)
05 Red House (Jimi Hendrix)
06 jeanne mas - en rouge et noir
07 Prince-Little Red Corvette
08 King Crimson-Red
09 Canned Heat-On the Road Again (dans la Bo de Red 2)
10 St. Germain-Rose Rouge
Jean Machine 24 (joli perfect) Remi 22 Poneys jaunes 21,5 Lémuriens Putrides 19 Ni liste ni écriviste 15 Canards 15
theme 2 Groupes animaux
00 Grizzly Bear-Two Weeks
01 Arctic Monkeys-Brianstorm
02 The Beatles-From Me To You
03 Blue Öyster Cult-Deadline
04 The Byrds-Mr. Tambourine Man
05 Eagles-Hotel California
06 Stray Cats-Baby Blue Eyes
07 Pink Floyd-Arnold Layne (intrus la légende l'appelle le flamant rose)
08 Scorpions-Loving You Sunday Morning
09 Eagles of Death Metal-Miss Alissa
10 Who Am I (What's My Name) (Snoop Dogg)
Poneys jaunes 18 Jean Machine 15 Remi 14 Lémuriens Putrides 13 Ni liste ni écriviste 13 Canards 10
Thème 3 rock francais ville demandée
00 Jacques Higelin-Trois Tonnes De T.N.T.
01 Ghost (Skip The Use) (Lille/Ronchin)
02 C2c-Down The Road (Nantes)
03 Shakin' With Linda (Dogs) (Rouen)
04 Air-Kelly Watch The Stars (Versailles)
05 Taxi Girl-Cherchez le garcon (Paris)
06 Tostaky (Le Continent) (Noir Désir) (Bordeaux)
07 Capitaine Abandonné (Gold) (Toulouse)
08 Téléphone-Argent trop cher (Lyon d'adoption et parisien)
09 Hush (Little Bob Story) (Le Havre) (Billy Joe Royal interprète original décédé récemment)
10 Ange-Fils De Lumiere (Belfort/Vesoul franche compté)
Poneys jaunes 23,5 Jean Machine 21 Lémuriens Putrides 20 Ni liste ni écriviste 18 Remi 15 Canards 9
Theme 4 le diable
00 Van Halen-Runnin' With The Devil
01 Sympathy For The Devil (Rolling Stones)
02 Beck-Devil's Haircut
03 ZZ Top-El Diablo
04 Olivia Ruiz-Spit The Devil
05 Cliff Richard-Devil woman
06 Brigitte Bardot-Le Diable Est Anglais
07 Dancing With The Devil (Marina Kaye)
08 Dieu Est Conservateur, Le Diable Est Libéral (Trust)
09 The Residents-Devil In Disguise (reprise d'Elvis Presley)
10 The Gun-Race With The Devil
Remi 17 Jean Machine 16,5 Lémuriens Putrides 15,5 Poneys jaunes 15 Ni liste ni écriviste 15
Total écrit Poneys jaunes 81,5 Jean Machine 76,5 Remi 68 Lémuriens Putrides 67,5 Ni liste ni écriviste 61 Canards 34
Rapidité artiste
01 No More Sages (Maserati)
02 Loreleï Sebasto Cha (Hubert Félix Thiéfaine)
03 She Said (Jon Spencer Blues Explosion)
04 Kraftwerk-The Model.
05 Richard Strauss-Also Sprach Zarathustra, Op. 30 - 1. Einleitung (Introduction)
06 Jim Carrey & George Martin-I Am The Walrus
07 Led Zeppelin-Communication Breakdown
08 Stranglers-Ugly
09 Lou Doillon-Worth Saying
10 Dire Straits-Tunnel Of Love (débute par un sample composé par Oscar Hammerstein II)
11 Abba-The Name Of The Game
12 Glenn Miller-Pensylvania 6-5000
13 Biohazard-Scarred For Life
14 R.E.M.- How The West Was Won And Where It Got Us
15 The Police-One World (Not Three)
16 Bruce Springsteen-Spirit In The Night
17 Billy Idol-Eyes Without A Face
18 Muse-Screenager
19 Jean Michel Jarre-Equinoxe Part 4
20 Kate Bush-There Goes A Tenner
21 K.C. & The Sunshine Band-Shake Your Booty
22 Bangers and Mash (Sophia Loren & Peter Sellers)
23 Creedence Clearwater Revival-Commotion
24 Machine Gun Etiquette (Damned)
25 Chic-Good Times (These Are The)
26 Kaiser Chiefs-I Predict A Riot
27 Queen-Lazing on a Sunday Aftermoon
28 Bye Bye Baby (Marilyn Monroe)
29 Hole-She Walks On Me
30 Motörhead-We Are Motörhead
Bilan des rapidités
Poneys jaunes 16 Lémuriens Putrides 10 Ni liste ni écriviste 7 Remi 7 Jean Machine 6 Canards 4 Fans de Yves 4 Barmen 4
Total du total
Poneys jaunes 97,5 Jean Machine 82,5 Lémuriens Putrides 77,5 Remi 75 Ni liste ni écriviste 68 Canards 38