04/05/2017
Dernier blind-test de l'année à cause de l'été chaud qui va arriver (on l'attend pour l'instant). Ambiance chaleureuse donc malgré le froid extérieur et bonne présence malgré les matchs (Ajax-Lyon, Monaco-Juventus, Macron-Le Pen).
Les Spanish bombs font la différence à l'écrit. Les Torseurs assurent leur 2ème place à la rapidité. Bonne prestation des Pas évident: une recrue de choix change la donne chez les Mi Royal. Les barmen brillants à la rapidité n'ont que moyennement participé à l'écrit. La New team nous a rejoint pour la 2ème rapidité.
Rapidité cinéma
01 Happy Days (R.I.P Erin Moran aka Joanie Cunnigham)

02 The Silence of the Lambs/Silence des agneaux (R.I.P Jonathan Demme)
03 Wrong Cops (Mr Oizo-WC)
04 game of thrones
05 La vie est un long fleuve tranquille (Patrick Bouchitey - Jésus Revient)
06 Kenny Loggins - Footloose
07 profilage
08 Amicalement vôtre-The Persuaders!
09 Les Chevaliers Du Ciel
10 Vertigo/Sueurs froides - Prelude and Rooftop
11 Il était une fois la révolution/ Giu la Testa (Invenzione Per John)
12 Ratatouille-Le Festin
13 Le cerveau- (American Breed-The brain)
14 Zone Blanche
15 Daria-You're Standing On My Neck
16 Twin Peaks-Theme from Twin Peaks - Fire Walk With Me
17 Le Samouraï
18 Axel F (Le flic de Beverly Hills/Beverly Hills Cop)
19 Wallace & Gromit (Hans Zimmer)
20 Le triporteur
21 Chapeau melon et Bottes de cuir_The Avengers
22 Les chiens de paille
23 Merci Patron
24 Le prisonnier/The Prisoner theme
25 Fin Des Programmes antenne 2
Theme 1 Artistes commençant par St
00 Starshooter - Macho
01 If You Love Somebody Set Them Free (Sting)
02 The Strokes-The End Has No End
03 Status Quo - Rockin' All Over the World (reprise de John Fogerty)
04 The Stooges-No Fun
05 Steppenwolf - Born to Be Wild/Easy Rider
06 Stéphanie (de Monaco)-Ouragan
07 Stray Cats-Runaway Boys
08 Stravinsky-L'Oiseau De Feu, 1945 - 2. L'Oiseau De Feu Et Sa Danse - Variation De L'Oiseau De Feu
09 Stranglers-Something Better Change
10 Stealers Wheel-Stuck in the Middle With You/Reservoir Dogs
11 Steely Dan-Do It Again
12 Stereolab - Eye Of The Volcano
Spanish bombs 22 Torseurs 18 Pas évident 18 Mi royal 7 Barmen 5
Thème 2 personnages de chansons
00 Pixies-Ana
01 Cat Stevens-Sad Lisa/chanson préférée de Helena Noguerra
02 Renaud-Les aventures de Gérard Lambert
03 Ballade De Melody Nelson (Serge Gainsbourg)
4 Catherine Ringer-Andy
05 Ramones - Judy Is A Punk
06 Ange - Godevin Le Vilain
07 Charlotte The Harlot (Iron Maiden) (présente aussi dans 22 Acacia avenue, Hooks in You et From Here to Eternity)
08 Whole Lotta Rosie (AC/DC)
09 David Bowie-Ziggy Stardust
10 Blue Öyster Cult- Dominance And Submission (Suzy non mentionnée dans le titre mais présente aussi dans astronomy, before the kiss (a redcap), the marshall plan)
Spanish bombs 15 Pas évident 14,5 Torseurs 12 Mi royal 5
Thème 3 artistes ayant effectué beaucoup de reprises
00 Joan Jett -Do You Wanna Touch Me (Oh Yeah)/Gary Glitter
01 Señor Coconut-Smoke On The Water (Cha-Cha-Cha)/Deep Purple
02 Santana-Black Magic Woman/Fleetwood Mac
03 Tu Verras (O Que Sera) (Claude Nougaro)/Chico Buarque
04 The Blues Brothers-Everybody Needs Somebody To Love/Solomon Burke
05 Big Daddy-With a Little Help From My Friends/The Beatles
06 Hayseed Dixie-Highway to Hell/AC-DC
07 Miles Davis-Time After Time/Cindy Lauper
08 Creedence clearwater Revival/Suzie Q/Dale Hawkins
09 Da Dou Ron Ron (Johnny Hallyday)/The Crystals
10 Nouvelle Vague-Blue Monday/New Order
11 Elvis Presley-Blue Suede Shoes/Carl Perkins
12 Cendrier (Bidochons) /Téléphone
13 The Residents-Don't Be Cruel/Elvis Presley
14 Grace Jones-La Vie En Rose/Edith Piaf
15 Jimi Hendrix -All Along The Watchtower/Bob Dylan
16 Belles ! belles ! belles ! (Claude François)/ Everly Brothers
17 386 DX-Rape Me/Nirvana
18 Richard Anthony - Fich'le Camp Jack/Ray Charles
19 Apocalyptica-Master Of Puppets/Metallica
20 Vanilla Fudge-Bang Bang/Cher et non Nancy Sinatra
21 Balanescu Quartet-Robots/Kraftwerk
Spanish bombs 49 Pas évident 43 Torseurs 39 Mi royal 36,5 Barmen 16
Total de l'écrit Spanish bombs 86 Pas évident 75,5 Torseurs 69 Mi royal 48,5 Barmen 21
01 AC/DC-Hells Bells
02 L7-Scrap
03 King Crimson-One More Red Nightmare
04 Pink Floyd-Corporal Clegg
05 The Police - Deathwish
06 Led Zeppelin feat Sandy Denny-The Battle of Evermore
07 Madness-Our House
08 Abba-Money, Money, Money
09 The J. Geils Band-(Ain't Nothin' But A) Houseparty (R.I.P Jay Geils)
10 Chemical Brothers (the)- Block Rockin' Beats
11 Slayer-At Dawn They Sleep
12 Patti Smith -Dancing barefoot
13 The Beatles-A Day in the Life
14 France Gall-Hong kong star
15 M83-Skin Of The Night
16 Gang Of Four-Natural's Not In It
17 Michel Portal - Mozambic
18 Faith No More-Kindergarten
19 Jamiroquai- When You Gonna Learn? (Digeridoo)
20 Diana Ross-Upside Down
21 Magma - Thaud Zaia
22 Cream On Chrome (Ratatat)
23 Rick Wakeman-Cathrine Parr
24 Ludwig Von 88 - Enola Gay
25 Robots In Disguise-Arguments
26 Iron Maiden-Falling
27 Ian Dury-Sex And Drugs And Rock 'N' Roll
28 The Rolling Stones- Around And Around
29 Nina Hagen - Cosma shiva
30 Olivia Ruiz feat the Noisettes-Mon Petit À Petit
31 Boby Lapointe - Leçon De Guitare Sommaire
32 Pretenders-Brass In Pocket
Total des 2 rapidités Torseurs 14,5 Barmen 12 Spanish bombs 9 Pas évident 7 Mi Royal 7 New Team 3
Total du total Spanish bombs 95 Torseurs 84,5 Pas évident 82,5 Mi Royal 55,5 Barmen 33
Les Spanish bombs ont choisi de réécouter Jimi Hendrix - All Along The Watchtower.
A un de ces jours, pour de nouvelles aventures
09/01/2017
05/12/2016
Le prochain blind-test aura lieu le 14 décembre à partir de 20h30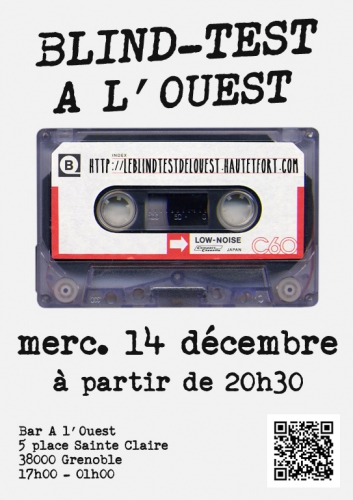 Venez nombreux! A bientôt.
16/11/2016
Cela faisait longtemps, j'animerai un blind-test le mardi 29 novembre à partir de 19h30 (arrivez avant si vous voulez être sûrs d'avoir de la place!)
Toujours la même formule 4 thèmes écrits + une longue série musiques de films appelée gloubiboulga.
Pas d'affiche mais cela ne vous empêche pas de venir.
13/10/2016
Bonne soirée à l'ouest à la veille de journées pluvieuses.
Les filles des Bourses en cache-nez sont venues en force et elles gagnent grâce à la rapidité (surtout celle du cinéma). Il manquait un leader aux vieux fourneaux ainsi qu'aux Dest. Les Barmen aidés complètent le podium.
A une prochaine.
Rapidité cinéma
01 Herschell Gordon Lewis-2000 Maniacs (inventeur du gore)
02 Gladiator-Progeny (Hans Zimmer & Lisa Gerrard)
03 Monsieur Cinéma/L'oeuf
04 ghost (The Righteous Brothers - Unchained Melody)
05 John Barry-Out Of Africa - Main Title
06 Les Visiteurs La Revolution-Enae volare mezzo (Electro Remix) (Eric Lévi)
07 Deux super flics
08 Les Saisons du Plaisir
09 Mission impossible (Limp Bizkit-Take A Look Around)
10 Sacre Graal !
11 La Dolce Vita
12 12 Monkeys
13 Subway (Arthur Simms-It's Only Mistery)
14 Un génie, deux associés, une cloche / Un genio, due compari, un pollo
15 Bobby Vinton-Blue Velvet
16 Les Vacances du petit Nicolas-La Madrague
17 La Cabra (La Chevre)
18 Unforgettable
19 Youth (Paloma Faith-Can't Rely on you)
20 rizzoli & isles
21 A Clockwork Orange/Orange mécanique (Beethoven_ Symphony #9 - .2 (Abridged), Scherzo, Suicide)
Thème 1 Hommage à ma mère décédée
00 ABBA-My Mama Said
01 AC/DC-It's A Long Way To The Top (If You Wanna Rock 'n' Roll)
02 Supertramp-School
03 911 Is A Joke (Public Enemy)
04 Bananarama-Cruel Summer
05 Ne Me Quitte Pas (Jacques Brel)
06 Slayer-South Of Heaven
07 Djur Djura-FSI NER AK-K Srerser (La Corde Qu'il Faut Rompre) (chanté en kabyle)
08 The Troggs-Meet Jacqueline
09 Dactylo Rock (les Chaussettes Noires)
10 Mon Légionnaire (Edith Piaf)
11 Beethoven-Symphony #5 Allegro Con Brio
Bourses en cache-nez 16 Barmen 13 Vieux Fourneaux 12 Dest 9,5 Crustacés 9,5 jacqueline's 8
Thème 2 brexit
00 The Police-The Bed's Too Big Without You
01 Queen-We Will Rock You
02 Oasis-Wonderwall
03 Summer Son (Texas) (Ecossais)
04 David Bowie-Ashes To Ashes
05 Deep Purple-Smoke On The Water
06 Elton John-Goodbye Yellow Brick Road
07 The Rolling Stones-(I Can't Get No) Satisfaction
08 Them-Baby Please Don't Go (Irlande du Nord)
09 Portishead-Glory Box
10 Depeche Mode-Master And Servant
11 A Design For Life (Manic Street Preachers) (gallois)
13 The Beatles-Hey Jude
Dest 22,5 Barmen 20 Bourses en cache-nez 20 Vieux Fourneaux 16 jacqueline's 14 Crustacés 10,5
Thème 3 smith
00 Editors-All Sparks (Tom Smith)
01 Boys Don't Cry (Cure) (Robert Smith)
02 MC5-Kick Out The Jams (Frederick Smith)
03 Patti Smith-Because The Night (composé par Bruce Springsteen)
04 Aerosmith-Walk This Way
05 Iron Maiden-The Number of the Beast (Adrian Smith)
06 How Soon Is Now (Smiths) (générique de Charmed)
07 Television-Prove It (Frederick Smith)
08 Arthur Smith-Guitar Boogie
09 Elliott Smith-Looking Over My Shoulder
10 Red Hot Chili Peppers-The Power Of Equality (Chad Smith)
11 Bessie Smith-You've Got To Give Me Some
Vieux Fourneaux 19 Barmen 14 Bourses en cache-nez 10 Dest 8 jacqueline's 7
Thème 4 voix éraillées
00 The Pogues-Thousands Are Sailing
01 AC/DC-High Voltage
02 Kim Carnes-Bette davis eyes
03 Alice Cooper-Under My Wheels
04 Johnny Winter-Raised On Rock
05 Louis Armstrong-What a Wonderful World
06 Creedence Clearwater Revival-Born On The Bayou
07 Paul Personne-Barjo Land
08 Joe Cocker-The Letter
09 It's A Heartache (Bonnie Tyler)
10 Tom Waits-More Than Rain
11 John Mayall-Little Girl
Vieux Fourneaux 12,5 Bourses en cache-nez 11 Dest 6 Barmen 6 jacqueline's 5
total écrit Vieux Fourneaux 59,5 Bourses en cache-nez 57 Barmen 53 Dest 46 jacqueline's 34
Rapidité
01 Stranglers-Down In The Sewer
02 Air & Françoise Hardy-Jeanne
03 Fool's Garden-Lemon Tree
04 Frank Zappa-Eat That Question
05 Jefferson Airplane/John Loudermilk-Tobacco Road
06 Pink Floyd-Lucifer Sam
07 Ben Harper & The Innocent Criminals-Fool For A Lonesome Train
08 Led Zeppelin-Moby Dick
09 Day After Day (Pretenders)
10 Jacques Dutronc-Les Play Boys
11 Suicide-Ghost Rider
12 Pixies-Hang Wire
13 Propaganda-P-Machinery
14 Cat Stevens-Sad Lisa
15 Bloodhound Gang -Fire Water Burn
16 Pat Benatar-Sex As A Weapon
17 Blondie-Follow Me
18 Hole-Northern Star
19 Motörhead-Shine
20 Dani-La Fille À La Moto
21 Diana Ross & the Supremes-You Keep Me Hangin' on
22 Carl Orff-Cour D'Amours_ Tempus Est Iocundum
23 Nietzsche (Dandy Warhols)
24 Jean-Luc Ponty-The Struggle Of The Turtle To The Sea Part III
25 Bee Gees-You Should Be Dancing
26 Elvis Presley-In The Ghetto
27 King Crimson-Book Of Saturday
28 Microfilm-Rio
29 Serge Gainsbourg-Chez Max Coiffeur Pour Hommes
30 Michel Sardou-Les villes de solitude
Total des rapidités Bourses 19 Barmen 11 Fourneaux 8 Dest 8 jacqueline's 1
Total du total Bourses en cache-nez 76 Vieux Fourneaux 67,5 Barmen 64 Dest 54 jacqueline's 35 Crustacés 20
A bientôt.