05/11/2017
19/10/2017
Bonne ambiance à l'Ouest ce mardi soir. Nette victoire des végétariens (nombreux). Les 3 suivants dans un mouchoir de poche (Dest deuxième finalement). mention à Low qui s'est débrouillé tout seul.
A bientôt
Rapidité cinéma
01 Zombi-L'alba Dei Morti Viventi (Goblin)
02 Scoubidou
03 Le Retour Du Grand Blond
04 4 z'amis
05 Massacre à la tronçonneuse
06 Les Guignols De L'info (Storming)
07 Les demoiselles de Rochefort (Danielle Darrieux- Chanson d'Yvonne)
08 Urgences (James Newton Howard)
09 Dites, ça vous dirait... (Vive les Femmes)
10 la linea
11 Deliverance-Dueling Banjos (Eric Weissberg & Steve Mandell)
12 Eric Charden-San Ku Kaï
13 alibi.com (michtos 2)
14 Alien-Main Title (Jerry Goldsmith)
15 Envoyé Spécial (Even de Tissot)
16 Boulevard de la mort (Death Proof)-Chick Habit (April March)
17 E=M6
18 Dirty dancing -Bill Medley & Jennifer Warnes-(I've Had) The Time Of My Life
19 Jeux interdits -Romance (Narciso Yepes)
20 L'homme des hautes plaines-High Plain Drifter
21 Charade (Main Title) (Henry Mancini)
22 Phantom Of The Paradise-Faust
23 Capitaine Flam (Richard Simon)
24 Vladimir Cosma-Hello Marylin (Un Elephant Ca Trompe Enormement)
25 black swan (Nina's Dream (Clint Mansell)
26 Wally Gator
Danielle Darrieux est décédée pendant le blind-test, aucun lien de cause à effet néanmoins.
Thème 1 carrières courtes
00 Gina X Performance-Plastic Surprise Box
01 The Doors-L.A. Woman
02 Abba-The Winner Takes It All
03 Sex Pistols-God Save The Queen
04 Téléphone-Crache Ton Venin
05 Creedence Clearwater Revival-Bad Moon Rising
06 Kas Product-Pussy X
07 Pixies-Gouge Away
08 Joy Division-Transmission
09 The Police-Can't Stand Losing You
10 Sabine Paturel-Les Betises
11 Cream-White Room
12 Spencer Davis group-I'm A Man
Végétariens 19 deux 16 Bourses 15 Dest 13 Low 13
Thème 2 brunettes
00 Pat Benatar-Anxiety (Get Nervous)
01 PJ Harvey-Good Fortune
02 Les Rita Mitsouko- Les Histoires D'a.
03 The Breeders-Cannonball
04 Patti Smith Group-Frederick
05 Joan Jett & The Blackhearts-I Love Rock 'N Roll
06 Natalie Imbruglia-Shiver
07 Enya-Orinoco Flow
08 Nico-It Has Not Taken Long (intrus blonde teinte en brune: ça existe!)
09 Cher-Just like Jesse James
10 New Soul (Yael Naim)
11 Les brunes comptent pas pour des prunes (Lio)
12 Le Tigre - My My Metrocard
13 Joséphine Baker-J'ai Deux Amours
Dest 19 Bourses 19 deux 18 Végétariens 18 Low 11
Thème 3 plagiats et leurs originaux
00 Steve Miller Band-Space Cowboy (ressemble à Ca c'est vraiment toi de Téléphone)
01 Nirvana-Come As You Are
02 Killing Joke-Eighties
03 Scorpions-Always Somewhere
04 Lynyrd Skynyrd-Simple Man
05 Daft Punk-Robot Rock
06 Breakwater-Release The Beast
07 MC Hammer- U Can't touch this
08 Rick James- Super Freak
09 Deep Purple-Child In Time
10 It's A Beautiful Day-Bombay Calling
11 George Harrison-My Sweet Lord
12 Chiffons-He's So Fine
13 Rod Stewart-Da Ya Think I'm Sexy?
14 Jorge Ben-Taj Mahal
15 Kim Kay-Lilali
16 The Chieftains-Ceol Bhriotanach
17 Led Zeppelin-Black Dog
18 Fleetwood Mac-Oh Well - Pt. 1
19 Pino Dangio - Ma Quale idea
20 McFadden & Whitehead - Ain't No Stoppin' Us Now
21 The Clash-Should I Stay Or Should I Go
22 John's Children -Let Me Know
23 Beck-Devil's Haircut
24 Them-I Can Only Give You Everything
Végétariens 32 deux 21 Dest 21 Low 19, 5 Bourses 15
Come as you are a été élu plagiat le plus éhonté.
Total écrit
Végétariens 69 Deux 55 Dest 53 Bourses 49 Low 43,5
Rapidité
01 Iron Maiden-Infinite Dreams
02 Tom Petty & The Heartbreakers-Don't Come Around Here No More
03 Donna Summer-Love To Love You Baby
04 Franz Ferdinand-Walk Away
05 David Bowie-Changes
06 Riverside (Agnes Obel)
07 Lou Reed-Satellite Of Love
08 Watch Me (Mademoiselle K)
09 Three Women (Jack White)
10 Miles Davis-Shhh - Peaceful
11 Lili Drop-Monde Animal
12 Pink Floyd - Let There Be More Light
13 Fratellis-Ole Black 'n' Blue Eyes
14 Stray Cats-Stray Cat Strut
15 Queen- Crazy Little Thing Called Love
16 William Sheller-Dans Un Vieux Rock'n Roll
17 Blue (Gish sessions demo) (Smashing Pumpkins)
18 Hervé Cristiani-Il Est Libre Max
19 Red Hot Chili Peppers - True Men Don't Kill Coyotes
20 Olivia Pedroli-The Day
21 The Jam-The Modern World
22 Ratatat-Cream On Chrome
23 Harley David Son Of A Bitch (Serge Gainsbourg)
24 Slayer-Angel Of Death
25 Rolling Stones-You Can't Always Get What You Want
26 Diana Ross-Upside Down
27 Dark Star (Poliça)
28 Lords of the New Church-Question Of Temperature
29 Santana-She's Not There
30 Brigitte Bardot-Je Danse Donc Je Suis
Total des deux rapidités
Végétariens 18 Bourses 11 Dest 9 Low 4 Deux 4 Alex 3 ice cube 38 1
Total du total
Végétariens 87 Dest 62 Bourses sans cache nez 60 Deux font la paire 59 Low 47,5
04/05/2017
Dernier blind-test de l'année à cause de l'été chaud qui va arriver (on l'attend pour l'instant). Ambiance chaleureuse donc malgré le froid extérieur et bonne présence malgré les matchs (Ajax-Lyon, Monaco-Juventus, Macron-Le Pen).
Les Spanish bombs font la différence à l'écrit. Les Torseurs assurent leur 2ème place à la rapidité. Bonne prestation des Pas évident: une recrue de choix change la donne chez les Mi Royal. Les barmen brillants à la rapidité n'ont que moyennement participé à l'écrit. La New team nous a rejoint pour la 2ème rapidité.
Rapidité cinéma
01 Happy Days (R.I.P Erin Moran aka Joanie Cunnigham)

02 The Silence of the Lambs/Silence des agneaux (R.I.P Jonathan Demme)
03 Wrong Cops (Mr Oizo-WC)
04 game of thrones
05 La vie est un long fleuve tranquille (Patrick Bouchitey - Jésus Revient)
06 Kenny Loggins - Footloose
07 profilage
08 Amicalement vôtre-The Persuaders!
09 Les Chevaliers Du Ciel
10 Vertigo/Sueurs froides - Prelude and Rooftop
11 Il était une fois la révolution/ Giu la Testa (Invenzione Per John)
12 Ratatouille-Le Festin
13 Le cerveau- (American Breed-The brain)
14 Zone Blanche
15 Daria-You're Standing On My Neck
16 Twin Peaks-Theme from Twin Peaks - Fire Walk With Me
17 Le Samouraï
18 Axel F (Le flic de Beverly Hills/Beverly Hills Cop)
19 Wallace & Gromit (Hans Zimmer)
20 Le triporteur
21 Chapeau melon et Bottes de cuir_The Avengers
22 Les chiens de paille
23 Merci Patron
24 Le prisonnier/The Prisoner theme
25 Fin Des Programmes antenne 2
Theme 1 Artistes commençant par St
00 Starshooter - Macho
01 If You Love Somebody Set Them Free (Sting)
02 The Strokes-The End Has No End
03 Status Quo - Rockin' All Over the World (reprise de John Fogerty)
04 The Stooges-No Fun
05 Steppenwolf - Born to Be Wild/Easy Rider
06 Stéphanie (de Monaco)-Ouragan
07 Stray Cats-Runaway Boys
08 Stravinsky-L'Oiseau De Feu, 1945 - 2. L'Oiseau De Feu Et Sa Danse - Variation De L'Oiseau De Feu
09 Stranglers-Something Better Change
10 Stealers Wheel-Stuck in the Middle With You/Reservoir Dogs
11 Steely Dan-Do It Again
12 Stereolab - Eye Of The Volcano
Spanish bombs 22 Torseurs 18 Pas évident 18 Mi royal 7 Barmen 5
Thème 2 personnages de chansons
00 Pixies-Ana
01 Cat Stevens-Sad Lisa/chanson préférée de Helena Noguerra
02 Renaud-Les aventures de Gérard Lambert
03 Ballade De Melody Nelson (Serge Gainsbourg)
4 Catherine Ringer-Andy
05 Ramones - Judy Is A Punk
06 Ange - Godevin Le Vilain
07 Charlotte The Harlot (Iron Maiden) (présente aussi dans 22 Acacia avenue, Hooks in You et From Here to Eternity)
08 Whole Lotta Rosie (AC/DC)
09 David Bowie-Ziggy Stardust
10 Blue Öyster Cult- Dominance And Submission (Suzy non mentionnée dans le titre mais présente aussi dans astronomy, before the kiss (a redcap), the marshall plan)
Spanish bombs 15 Pas évident 14,5 Torseurs 12 Mi royal 5
Thème 3 artistes ayant effectué beaucoup de reprises
00 Joan Jett -Do You Wanna Touch Me (Oh Yeah)/Gary Glitter
01 Señor Coconut-Smoke On The Water (Cha-Cha-Cha)/Deep Purple
02 Santana-Black Magic Woman/Fleetwood Mac
03 Tu Verras (O Que Sera) (Claude Nougaro)/Chico Buarque
04 The Blues Brothers-Everybody Needs Somebody To Love/Solomon Burke
05 Big Daddy-With a Little Help From My Friends/The Beatles
06 Hayseed Dixie-Highway to Hell/AC-DC
07 Miles Davis-Time After Time/Cindy Lauper
08 Creedence clearwater Revival/Suzie Q/Dale Hawkins
09 Da Dou Ron Ron (Johnny Hallyday)/The Crystals
10 Nouvelle Vague-Blue Monday/New Order
11 Elvis Presley-Blue Suede Shoes/Carl Perkins
12 Cendrier (Bidochons) /Téléphone
13 The Residents-Don't Be Cruel/Elvis Presley
14 Grace Jones-La Vie En Rose/Edith Piaf
15 Jimi Hendrix -All Along The Watchtower/Bob Dylan
16 Belles ! belles ! belles ! (Claude François)/ Everly Brothers
17 386 DX-Rape Me/Nirvana
18 Richard Anthony - Fich'le Camp Jack/Ray Charles
19 Apocalyptica-Master Of Puppets/Metallica
20 Vanilla Fudge-Bang Bang/Cher et non Nancy Sinatra
21 Balanescu Quartet-Robots/Kraftwerk
Spanish bombs 49 Pas évident 43 Torseurs 39 Mi royal 36,5 Barmen 16
Total de l'écrit Spanish bombs 86 Pas évident 75,5 Torseurs 69 Mi royal 48,5 Barmen 21
01 AC/DC-Hells Bells
02 L7-Scrap
03 King Crimson-One More Red Nightmare
04 Pink Floyd-Corporal Clegg
05 The Police - Deathwish
06 Led Zeppelin feat Sandy Denny-The Battle of Evermore
07 Madness-Our House
08 Abba-Money, Money, Money
09 The J. Geils Band-(Ain't Nothin' But A) Houseparty (R.I.P Jay Geils)
10 Chemical Brothers (the)- Block Rockin' Beats
11 Slayer-At Dawn They Sleep
12 Patti Smith -Dancing barefoot
13 The Beatles-A Day in the Life
14 France Gall-Hong kong star
15 M83-Skin Of The Night
16 Gang Of Four-Natural's Not In It
17 Michel Portal - Mozambic
18 Faith No More-Kindergarten
19 Jamiroquai- When You Gonna Learn? (Digeridoo)
20 Diana Ross-Upside Down
21 Magma - Thaud Zaia
22 Cream On Chrome (Ratatat)
23 Rick Wakeman-Cathrine Parr
24 Ludwig Von 88 - Enola Gay
25 Robots In Disguise-Arguments
26 Iron Maiden-Falling
27 Ian Dury-Sex And Drugs And Rock 'N' Roll
28 The Rolling Stones- Around And Around
29 Nina Hagen - Cosma shiva
30 Olivia Ruiz feat the Noisettes-Mon Petit À Petit
31 Boby Lapointe - Leçon De Guitare Sommaire
32 Pretenders-Brass In Pocket
Total des 2 rapidités Torseurs 14,5 Barmen 12 Spanish bombs 9 Pas évident 7 Mi Royal 7 New Team 3
Total du total Spanish bombs 95 Torseurs 84,5 Pas évident 82,5 Mi Royal 55,5 Barmen 33
Les Spanish bombs ont choisi de réécouter Jimi Hendrix - All Along The Watchtower.
A un de ces jours, pour de nouvelles aventures
09/01/2017
05/12/2016
Le prochain blind-test aura lieu le 14 décembre à partir de 20h30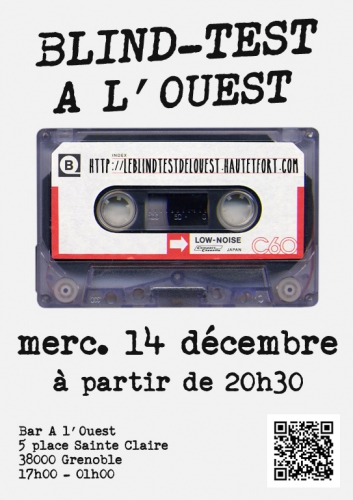 Venez nombreux! A bientôt.