03/02/2017
Le prochain blind-test aura lieu le 15 février à partir de 20h30: toujours au même endroit, le bar à l'Ouest.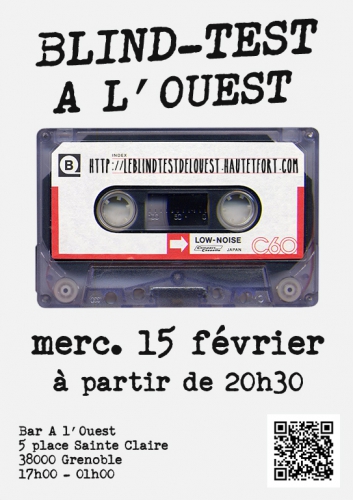 Venez nombreux.
20/01/2017
Ambiance chaleureuse à L'ouest, un peu trop chaude parfois (ça s'entendait). Victoire des Barmaid (merci Guillain) mais la bouteille revient aux hôtes à savoir les filles des Bourses sans cache nez. Ensuite viennent les Olives juste devant Yvette: à noter la participation d'équipes qui nous ont rejoint pour la rapidité.
A bientôt.
Rapidité cinéma
01 John Williams-Star Wars Main Theme
02 Debbie Reynolds-Singin' In The Rain (In A-Flat)
03 Des hommes et des dieux
04 Le Quai DesBrumes
05 Juan Montego-On the desert road (La Séquence Du Spectateur)
06 Phantom Of The Paradise-Somebody Super Like you (Beef Construction Song)
07 Les Demoiselles de Rochefort -La chanson d'un jour d'ete
08 Muppets Show - The Muppet Show Theme
09 Yellow Submarine-(Hey Bulldog-Beatles)
10 Broadchurch (end)
11 Once upon a Time in America (Il était une fois l'Amérique)
12 Goblin-Les frissons de l'angoisse=Profondo Rosso
13 Donnie Darko (Mad World-Michael Andrews & Gary Jules)
14 Mary Poppins sings Death Metal
15 La Traque
16 Les Guerriers de la nuit
17 Mike Post-Magnum
18 profilage
19 Vonda Shepard-Searchin' My Soul (BOF Ally McBeal)
20 Le convoi de la peur/Sorcerer (Tangerine Dream-Vengeance)
21 Kenny Loggins-Footloose
Thème 1 Anniversaire Olivier (je demandais aussi les années de sortie)
00 Who Are You (C2c Feat Olivier Daysoul)
01 Guns N' Roses-Welcome To The Jungle 1987
02 Adele-Skyfall 2012
03 Beat It (Michael Jackson) 1982
04 Noir Desir-Tostaky (Le Continent) 1992
05 Feist-1 2 3 4 2007
06 Deep Purple-Smoke On The Water 1972
07 Coldplay-Clocks 2002
08 Sex Pistols-God Save The Queen 1977
09 Céline Dion-My Heart Will Go On 1997
10 Dropkick Murphys-Blood 2017
Bourses sans cache nez 25 Barmaid 25 Yvette la Tourette 24 Olives 20 Chiflettes 18,5 Skr 14
Thème 2 aveugle/malvoyant
00 Blind Lemon Jefferson-Matchbox Blues
01 Stevie Wonder-Isn't She Lovely
02 Canned Heat-On the Road Again (pour Alan Wilson)
03 Black Eyed Peas-Pump It (pour apl.de.ap)
04 Gilbert Montagne-On va s'aimer
05 Ray Charles-I Got A Woman
06 Johnny Winter-Blinded By Love
07 Amadou & Mariam-beaux dimanches
08 Jose Feliciano - Light My Fire
09 Dave Brubeck Quartet-Take Five (pour Joe morello)
10 Jeff Healey Band-See The Light
Barmaid 19 Yvette la Tourette 17,5 Bourses sans cache nez 17,5 Olives 14,5 Chiflettes 11 Skr 8
03 conneries
00 Paris Hilton-Stars Are Blind
01 Stéphanie (de Monaco)-Ouragan
02 La Farandole de Jeanne (Jeanne Calment)
03 Desireless-Voyage Voyage
04 Betty Miranda-Take Me To The Top
05 Pino Dangio-Ma Quale idea
06 Claudia Phillips & the kicks-Quel souci la boetie
07 Michèle Torr-L'Amour est Bleu
08 Errol Dunkley-OK Fred
09 David & Jonathan-Est-Ce Que Tu Viens Pour Les Vacances¿
10 Mr. T - Treat Your Mother Right
Bourses sans cache nez 9 Olives 9 Chiflettes 7 Yvette la Tourette 7 Barmaid 6 Skr 3
Total écrit Bourses sans cache nez 53 Barmaid 50 Yvette la Tourette 49 Olives 43,5 Chiflettes 36,5 Skr 25
Rapidité
01 Jeff Buckley-Mojo Pin
02 Helicopter (Bloc Party)
03 Pink Floyd-Summer '68
04 Abba-On And On And On
05 La Femme-Sur La Planche 2013
06 Iron Maiden-Flash of the Blade
07 Zero (Smashing Pumpkins)
08 Carl Orff- In Taberna Quando Sumus
09 Led Zeppelin-How Many More Times
10 Bruce Springsteen-Darkness on the Edge of Town
11 The Police-The Other Way Of Stopping
12 The Rolling Stones-Mother's Little Helper
13 Sheila-Oui c'est pour toi
14 Wham!-The Edge Of Heaven
15 L7-Everglade
16 Kraftwerk-Abzug
17 Lili Drop-Monde Animal
18 XX-Crystalised
19 D.A.f (Deutsch-Amerikanische Freundschaft)-Sato-Sato
20 R.E.M.-Crush With Eyeliner
21 The Damned-Neat Neat Neat
22 Status Quo-Don't Drive My Car
23 Billy Idol-Eyes Without A Face
24 Scorpions-Coast To Coast
25 John Coltrane-Giant Steps
26 Ange-Un Trou Dans La Case (1'54")
27 The Runaways-Heartbeat
28 Moby-Run On
29 I'm A Rebel (Accept)
30 Gotye feat. Kimbra-Somebody That I Used to Know
total des rapidités Barmaid 12 Olives 11 Bourses sans cache nez 8,5 Chiflettes 6 Clara 3 Skr 2 Yvette la Tourette 1 A l'Ouest 1
Total du total
Barmaid 62 Bourses sans cache nez 61,5 Olives 54,5 Yvette la Tourette 49,5 Chiflettes 42,5 Skr 26
Les Bourses sans cache nez ont chois de réécouter Noir Désir - Tostaky
09/01/2017
29/12/2016
Après la princesse, la reine est partie elle aussi.
Debbie Reynolds n'aura pas survécu à la mort de fille. Adieu les filles, puissiez-vous être heureuses ensemble dans l'au-delà. Mes condoléances sincères à la famille Fisher qui passe de biens horribles fêtes de fin d'année.
15/12/2016
Très bonne soirée à l'Ouest
Plusieurs équipes sympathiques. La victoire se joue entre Marie et les garçons (avec Xavier qui est venu de Genève pour participer!) et Utopia. Utopia perd sur la série mi punk. Dest et Kiss bang-bang dans un mouchoir. La Nôtre est partie avant la fin en emportant sa feuille a priori honorable.
Rapidité
01 David Bowie-Changes
02 King Crimson-I Talk To The Wind (R.I.P Greg Lake)
03 Gina X Performance-Plastic Surprise Box
04 Leonard Cohen-The partisan
05 Suzanne Vega-Blood Makes Noise
06 Soil-Shine On
07 The Clash-Rebel Waltz
08 Smashing Pumpkins-Geek U.S.A.
09 Mylène Farmer-Libertine
10 Santana-Flor D'Luna (Moonflower)
11 Iron Maiden-Invaders
12 Do Your Duty (Bettye Lavette)
13 Christophe-Daisy
14 The Art Of Noise-Robinson Crusoe
15 The Gathering-Liberty Bell
16 Ten Years After-Bad Scene
17 Wire-One Of Us
18 Mr. Integrity (L7)
19 Billy Joel-The Stranger
20 Frustration-No Trouble
21 Daf-Der Mussolini
22 Led Zeppelin-How Many More Times
23 Charles De Goal-Ralentissement Sur L'autoroute
24 Hatfield & The North-Fitter Stoke Has A Bath
25 Sam Brown-Stop
26 Jeane Manson-Faisons L'amour Avant De Nous Dire Adieu
27 Stereolab-Eye Of The Volcano
28 Weather Report-Pearl on the Half-Shell
Ecrit (aucun thème n'était à trouver)
Série 1 Morceaux sans fin (fade)
00 The Stranglers-The European Female
01 ZZ Top-Gimme All Your Lovin'
02 Abba-Dancing Queen
03 Metallica-The Thing That Should Not Be
04 AC/DC-If You Want Blood (You've Got It)
05 The Doors-L.A. Woman
06 Pink Floyd-Money
07 The Police-Message In A Bottle
08 Depeche Mode-Everything Counts
09 Supertramp - Goodbye Stranger
10 Slayer-Hardening of the Arteries
11 Scorpions-In Trance
12 A-Ha-Take On Me
13 The Rolling Stones - Jumpin' Jack Flash
14 Herbie Hancock-Cantaloupe Island
Marie garçons 24 Utopia 23 Dest 20 Kiss bang 20 Flûtes vierges 14 Barmen 13
Série 2 Musiciens caricaturés par Gotlib
00 Le Tord Boyaux (Pierre Perret)
01 Eddy Mitchell-Couleur Menthe A L'Eau
02 The Beatles-Penny Lane
03 What's Love Got To Do With It (Tina Turner)
04 Serge Gainsbourg-Docteur Jekyll Et Monsieur Hyde
05 Louis Armstrong-Tin Roof Blues
06 L'aigle Noir (Barbara)
07 Les Copains D'Abord (Georges Brassens)
08 Frank Zappa-Dirty Love
09 Françoise Hardy-Message Personnel
10 Symphony #6/Pastoral- 1. Allegro Ma Non Troppo (Beethoven)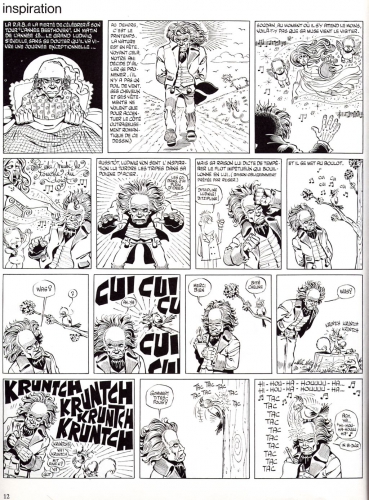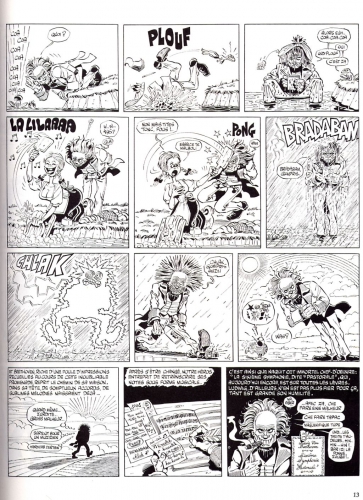 Utopia 18 Marie garçons 16,5 Kiss bang 15 Dest 13,5 Flûtes vierges 13 Barmen 12,5
03 mi punk mi raisin
00 The (International) Noise Conspiracy-Black Mask
01 Violent Femmes-Blister In The Sun
02 Kaiser Chiefs-I Predict A Riot
03 Primus-South Park Theme
04 Foo Fighters-DOA
05 The Strokes - Reptilia
06 LCD Soundsystem - Drunk Girls
07 PJ Harvey-Down By The Water
08 Klaxons-Gravity's Rainbow
09 The Dead 60s-Riot Radio
10 Spoon-Got Nuffin
11 The Fratellis - Henrietta
12 Not Available-Marilyn
Marie garçons 13 Dest 8,5 Barmen 8 Kiss bang 6,5 Utopia 5 Flûtes vierges 3
Total écrit
Marie et les garçons 53,5 Utopia 46 Dest 42 Kiss kiss bang bang 41,5 Barmen 33,5 Flûtes vierges 30
Rapidité cinéma
01 Blade runner-Main titles
02 Le Grand Bleu-The Big Blue Overture (R.I.P Enzo Maiorca)
03 Delivrance (Eric Weissberg & Steve Mandell-Dueling Banjos)
04 Sex academy (Sixpence None The Richer-Kiss Me)
05 O Brother (I Am A Man Of Constant Sorrow)
06 L'au delà - L'Aldila (The Beyond)-Voci Dal Nulla
07 Loft Story (Disconnection - My only love)
08 Virgin Suicides (AIR-Suicide Underground)
09 Austin Powers-Beautiful Stranger
10 Astérix Le Gaulois
11 Il était une fois la révolution/ Giu la Testa (Invenzione Per John)
12 Merci Bernard
13 François Roubaix-Dernier Domicile Connu
14 Patrick Bouchitey - Jésus revient
15 La Légende de Grizzly Adams et de l'ours Benjamin- The Life and Times of Grizzly Adams-Thom Pace-Maybe
16 Gladiator-(Hans Zimmer & Lisa Gerrard-Honor Him)
17 Psychose/Psycho-The Murder
18 La Main du diable
19 Téléfoot (Piero Umiliani-Mah Nà Mah Nà)
20 Tintin et Le Lac aux Requins
Total des 2 rapidités (assez équilibrées)
Utopia 9 Marie garçons 9 Kiss bang 7 Dest 6 Barmen 4 La Nôtre 4 Flûtes vierges 3
Total du total
Marie et les garçons 62,5 Utopia 55 Kiss kiss bang bang 48,5 Dest 48 Barmen 37,5 Flûtes vierges 33
Marie étant partie avant la fin, Utopia choisit de réécouter Violent Femmes - Blister In The Sun
A bientôt probablement en 2017, pour de nouvelles aventures, poil aux jointures! ("Le commissaire est bon enfant" Rubrique à Brac tauome 3)