18/05/2016
Bonne ambiance en ce mardi chaud et sec. Il était tentant de rester dehors.
Duel serré entre 49.3 en force (équipe d'habitués de l'Ouest) et Cul de feu (transfuges du métropolitain) et ce sont ces derniers qui gagnent grâce à un meilleur écrit. Les autres équipes ont bien participé. Dommage que les Machino soient partis après le 2ème thème, ils avaient le niveau.
Rapidité cinéma
01 Diamants sur canapé/Breakfast At Tiffany's (Moon River-Henry Mancini)
02 le magicien d'Oz-The Wizard Of Oz(Over The Rainbow-Judy Garland)
03 Comment c'est loin
04 Magnum
05 Sacre Graal (robin)
06 Kenny Loggins-Footloose
07 La folle histoire du monde (mel brooks - it's good to be the king)
08 Here comes the double deckers (L'autobus à impériale)-Get On Board
09 La Dame Dans l'Auto Avec Des Lunettes Avec Un Fusil (Petula Clark)
10 Hot Shots (The man I love)
11 The Last Of The Mohicans/Le dernier des Mohicans (Trevor Jones-Main Title)
12 Chromosome 3 (Howard Shore)
13 Fièvre du samedi soir-Y'a t'il un pilote dans l'avion (Bee Gees-Stayin' Alive)
14 Sacco & Vanzetti (Here's To You-Joan Baez)
15 Le gendarme à Saint-Tropez (Geneviève Grad-Douliou Douliou Saint-Tropez (1965)
16 Midnight express (Chase-Giorgio Moroder)
17 Scoubidou
18 Theme from Twin Peaks - Fire Walk With Me
19 Drôle de dames/Charlie's Angels -Theme
20 L'Animal
21 Daria (Splendora-You're Standing On My Neck)
22 Adieu Berthe-(Swingle Singers-Prelude XVIII from Das Wohltemperirte Clavier, BWV 887)
23 Splash
24 Jan Hammer: 2 flics à Miami/Miami Vice
25 Mr.Pickles
49.3 9 Zarzas 4 Culs de feu 4 velvet Underground 4 Machinos 3
1 ouvertures de concerts
00 Jean-Michel Jarre-Oxygène, Pt. II
01 The Rolling Stones-Jumpin' Jack Flash
02 ABBA-Voulez-Vous
03 Daft Punk-Robot Rock
04 Fuckin' In The Bushes (Oasis)
05 Deep Purple-Smoke On The Water
06 Dress You Up (Madonna)
07 Pink Floyd-Shine on you crazy diamond (version du live Pulse)
08 Rebel Rebel (David Bowie)
09 AC/DC-Hells Bells
10 No Wow (Kills)
Culs de feu 17 Dest 15 49.3 13 Machinos 12 velvet Underground 10,5 Zarzas 7
2 Acteurs
00 Cher-Just like Jesse James
01 Johnny Cash-I Walk The Line
02 Serge Gainsbourg-Ballade De Melody Nelson
03 Tom Novembre-Ouistiti
04 Tom Waits-Innocent When You Dream (Bar Room)
05 Jim Carrey-I Am The Walrus
06 Isabelle Adjani-Beau Oui Comme Bowie
07 Le Temps Des Cerises (Yves Montand)
08 Dance For Me (Queen Latifah)
09 Sophie Marceau-Berezina.
10 My Heart Belongs To Daddy (Marilyn Monroe)
49.3 14 velvet Underground 13 Machinos 13 Zarzas 11 Culs de feu 10 Dest 10
3 morceaux que j' aime bien d'artistes que j'aime moins
00 Grand Funk Railroad-T.N.U.C.
01 Michel Sardou-Les villes de solitude
02 Mobilis In Mobile (Affaire Louis Trio)
03 Def Leppard-Sorrow Is A Woman
04 Franz Ferdinand-Walk Away
05 Austra-Sleep
06 Elton John-Daniel
07 Lily Allen-Nan You're A Window Shopper
08 UB40-Food For Thought
09 Muse-Screenager
10 Marina & The Diamonds-Numb
Culs de feu 9 velvet Underground 7 Zarzas 6,5 Dest 5,5 49.3 5
Total écrit Culs de feu 36 49.3 32 Dest 30,5 velvet Underground 30,5 Machinos 25 Zarzas 24,5
Rapidité
01 Lou Reed-Vicious
02 ZZ Top-Jailhouse Rock
03 Pointers (Algorithm)
04 Vangelis-Hypothesis Part One 1
05 Prince-Little Red Corvette
06 Les Ogres De Barback-Vue d'ensemble
07 Slayer-Hardening of the Arteries
08 Led Zeppelin-I Can't Quit You Baby
09 Metallica-Dyers Eve
10 Renaud-Les aventures de Gérard Lambert
11 Doobie Brothers-Long Train Runnin'
12 Britney Spears-Oops!... I Did It Again
13 Anthrax-Keep It In The Family
14 DeVotchKa-How It Ends
15 Bruce Springsteen-Lost In The Flood
16 Vivaldi-Cello Concerto E minor (Third movement
17 Frank Zappa-Brown Shoes Don't Make it
18 Diane Tell-Si J'Etais Un Homme
19 Linda Ronstadt-Lies
20 The Cure-The Walk
21 Patrick Hernandez-Born To Be Alive
22 Lady Gaga- Lush Life
23 Ska-P-Welcome to hell
24 Abba-SOS
25 A-Ha-The Sun Always Shines On T.V.
26 Bijou-Rock à la radio
27 Jimi Hendrix-Third Stone From The Sun
28 Blondie-Sunday Girl
29 Feist-1 2 3 4
30 Pixies-Into The White
Culs de feu 9 49.3 7 Zarzas 4 velvet Underground 2 Dest 2
Total du total
Culs de feu 49 49.3 48 velvet Underground 36,5 Zarzas 32,5 Dest 32,5 Machinos 28
06/05/2016
Le prochain blind-test musical aura lieu le mardi 17 mai au bar à l'Ouest (pour changer).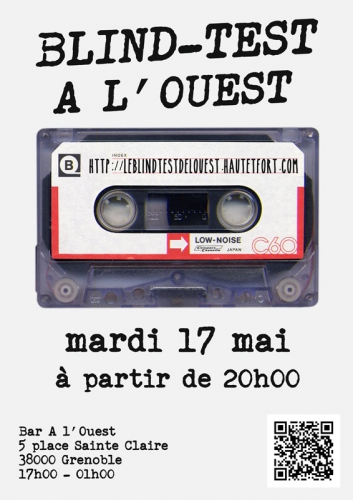 A bientôt
20/04/2016
Ambiance chaleureuse ce mardi (trop par moments mais c'est la rançon de la bonne humeur)
Bonnes équipes: écrit assez serré, dommage que les noms (bien guidés par Jean) aient calé sur le deuxième thème.
A une prochaine
Rapidité cinéma
01 Borsalino
02 La leçon de piano (Michael Nyman-Big My Secret)
03 Les Jeux De Vingt Heures
04 West Side Story-Something's Coming
05 Jour de Fête-Hulot A Vélo, Guepe, Poteau
06 Bagdad Cafe-Calling You
07 Chapeau Melon et bottes de cuir (période Purdey)
08 Buffy contre les vampires
09 Viens chez moi j'habite chez une copine
10 Orange mécanique-A Clockwork Orange-Overture to the Sun
11 Max la menace
12 Drive-Nightcall
13 Ladyhawke (Andrew Powell-Theme Single Version)
14 The Saint
15 Commitments (the)-Try A Little Tenderness
16 Elle voit des nains partout
17 Le Magnifique
18 Des Chiffres Et Des Lettres
19 Desperate housewifes
20 La quatrième dimension (Twilight zone)
21 rizzoli & isles
22 Le coeur des hommes (Pretenders-I'll stand by you)
23 Dexter
24 Inferno (Keith Emerson-Taxi ride-Rome)
25 metro goldwin mayer
Theme 1 albums avec une histoire
00 Can I Play With Madness (Iron Maiden)/Sevenths son of a seventh son
01 Green Day-Holiday (American Idiot)
02 To Be Or Not To Be (Johnny Hallyday)/Hamlet
03 Serge Gainsbourg-Marilou Reggae/L'homme à la tête de chou
04 The Kinks-Victoria (Arthur or The Decline and Fall of the British Empire)
05 Pink Floyd-Another Brick In The Wall Part 2/The Wall
06 the Who-Pinball Wizard/Tommy
07 Ange-Godevin Le Vilain/Au delà du délire
08 Genesis-Anyway/The Lamb Lies Down On Broadway
09 David Bowie-Suffragette City (The Rise And Fall Of Ziggy Stardust)
10 Frank Zappa-Catholic Girls/Joe's Garage
11 Aphrodite's Child-Babylon/666
Les Noms 21 Oups I dit it again 19,5 Jets 12,5 Femmes As 12
Theme 2 morceaux trop longs
00 Jimi Hendrix-Voodoo Chile
01 Donna Summer-Love To Love You Baby
02 Pink Floyd-Dogs
03 Renaud-Dans mon HLM
04 AC/DC-Touch Too Much
05 Steve Miller Band-Macho City
06 Led Zeppelin-Kashmir
07 Dire Straits feat Sting-Money for Nothing
08 Iron Maiden-Rime Of The Ancient Mariner
09 Kraftwerk-Autobahn
10 Men At Work-Down By The Sea
Femmes As 16 Oups I dit it again 13,5 Jets 13 Les Noms 8
Thème 3 accidentés de la route (certains ont survécu)
00 Russian Roulette (Lords of the New Church)
01 Sylvie Vartan -Qu' Est-Ce Qui Fait Pleurer Les Blondes ?
02 Falco-Der Kommissar
03 Eddie Cochran-C'mon Everybody
04 Coluche-Sois Fainéant Ou Conseil A Un Nourrisson
05 Serge Lama - Je suis malade (composé par Alice Dona)
06 T.Rex-Get It On
07 Jeff Beck-You Shook Me/Rod Stewart au chant
08 Michel Legrand-Chanson des jumelles/spoiler tueur du film: Dutrous
09 Derek & The Dominos-Layla
10 France Gall & Maurice Biraud-La Petite
11 Lynyrd Skynyrd-Free Bird
Les Noms 20 Jets 18,5 Oups I dit it again 16 Femmes As 10,5
total écrit
Les Noms 49 Oups I dit it again 49 les Jets 44 Femmes as 38,5
Rapidité
01 Slayer-Killing Fields
02 4 Non Blondes-Superfly
03 Van Halen-Panama
04 Telephone-Facile
05 Scorpions-Virgin Killer
06 Lio-Amoureux Solitaires
07 Alain Bashung-Vertige De L'Amour
08 Moby- Porcelain
09 Metallica-Seek & Destroy
10 Desmond Dekker-Israelites
11 John Coltrane-A love supreme, Part I - Acknowledgement
12 Oasis-ShakerMaker
13 Beethoven-symphony 7 Allegretto
14 Taxi Girl-Les armées de la nuit
15 Accept-Son Of A Bitch
16 The Sisters Of Mercy-Marian
17 Gina X Performance-Plastic Surprise Box
18 Blue Öyster Cult-Screams
19 ABBA-Tiger
20 The Runaways-Born To Be Bad
21 The Doors-Strange Days
22 Ella Fitzgerald-How High The Moon
23 Them-Gloria
24 Grover Washington-It Feels So Good
25 Asaf Avidan & The Mojos-Reckoning Song
26 The Police-Bombs Away
Total des 2 rapidités
les Jets 15 Oups I dit it again 15 Les Noms 9 Femmes as 9 Barmen 5
Total du total
Oups I dit it again 64 Jets 59 Les Noms 58 Femmes as 47,5
Toutes les équipes ont été sympathiques ce qui a valu une prolongation en rapidité
Jeff Buckley-Grace
Bee Gees-You Should Be Dancing
Coldplay-Clocks
Bernard Lavilliers-Noir et blanc
Blondie-Rapture
Olivia Ruiz-Le Saule Pleureur
Billy Joel-The Stranger
Niagara-J'ai vu.
Talk Talk-It's My Life
Who Framed Roger Rabbit-Why Don't You Do Right (May Irving)
The Art Of Noise Feat. Tom Jones-Kiss
Eric Charden-San Ku Kaï
The Beatles-Roll Over Beethoven.
07/04/2016
12/03/2016
Keith Emerson a décidé de quitter ce monde. Il semblerait qu'il était en train de perdre l'usage de sa main droite (dur quand on a été le meilleur pianiste au monde).
Adieu donc et merci pour tout.