16/02/2013
Bonne ambiance ce mercredi à L'Ouest et bon blind-test
rapidité Cinéma
01 Four Weddings And A Funeral/4 mariages et un enterrement
02 8 femmes (Ludivine Sagnier-Papa t'es plus dans l'coup).
03 Muppets-Muppet Show Theme (Extended)
04 Mike Post-Magnum
05 Psycho(se)-The Murder
06 Chapi Chapo
07 Thierry La Fronde
08 The Untouchables (Les Incorruptibles)
09 Rocky (De Etta Little & Nelson Pigford-Gonna Fly Now)
10 West Side Story-I Feel Pretty
11 Frankie Valli-Grease
12 L'Aile Ou La Cuisse-Concert Gastronomique
13 Jamel Debbouze and Snoop Dogg-Mission Cleopatre
14 Sacco E Vanzetti-Here's To You
15 La Horse
16 Le Corniaud -Generique
17 Maya L'abeille
18 The Lord Of The Rings/Seigneur des anneaux (Enya-May It Be)
19 Tenebres (tenebrae)
20 Apollo 440-Charlie's Angels 2000/Drôles de dames
21 Lolita (Nelson Riddle-Charlotte Is Dead)
22 New York, New York
23 la riviere sans retour/river of no return (Marilyn Monroe-One Silver Dollar)
24 Wait Until Dark/Seule dans la nuit
25 Des Chiffres Et Des Lettres
26 Noam-Goldorak
27 Les Étoiles Du Cinéma/Cinéma de minuit
28 Le Grand Blond (Vladimir Cosma)
29 Pulp Fiction (Dusty Sprinfield-Son Of A Preacher Man)
30 Here comes the double deckers (L'autobus à impériale)
Série 1 morceaux sortis uniquement en 45 tours
00 Deep Purple-Black Night
01 The Rolling Stones-Jumpin' Jack Flash.
02 Earth Wind & Fire-September (dans le film Intouchable)
03 Day Tripper (Beatles)
04 Iron Maiden-Women in uniform
05 Arnold Layne (Pink Floyd)
06 Abba-Summer Night City
07 Hey Joe (Jimi Hendrix)
08 Twisting By The Pool (Dire straits)
09 The Clash-(This Is) Radio Clash
10 C'mon Everybody (Eddie Cochran)
11 Haunting the chapel (Slayer)
HD 17 Cahuetes Grillées 16 Ce que tu veux 8
série 2: Chaque morceau est une reprise de l'artiste précédent
01 Johnny B. Goode (Chuck Berry)
02 Rock And Roll Music (Beatles)
03 Rolling Stones-I Wanna Be Your Man
04 (I Can't Get No) Satisfaction (Otis Redding)
05 Aretha Franklin-Respect
06 Save Me (Nina Simone)
07 Don't Let Me Be Misunderstood (The Animals)
08 We Gotta Get Out Of This Place (Blue Oyster Cult)
09 Metallica-Astronomy
10 Motorhead - Enter Sandman (Fuck Metallica)
11 RAMONES-R.A.M.O.N.E.S.
12 Havana Affair (Ludwig Von 88)
Cahuetes Grillées 17 Ce que tu veux 16 HD 14
Série 3 Morceaux parlés (hors rap): pas que des chefs-d'oeuvre

00 Variations sur Marilou (Serge Gainsbourg)
01 Midnight Summer Dream (Stranglers)
02 One Night In Bangkok (Murray Head)
03 Elegance-Vacances J'Oublie Tout
04 Lou Reed-Coney Island Baby
05 Pet Shop Boys-West End Girls
06 Camillo Fergen-Sag Warum
07 Jean - Francois Maurice-28° à l'ombre
08 Loser (Beck)
09 Ange-Les noces
10 Sacha Distel-Le bateau blanc
11 Préface (Léo Ferré)
12 Kazero-Thai Na Na
Cahuetes Grillées 12 HD 11 Ce que tu veux 10
Total écrit: Cahuetes Grillées 45 HD 42 Ce que tu veux 34
Utopia, Nous , les barmaid et Hypnoses n'ont pas rendu leur copie (on ne serait pas moqué de vous, je vous jure)
Rapidité
01 Gene Vincent-Be-Bop-A-Lula
02 Didier Barbelivien-Elsa
03 King Crimson-Red
04 The Art Of Noise-Robinson Crusoe
05 Paradise (New Order)
06 Kim Wilde-Chequered Love
07 Sofia Loren-Zoo be zoo be zoo
08 AC/DC-Ride On
09 Chopin-Nocturne nº 2, in E flat major
10 Neil Young-Words (Between The Lines Of Age)
11 The Specials-Gangsters
12 Lily Allen-Nan You're A Window Shopper
13 Genesis-Anyway
14 France Gall-Jazz A Gogo
15 The Stooges-1969
16 Stone-Fille ou garçon (Sloop John B)
17 Red Hot Chili Peppers-The Brothers Cup
18 Gotye feat. Kimbra-Somebody That I Used to Know
19 Moby-Honey
20 olivia newton john-Physical
21 Rick James-Super Freak
22 Soft Machine-Why Are We Sleeping?
23 Sophie Marceau-Berezina
24 Brenda Lee-Dum Dum
25 Jeanne Mas-Toute Première Fois
26 David Bowie-Time
27 T.Rex-Buick Mackane
28 The Troggs-I Can't Control Myself
29 Frank Zappa-Republicans
30 Madness-The Prince
31 Supergrass-Mansize Rooster
32 Pixies-Alec Eiffel
33 Mano Negra- Pas Assez De Toi.
34 Garbage-As Heaven Is Wide
35 Maserati-Monoliths
36 Ten Years After-Love Like a Man
37 delpech mode-enjoy the loir et cher
38 Kool & The Gang-Funky Granny
39 French Affair-My Heart Goes Boom
40 Ryan Paris-dolce vita
41 Led Zeppelin-When the Levee breaks
42 The Who-Bargain
43 Herman Dune - I Wish That I Could See You Soon
44 John McLaughlin-Do You Hear The Voices That You Left Behind
45 Anthrax-Sects
46 Carmel-Every Little Bit
47 Nino Ferrer-Mirza
48 Pretenders- Brass In Pocket
49 Simple Minds-Alive And Kicking
50 Emerson, Lake & Palmer-Tank
rapidité Hd 30 Cahuetes Grillées 25 Barmaid 7 Ce que tu veux 5 Utopia 3 Nous 2 Hypnoses 1
Total
Hd 72
Cahuetes Grillées 70 C
Ce que tu veux 39
20/12/2012
Bonne ambiance ce mardi à l'Ouest: la 1ère partie du jeu était à l'écrit, la 2ème en extraits d'albums à identifier
quizz :


Signification de Hergé: George rémi

acteurs des films pour Tintin et Haddock: Jean-Pierre Talbot, Jean Bouise ("Les oranges bleues), Georges Wilson ("Le mystère de la toison d'or")
Prénoms des personnages: Tryphon Tournesol, Roberto Rastapopoulos, Piotr Szut, Bianca Castafiore, Archibald Haddock, Allan Thompson (là je demandais le nom)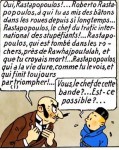 Albums où Tintin est condamné à la Peine de mort: Tintin au pays des soviet, Tintin en Amérique, L'oreille cassée, Les cigares du pharaon, Le Lotus bleu, Le temple du soleil

2 Fois où Haddock tutoie Tintin: «Le temple du soleil», «Tintin au Tibet» (en pensée)
Tintin ivre: "Tintin au pays des soviets", "L'oreille cassée" et dans "Le crabe aux pinces d'or"
Série 2 personnages à identifier (visuelle)
01 Chevalier François de Hadocque
2 Zorrino
3 Coco
4 Mitsuhirato
5 Muskar XII
6 Tchang tchong Jen
7 Hyppolite Calys
8 Docteur Muller
9 Bobby Smiles
10 Alonzo Perez & Ramon Bada

11 Tintin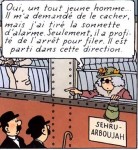 Série 3

Cuites de Milou: Tintin au pays des soviets, Le crabe aux pinces d'or, L'île noire, Le secret de la Licorne, les 7 boules de cristal, Tintin au Tibet, Tintin et les Picaros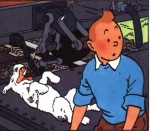 épisodes où les Dupont arrêtent ou tentent d'arrêter Tintin: Les cigares du pharaon, Le Lotus bleu, L'île noire

Nombre de pages de chaque album: 62

1ère apparition des personnages : dupont «Les cigares du pharaon», Haddock «Le crabe aux pinces d'or», Tournesol «Le trésor de Rachkam le rouge» , la Castafiore «Le sceptre d'Ottokar», Séraphin Lampion «L'affaire Tournesol», Rastapopoulos «Les cigares du pharaon »

Groupe français portant le nom d'un personnage: général Alcazar

Navires commandés par Haddock: Karaboudjan, Aurore, Sirius, Ramona

Pays inventés par Hergé: Rawajpoutalah, San Theodoros, Nuevo Rico, Syldavie, Bordurie, Sao Rico, Khemed, Sondonésie, Bhopal, Tetaragua, Poldévie (inventé par Alain Mellet pour un canular de l'Action Française repris donc par Hergé)

série 4 rêves (image) visuelle

La dernière partie consistait à identifier le plus vite possible un album via une image, tout a été trouvé assez rapidement (40 images):
exemples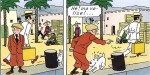 L'oreille cassée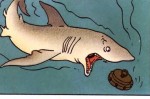 Coke en stock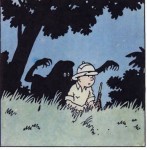 Tintin au Congo
Par ailleurs les participants ont élu leur album préféré de Tintin
Ont recueilli une voix: Tintin au congo, Coke en Stock, Les cigares du pharaon, Le crabe aux pinces d'or, Tintin et les Oranges bleues, Vol 714 pour Sidney, Tintin au pays de l'or noir, Le secret de la licorne
2 voix pour: On a marché sur la Lune, le Lotus bleu
et le vainqueur avec trois voix est "Les sept boules de cristal"

Sinon 4 équipes ont participé aux jeux: Flaxman et X-lane ont fait de la figuration (drôle pour Flaxman)
et la bataille fut serrée entre les Coqs en stock et le Kamchatka qui l'emporte au final (mention spéciale à Pierre qui fut brillant).
25/10/2012
Bonne ambiance pour ce blind-test: 3 équipes d'habitués, transfuges du Metropolitain (Coca biere & punk: manu, Karo & Paulo, King of the north (ex-taupes dorées) , Rapist Whiscats (diminués, il est vrai), + une autre plus spontanée Mexico. A noter qu'une équipe les Daggils n'a pas rendu sa feuille.
Rapidité cinéma
01 Frankie Valli-Grease
02 John Williams-Theme From Superman
03 L'homme de fer/Ironside (Excerpt) (Quincy Jones).
04 Brazil (Sam Lowry's 1st Dream) (Kate Bush)
05 Pierre Bachelet-Emmanuelle
06 Mon Oncle (Adios Mario)
07 Monty's Python's flying circus
08 La famille Adams
09 Edwin Astley -Main Theme from The Saint.
10 Muppets Show - The Muppet Show Theme.
11 Matrix: Rob Dougan-Clubbed to Death
12 American Beauty (Thomas Newman-Any Other Name)
13 Midnight express (Giorgio Moroder-Chase)
14 Les Chevaliers Du Ciel
15 Vidocq
16 Ennio Morricone-The Stendhal Syndrome Theme
17 Ron Grainer - The Prisoner theme
18 Arnold et Willy
19 Mike Post-Magnum
20 Hélène et les garçons
21 Daria (Splendora-You're Standing On My Neck)
22 Bruno Coulais – Microcosmos
23 Monsieur Cinéma/L'oeuf
24 The Pink Panther Theme (Bobby McFerrin)
25 La Soupe aux choux-Oxo la Terre
26 Love Boat/La croisière s'amuse
27 Les Étoiles Du Cinéma/Cinéma de minuit
28 Arabesque
29 Colargol
30 L'opera sauvage/L'année de tous les dangers (L'enfant-Vangelis).
Themes écrits
1 Les Grands (plus de 1,80mètres)

00 L'Idole Des Jeunes (Johnny Hallyday) (1,83 m)
1 Men At Work-Who Can It Be Now (1,93 m)
2 Led Zeppelin-Black Dog (Robert Plant 1,85m)
3 Deep Purple-Highway Star (Ian Gillan 1,88m)
04 Alors On Danse (Stromae) (1,95 m)
05 Pink Floyd-Another Brick In The Wall (Part II) (Roger Waters 1,90m)
06 Bernard Lavilliers- Extérieur nuit (1,82 m)
07 Tostaky (Le Continent) (Noir Desir) (Bertrand Cantat 1,90m)
08 Bullet With Butterfly Wings (Smashing Pumpkins) (Billy Corgan 1,90m)
09 Ramones-Babysitter (Joey Ramone 1,98 m)
10 Antoine - Les élucubrations (1,93m) (il a fait Centrale Paris)
11 Grace Jones-Slave To The Rhythm (1,80 m)
Coca biere & punk 26 King of the north 22 , Mexico 17 Rapist Whiscats 12
2 les petit(e)s
00 Kylie Minogue "Can't Get You Out Of My Head" (1,53 m)
01 Edith Piaf-la Vie En Rose (1,42 ou 1,49 M)
02 Dreams (Fleetwood Mac) (Stevie Nicks 1,56 m)
03 Thank You (Dido) (1,54 m)
04 Touch Me (I Want Your Body) (Samantha Fox) (1,55 m) (a repris Satisfaction)
05 France Gall-Bebe Requin (1,50 m)
06 Pat Benatar-We Live For Love (1,53 m)
07 Sign O' The Times (Prince) (1,57 m)
08 Suzi Quatro-Can The Can (1, 52 m)
09 Jermaine Jackson & Pia Zadora (1,52 m)-When the rain begins to fall
10 Mireille Mathieu-Paris En Colere (1,50 m)
11 Loca (Shakira) (1,52m)
12 Judy Garland-Over The Rainbow (1,51m).
13 lady gaga-Paparazzi (1,55 m)
14 Rita Pavone- Supercalifragilistic-Espiralidoso (1,49 m)
King of the north 27 , Coca biere & punk 26 , Mexico 22,5 Rapist Whiscats 17,5
Et le duo réunissant les séries 1 et 2 (à partir de 3')

03 Intros vent
00 Amélie Morin-Les secrets d'Alice
01 Pink Floyd-One Of These Days
02 Holy Diver (Dio)
03 Michel Sardou-Les Lacs Du Connemara
04 Jean-Michel Jarre-Oxygène, Pt. IV
05 King Crimson-The Talking Drum
06 Deep Purple-River Deep, Mountain High
07 Europe-The Final Countdown
08 Metallica-The Call Of Ktulu (Lars Ulrich fils du Torben Ulrich tennisman professionel)
09 Rhapsody-Rage Of The Winter
10 Ange-Les Longues Nuits D'Isaac
11 Queen-The Prothet's Song
12 Iron Maiden-Alexander The Great
Coca biere & punk 21 , Rapist Whiscats 16 King of the north 15,5, Mexico 10,5
Thème 4 artistes qui n'avaient pas encore été quizzés
00 Kaiser Chiefs-Born To Be A Dancer
01 C'est extra (Léo Ferré)
02 Rage Against the Machine-Killing in the Name
03Diana (Paul Anka)
04 System Of A Down-Boom!
05 Regular John (Queens Of The Stone Age)
06 Run DMC -It's Like That
07 George Benson-Give Me The Night
08 Joy Division-Transmission
09 I Bet You Look Good On The Dancefloor (Arctic Monkeys)
10 Lindberg (Robert Charlebois)
11 Moby-Run On
12 Les Dingues Et Les Paumés (Hubert-Félix Thiéfaine)
King of the north 19 , Coca biere & punk 17 , Mexico 15, Rapist Whiscats 14
Total écrit Coca biere & punk 90 , King of the north 83,5 , Mexico 65 , Rapist Whiscats 59,5
Rapidité
01 Hole-Celebrity Skin
02 Tears for Fears-Mad World
03 Nico-My Only Child
04 Brigitte Bardot-Moi Je Joue
05 The Cure-The Walk
06 Bernard Lavilliers- Extérieur nuit
07 John Lee Hooker-Walkin' The Boogie
08 J.J. Cale-Trouble In The City
09 Art Of Noise / Claude Debussy-La Flûte De Pan
10 Kate Bush-Army Dreamers
11 Creedence clearwater revival-Have you ever seen the rain
12 France Gall & Maurice Biraud-La Petite
13 The Kinks-Wonder Boy
14 Janis Joplin-As Good As You've Been To This World
15 Julie Pietri-Eve, leve toi
16 Iron Maiden- No Prayer For The Dying
17 Sookie Sookie (Steppenwolf)
18 Madness-Bed And Breakfast Man
19 Tina Charles-I Love To Love
20 Beirut-Un Dernier Verre (Pour La Route)
21 Bruce Springsteen-Point Blank
22 ZZ Top-Blue Jean Blues
23 Laam-Laissez Nous Croire
24 Frank Black-I Heard Ramona Sing
25 Earth Wind & Fire-Lady Sun
26 Ray Ventura-Tout Va Trés Bien Madame La Marquise
27 Harry Connick Jr.-Blue Light, Red Light (Someone's There)
28 Slayer & Ice T-Disorder
Total écrit + rapidité
Coca biere & punk 107
King of the north 103,5 ,
Mexico 74 Rapist
Whiscats 65,5
Félicitations aux vainqueurs et aux autres, à la prochaine
28/09/2012
Soirée bonne ambiance dans la pluie: les équipes ont bravé les intempéries pour participer joyeusement et brillament à ce blind-test
4 équipes en présence: les deux Manu, les Tekaswartule brillants en cinéma, les Alcoolites anonymes (plus alcoo que lites) et les Guedins (nos deux barmen qui n'ont pas pu jouer à fond à cause de leur fonction à remplir comme nos verres)

1 Rapidité cinéma
01 La Boum (Richard Sanderson-Reality)
02 Grease-(Olivia Newton-John & John Travolta-Summer Nights)
03 West Side Story-Jet Song
04 Téléfoot (1er générique)
05 Les Shadocks
06 Noam-Goldorak
07 John Barry-On her Majesty's secret service/Au service secret de sa majesté
08 Top gun (Berlin-take my breath away)
09 37°2 Le Matin (Betty Blue
10 Orange mécanique/A Clockwork Orange (Overture to the Sun)
11 Jackie Brown (Randy Crawford-Street Life)
12 The Untouchables (Les Incorruptibles)
13 L'Aile Ou La Cuisse- (Vladimir Cosma-Concert Gastronomique)
14 La Jument Verte
15 South Park Theme (Primus)
16 Les Jeux de Vingt Heures (2ème générique)
17 Lolita-Charlotte Is Dead (Thoughts Of Lolita)
18 Strange Days (Skunk Anansie-Selling Jesus)
19 Les hommes prèferent les blondes/Gentlemen prefer blondes (Marilyn Monroe)
20 sexe intentions/Cruel intentions (Verve-Bitter Sweet Symphony)
21 Goblin-Suspiria
22 Henry Mancini-Peter Gunn
23 Des Chiffres Et Des Lettres
24 Ennio Morricone-I comme icare
25 (Kill Bill 2)-Shivaree-Goodnight Moon
26 L'Ile Aux Enfants
27 Sébastien Et La Mary Morgane
28 Thierry La Fronde
29 Hawai police d'état/Hawai 5 0 (Morgon Stevens-Ventures)
30 Les Demoiselles de Rochefort -Chanson des jumelles (tueur en série s'appele Dutroux)

Séries écrites
Thème 1 Grace Kelly (initiales des artistes) eh oui 30 ans déjà

00 Stéphanie (de Monaco)-Ouragan
01 Plus Près Des Étoiles (Gold)
02 Angie (Rolling Stones)
03 Let There Be Rock (AC/DC)
04 Aline (Christophe)
05 New Kid In Town (Eagles)
06 Till The End Of The Day (Kinks)
07 My Name Is (Eminem)
08 Communication Breakdown (Led Zeppelin)
09 Free Bird (Lynyrd Skynyrd) (dédié à la mémoire de Duane Allman)
10 Owner Of A Lonely Heart (Yes)
Manu manu 22 Alcoolites anonymes 18 Guedins 14 Tekaswartules 10
Sérien 2: chiffre de 1 à 13
00 Zero (Yeah Yeah Yeahs)
01 Queen-Another One Bites The Dust (composition de John Deacon le bassiste de Queen)

02 Blur-Song 2
03 Trois Petites Notes De Musique (Yves Montand)
04 The Four Horsemen (Metallica)
05 Five To One (Doors)
06 Dire Straits-Six Blade Knife
07 The Clash-The Magnificent Seven
08 Eight Days A Week (Beatles)
09 Jimi Hendrix- If 6 Was 9
10 Alain Souchon-J'ai Dix Ans
11 11 Septembre (Katerine)
12 Douze belles dans la peau (Serge Gainsbourg)
13 Pixies-No. 13 Baby
Manu manu 24 Alcoolites anonymes 23 Tekaswartule 20 Guedins 12, 5
Thème 3 écosse
00 April Skies (Jesus & Mary Chain)
01 Texas-I Don't Want A Lover
02 Supervixen (Garbage)
03 Franz Ferdinand-Take Me Out
04 Alive And Kicking (Simple Minds)
5 Next (Alex Harvey) (reprise de Au Suivant de Jacques Brel)
06 Cream-White Room (Eric Clapton à la guitare)
07 Donovan-Mellow Yellow
08 Gerry Rafferty-Baker Street
09 Nazareth-Hair of a dog
10 Hipsway-Ask The Lord
011 Sing (Travis)
12 Wet Wet Wet-Love Is All Around
Manu manu 19 Tekaswartules 11,5 Alcoolites anonymes 11 Guedins 8
écrit Manu manu 65,5, Alcoolites anonymes 52 Tekaswartule 41,5 Guedins 35,5
Rapidité avec artiste demandé
01 Weezer-Troublemaker
02 Ain't Got No (I Got Life) (Patrice)
03 Lloyd Cole & The Commotions-Rattlesnakes
04 Janis Joplin-Half Moon
05 Air-Talisman
06 Motörhead-Killed By Death
07 King Crimson-Starless And Bible Black
08 The Cure-Killing An Arab
09 Amy Winehouse-Some Unholy War
10 ZZ Top-Backdoor Love Affair
11 Queen-Seven Seas of Rhye
12 Bérurier Noir-Salut à toi
13 Michael Franks-Monkey See-Monkey Do
14 Mano Negra-Out Of Time Man
15 Talking Heads-The Great Curve
16 France Gall-Musique
17 Sparks-Funny Face
18 Hervé Cristiani-Il Est Libre Max.
19 Stravinsky-L'Oiseau De Feu, 1919 - 8. Ronde Des Princesses
20 Courtney Love-But Julian, I'm A Little Bit Older Than You
21 Boney M.-Ma Baker
22 Cinema Bizarre-Modern Lover.
23 Mogwai-Kids will be skeletons
24 Bruce Springsteen- It's Hard To Be A Saint In The City.
25 Steppin' Out (Joe Jackson)
26 Blur-Advert
27 David Essex-America
28 Nina Simone-My Baby Just Cares For Me
29 The Stooges-I Wanna Be Your Dog
30 Pink Floyd-Lucifer Sam
31 Creedence Clearwater Revival-Ramble Tamble
32 The Lords of the New Church-Live for today
33 Deep Purple-Living Wreck
34 Nico-My Only Child
35 La java des bombes atomiques (Boris Vian)
36 Ike & Tina Turner-Hold On Baby
37 Slayer-Skeletons Of Society.
38 The Beatles-Helter Skelter.
39 Joséphine Baker-Si J'étais Blanche
40 Blue Oyster Cult-Nosferatu
41 Silmarils-Cours Vite
42 Iron Maiden-Prodigal Son
43 Renaud-La Blanche
44 Klaxons-Gravity's Rainbow
45 Yael Naim-Shelcha
46 Duck Sauce-Barbra Streisand (Uk Radio Edit)
47 Red Hot Chili Peppers-Mellowship Slinky In B Major
48 Olivia Ruiz-Le Saule Pleureur
49 Canned Heat-Sandy's Blues
50 The Who-Dogs
Rapidité Manu manu 29, Tekaswartules 18, Guedins 16, Alcoolites anonymes 7
Total:
Manu manu 94,5
Tekaswartule 59, 5
Alcoolites anonymes 59
Guedins 51,5
nette victoire des Deux Manu donc (l'apport féminin n'a pas été négligeable contrairement à ce qu'affirmait la modeste protagoniste).

09/09/2012
Bon blind-test hier malgré le peu de personnes présentes, qu'importe on a eu la qualité
3 équipes: Sarah Bernarht, Tart'en pion et les Antoine
Rapidité cinéma
01 Ederlezi (Goran Bregović) (le temps des gitans)
02 Olivia Newton-John & John Travolta-Summer Nights (Grease)
03 Juan Montego & Kingston orchestra "On the desert road" (La Séquence Du Spectateur)
04 Johnny Halliday-Les chevaliers du ciel
05 Drôle de dames/Charlie's angel
06 Chapeau melon et bottes de cuir/The Avengers
07 Chris Isaak-Wicked Game (Wild At Heart/Sailor et Lula)
08 Chris Bennett-Theme From Midnight Express
09 Jan Hammer - Miami Vice
10 Charade (Main Title) (Henry Mancini)
11 David Bowie-I'm Deranged (Edit) (Lost Highway)
12 Thomas Newman-Any Other Name (American beauty)
13 Vangelis-La Fête Sauvage.
14 Marilyn Monroe-One Silver Dollar (la rivière sans retour/River of no return)
15 The Lively Ones-Surf Rider (Pulp Fiction)
16 A Boy Like That - I Have A Love (West Side Story)
17 The Murder (Psycho)
18 Antsy Pants-Vampire (Juno)
19 Guns N' Roses-Sympathy For The Devil (entretien avec un campire/Interview with a vampire)
20 Mike Post-Magnum
21 Ennio Morricone-Giu La Testa/Il était une fois la révolution
22 Geneviève Grad-Douliou Douliou Saint-Tropez (le gendarme de Saint Tropez)
23 Jevetta Steele-Calling You. (Bagdad café)
24 Willkommen (Joel Grey & Company) (Cabaret)
25 Splendora-You're Standing On My Neck (Daria)
26 Will Smith-Men In Black
27 Yellow Submarine-Pepperland
28 Bill Wyman & Terry Taylor (Phenomena)-The Valley
29 Who-Christmas (Tommy)
30 Raymond Lefèvre-(La soupe aux choux)-Oxo la Terre
Série 1 histoire de la musique
01 Beethoven-Allegro Con Brio (5ème symphonie)
02 Miles Davis-So What
03 Rock Around The Clock (Bill Haley) (Graine de violence/Blackboard jungle)
04 Grandmaster Flash-The Message
05 James Brown-I Got You (I Feel Good)
06 Bob Marley & The Wailers-Could you be loved
07 Johnny Cash- I Walk The Line
08 Whole Lotta Love (Led Zeppelin)
09 Daft Punk-Harder, better, faster, stronger.
10 France Gall-Sacre Charlemagne
11 Enjoy The Silence (Depeche mode)
Série 2 1977
00 Cerrone-Supernature
01 Eric Clapton-Cocaine (original J.J Cale)
02 Earth, Wind & Fire-Fantasy.
03 David Bowie-"Heroes"
04 Laurent Voulzy-Rockollection
05 Sex Pistols-God Save The Queen
06 Les Remparts De Varsovie (Jacques Brel)
07 1977 (Clash)
08 John Williams-Star Wars Main Theme
09 Give A Little Bit (Supertramp)
10 Blue Oyster Cult-Nosferatu
11 Marie Myriam-L'oiseau et l'enfant
12 Ramones-Sheena Is A Punk Rocker
3 du groupe au solo
00 Mick Jagger-Sweet Thing
01 Imagine (John Lennon)/Beatles
02 Gwen Stefani-The Sweet Escape/ No doubt/ (amie de Roger Federer)
03 Englishman In New York (Sting) / Police
04 Diana Ross-Love Hangover / Supremes
05 In The Air Tonight (Phil Collins) / Genesis
06 5.01 AM (The Pros and Cons of Hitchhiking) (Roger Waters) / Pink Floyd
07 Lou Reed-Satellite Of Love / Velvet Underground
08 Ozzy Osbourne-Bark At The Moon / Black Sabbath
09 Kent-J'aime un pays / Starshooter
10 Frida-I Know There's Something Going On / Abba
11 Shane MacGowan-St. John Of Gods / Pogues
Série 4 reprises
00 Summertime (Big Brother And The Holding Company)
01 Ces gens là (Ange) / Jacques Brel
02 La Maison Tellier-Killing in the name / Rage against the Machine
03 van halen-You Really Got Me / Kinks
04 ZZ Top-Jailhouse Rock / Elvis Presley
05 Master Of Puppets (Apocalyptica) / Metallica
06 Libertine (Ludwig Von 88) / Mylène Farmer
07 I Will Survive (Cake) / Gloria Gaynor
08 Brigitte-Ma Benz / NTM
09 Highway to Hell (Hayseed Dixie) / AC/DC
10 Jimi Hendrix Experience-All Along The Watchtower / Bob Dylan
11 Pat Benatar-Wuthering Heights / Kate Bush
12 Starshooter-Le Poinçonneur Des Lilas / Serge Gainsbourg
Rapidité
01 Slayer-South Of Heaven
02 Beirut-Nantes
03 The Police-Every Little Thing She Does Is Magic
04 Les 4 barbus-Le parti d'en rire
05 the Specials-Gangsters
06 Iron Maiden-Powerslave
07 The Cure-Killing An Arab
08 The Rolling Stones-Who's Been Sleeping Here
09 The Beatles-Sgt. Pepper's Lonely Hearts Club Band (Reprise)
10 Cat Stevens-Sad Lisa
11 Editors-Someone Says
12 Les Rita Mitsouko-Don'T Forget The Night
13 King Crimson-The Court Of The Crimson King
14 Le Tigre-My My Metrocard
15 Renaud-Salut Manouche
16 Garbage-Queer.
17 AC/DC-The Jack
18 Frank Zappa-Easy Meat
19 Paolo Conte-Lo Zio
20 Jean-Claude Brialy et Serge Gainsbourg-Boomerang
21 Stranglers-Hanging Around
22 Gorillaz-Dirty Harry
23 Kraftwerk-Radioactivity
24 Lynyrd Skynyrd-Call Me the Breeze
25 Nina Hagen-Cosma shiva
26 Kim Wilde-Love Is Holy
27 St. Germain-Rose Rouge
28 Julien Clerc-Venise
29 Jethro Tull-Bourée
30 PJ Harvey-A Place Called Home
31 Neil Young-Vampire Blues
32 Jacques Higelin-Mona Lisa Klaxon.
33 The Doors-Peace Frog
34 Kid Creole & The Coconuts-I'm a Wonderful Thing, Baby
35 Pink Floyd-It Would Be So Nice
36 Space-Magic Fly
37 Siouxsie And The Banshees-Peek-A-Boo
38 Lio & Jacky-Tétéou
39 Joni Mitchell-Big Yellow Taxi.
40 Angelo Branduardi-Les confessions d'un malandrin
41 Emma Bunton-What Took You So Long
42 Abba-Our Last Summer
43 Ayo-Help Is Coming
44 Santana-Flor D'Luna (Moonflower)
45 Sandra-Innocent Love
Victoire de sarah bernhardt au général (66 contre 62) et de tart'en pion à la rapidité (29 contre 21).