14/03/2015
Bonne ambiance ce mercredi à l'Ouest
4 équipes mais hélas les chiens fous n'ont pas rendu leur copie: hé Laurie, je ne me serais pas moqué de toi, tu as de trop beaux yeux pour que je me le permette.
La rapidité fut chaude mais ce fut à l'écrit que les Barboulins assurèrent leur victoire. Mention aussi à Karo des Télétubbies qui joua l'essentiel du blind-test toute seule
Rapidité cinéma
01 Fantomas (Theme De Fantomas)
02 Mission impossible (Limp Bizkit-Take A Look Around (2000)
03 Once Upon A Time In The West-Il était une fois dans l'Ouest (Farewell to Cheyenne)
04 Profondo Rosso-Deep Red-Les frissons de l'angoisse (Goblin-Death Dies)
05 O Brother (The Soggy Bottom Boys-I Am A Man Of Constant Sorrow)
06 Orange mécanique-A Clockwork Orange- (Rossini_ William Tell - Overture (Abridged)
07 Monty's Python's flying circus
08 La famille Adams
09 Hair (Aquarius-Let The Sunshine In)
10 Camping (Ryan Paris-La dolce vita)
11 Astérix et Obélix Mission Cléopâtre- (Jamel Debbouze and Snoop Dogg-Mission Cleopatra)
12 Ford Fiesta (Smash Mouth-Walkin' on the sun)
13 Virgin Suicides-Suicide Underground (Air)
14 Oss 117-Bambino
15 Psychose-Psycho (Psycho suite)
16 Cabaret (Two Ladies)
17 Chanel mademoiselle Coco (Zombies-She's Not There)
18 Midnight Express-Chase
19 Téléfoot (Piero Umiliani-Mah Nà Mah Nà)
20 Le monde ne suffit pas-The World Is Not Enough (Garbage)
21 Evian (Wordy Rappinghood -Uffie)
22 Vangelis-(Les chariots de feu-Chariots Of Fire)
23 Esprit rebel (Coolio-Gangsta's Paradise)
24 Nike football (Sergio Mendez & Brazil '66-Mas Que Nada)
25 Chantal Goya-Bouba
26 Le dernier des Mohicans-The Last Of The Mohicans
27 Scoubidou
28 Intervention divine (Natacha Atlas-I Put A Spell On You)
29 Trafic d'influence (i will survive)
30 Star Trek
Ecrit
Thème 1 albums les plus vendus au monde
00 Meat Loaf-Bat Out Of Hell
01 Pink Floyd-Time/Dark Side Of The Moon
02 AC/DC- Hells Bells/Back In Black
03 Walk of Life (Dire Straits)/Brothers In arms
04 Don't Stop (Fleetwood Mac)/Rumours
05 Beat It (Michael Jackson)/Thriller
06 Alanis Morissette-Hand In My Pocket/Jagged Little Pill
07 Paradise City (Guns N' roses)/Appetite for Destruction
08 Candle In The Wind (Elton John)/Goodbye Yellow Brick Road
09 The Beatles-Fixing a Hole/Sgt. Pepper's Lonely Hearts Club Band
10 Dancing In The Dark (Bruce Springsteen)/Born in the U.S.A
11 Led Zeppelin-Rock and Roll/ Led Zeppelin IV
Télétubbies 22 Barboulins 22 Aqui 18
2 Morceau contenant une seule ligne mélodique
00 The Police-Voices Inside My Head
01 The Rolling Stones-Hot Stuff
02 The Velvet Underground-I'm Waiting For The Man
03 Talk Talk-Life's What You Make It
04 Daft Punk-Harder, better, faster, stronger
05 Jesse Garon-C'est Lundi
06 Pixies-U-Mass
07 Abba-Rock Me
08 Jean Michel Jarre-Oxygene (Part III)
09 David Bowie-The Jean Genie
10 Jacques Dutronc-Le bras mécanique
11 ZZ Top-Tush
12 Knack (The)-My Sharona
Barboulins 18 Aqui 14,5 Télétubbies 12
3 artistes ennemis
00 Anthrax-One Man Stands (morceau choisi à cause de sa phrase « Your ennemy is dead »)
01 Oasis-Supersonic
02 Blur-Song 2
03 Miss You (Rolling Stones)
04 Roxy Music-More Than This
05 Metallica-Battery
06 Megadeth-Five Magics
07 Taylor Swift-Shake It Off
08 I Kissed a Girl (Katy Perry)
09 Eminem-My Name Is
10 Moby-Natural Blues
11 Angel Of Death (Slayer)
12 Roots Bloody Roots (Sepultura)
Certains on fait la paix depuis (Blur et Oasis, Slayer et Sepultura).
Barboulins 26 Aqui 25 Télétubbies 17
4 rupture amoureuse (thème préparé par Gillain)
00 Schism (Tool)
01 Je Suis Venu Te Dire Que Je M'en Vais (Serge Gainsbourg)
02 Letter To Hermione (David Bowie)
03 Nat King Cole – Perfidia
04 Elliott Smith - Somebody That I Used To Know
05 CA Va Ça Vient? (Boby Lapointe)
06 Last Goodbye (Jeff Buckley)
07 Black (Pearl Jam)
08 Elvis Costello - I Want You
09 The Buzzcocks - Ever Fallen In Love (With Someone You Shouldn't've)
10 You Can't Quit Me Baby (Queens of the Stone Age)
11 Smoke Gets In Your Eyes (Platters)
12 Mark Lanegan- Don't Forget Me
Barboulins 21 Aqui 13 Télétubbies 12
Total écrit
Barboulins 87 Aqui 70,5 Télétubbies 62
01 10 CC- I'm Not In Love
02 Helicopter (Bloc Party)
03 Skunk Anansie-I Can Dream
04 Depeche Mode-Everything Counts
05 Kim Carnes-Draw of the cards
06 K.C. & The Sunshine Band-Get Down Tonight
07 Arctic Monkeys-All My Own Stunts
08 Blue Oyster Cult-Mistress Of The Salmon Salt (Quicklime girl)
09 Yodelice-Sunday With A Flu
10 The Cardigans-My Favourite Game
11 Ray Charles-I Got A Woman
12 Body Count-Born Dead
13 Santana-Soul Sacrifice, Head,Hands & Feet
14 Matmatah-Ribette's
15 Visage-Fade To Grey
16 Tom Novembre-Parcours santé
17 Noir Désir – Charlie
18 Faith No More-Kindergarten
19 The Doors-Cars Hiss By My Window
20 Stravinsky-The Firebird Suite - Infernal Dance Of King Katschei
21 Silmarils-Cours Vite
22 Tom Petty & The Heartbreakers-Learning To Fly
23 Jimi Hendrix-Still Raining, Still Dreaming
24 The Black Keys-Lonely Boy
25 Klaxons- Gravity's Rainbow
26 Joe Jackson-Down To London
27 Big Brother And The Holding Company-Piece Of My Heart
28 Psy-Gangnam Style
29 The Troggs-Love Is All Around
30 Genesis-It
31 Fleetwood Mac-Little Lies
32 Quincy Jones-Ai No Corrida
33 Giles, Giles & Fripp-Elephant song
34 Dover-Winter Song
35 Ringo Starr-Wrack My Brain
36 No More Heroes (Stranglers)
37 The Who-I Can See For Miles
38 Nino Ferrer-Les Cornichons (Big Nick)
39 Iron Maiden-Infinite Dreams
40 Van Halen-Runnin' With The Devil
41 Ottawan-Haut les mains
42 R.E.M.-Crush With Eyeliner
43 Tears for Fears-Mad World
44 Suicide Blonde (Inxs)
45 Andreas Johnson-Glorious
46 Grandmaster Flash-The Message
47 Chic-Good Times (These Are The)
48 Jermaine Jackson & Pia Zadora-When the rain begins to fall
Rapidité
Aqui 31 Barboulins 19 Télétubbies 16 Chiens fous 5
Total du total
Barboulins 108 Aqui 101,5 Télétubbies 78
Bravo à tous
et à bientôt
31/01/2015
Bonne ambiance globale lors de ce blind-est (un peu trop sur la rapidité que j'ai écourtée)
Deux équipes au dessus du lot les Torseurs de Rotule et la Matrice (ah si les Rapist avaient été là au début!)
01 Hélène et les garçons
02 quand Hary rencontre Sally (Harry Connick, Jr.-Love Is Here To Stay)
03 Il était une fois dans l'Ouest-Once Upon A Time In The West (Farewell to Cheyenne)
04 Les Shadocks
05 Le Corniaud -Generique
06 Arabesque (murder she wrote)
07 Who Framed Roger Rabbit-Qui veut la peau de Roger Rabbit (Why Don't You Do Right)
08 La famille Adams
09 Philadelphia (Bruce Springsteen-Streets Of Philadelphia)
10 Certains l'aiment chaud-Play It Again, Charlie (Adolph Deutsch)
11 Michel Polnareff-La Folie Des Grandeurs
12 Dancer in the Dark (Björk-Cvalda)
13 Nino Rota-La Dolce Vita
14 Help (Beatles-You've Got To Hide Your Love Away)
15 Daria (Splendora-You're Standing On My Neck)
16 Dumb & Dumber (The Cowsills-The Rain, The Park And Other Things)
17 Culture pub
18 Malcolm X (Lionel Hampton-Flying Home)
19 Les Mystérieuses Cités D'or
20 Demain ne meurt jamais-Die Another Day (Madonna)
21 L'équipe du soir (Sugarhill Gang-Rapper's Delight)
22 Les Oiseaux
23 Charlie's Angels 2000 / Drôles de dames
24 La kermesse de l'ouest (Lee Marvin -Wand'rin Star)
25 Tonnere mécanique (Tangerine Dream- Le Parc (L.A. - Streethawk)
26 Les Matinales/Hanouna Plage (Le Baron-Le Sifflet Du Baron)
27 Ma sorcière bien aimée
28 Matrix-Chaîne-XXL (Rammstein-Du Hast)
29 Tommy (Who feat Tina Turner-Acid Queen)
30 West Side Story-Jet Song
série 1 Chanson = titre del'album
00 Slayer-South Of Heaven
01 Renaud-Marche à l'ombre
02 Blood Sugar Sex Magik (Red Hot Chili Peppers)
03 Boys Don't Cry (Cure)
04 The Rolling Stones-It's Only Rock 'N Roll/Batteur Charlie Watts
05 Pink Floyd-Wish You Were Here
06 The Doors-L.A. Woman
07 Crache Ton Venin (Telephone)
08 Metallica-Master Of Puppets
09 Highway To Hell (AC/DC)
10 Abba-Super Trouper
11 The Clash-London Calling
12 Exodus (Bob Marley & The Wailers)
Torseurs 27 No fear 24 La Matrice 21 Just Team 21 Bande à part 19
Série 2 Chansons hommages à d'autres musiciens (ce n'est pas toujours un hommage!)
00 Lisztomania (Phoenix)
01 Duck Sauce-Barbra Streisand
02 Les Wampas-Manu Chao
03 Laurent Voulzy-Les nuits sans Kim Wilde (il semble que la femme est plus célébrée que l'artiste)
04 Motörhead -Ramones
05 Roll Over Beethoven (Chuck Berry)
06 Weezer-Buddy Holly
07 Lou Reed-Lady Day
08 Frank Zappa-Variations on the Carlos Santana secret chord progression
09 Mr Schubert I Love You (Mike Brant)
10 Calling Elvis (Dire straits)
11 The Servant-Hey Lou Reed
Torseurs 15 Just Team 13 No fear 11 La Matrice 9,5 Bande à part 9
série 3 Morceaux repris par Joe Cocker
00 The Box Tops-The Letter
01 Human Touch (Bruce Springsteen)
02 The Beatles-With a Little Help from My Friends
03 Everybody Hurts (R.e.m)
04 Julie London-Cry me a river
05 The Lovin' Spoonful-Summer In The City
06 Many Rivers To Cross (Jimmy Cliff)
07 Robert Palmer-Every Kinda People
08 Procul Harum-Whiter Shade Of Pale/Adaptation de l'aria de Bach
09 Randy Newman-You Can Leave Your Hat On
Torseurs 17,5 La Matrice 14,5 Just Team 11 Bande à part 9 No fear 5
série 4 artistes très grimés (j'ai oublié Kiss comme me l'a souligné un ami)
00 Kimera-The Lost Opera
01 Björk-Army Of Me
02 Poison (Alice Cooper)
03 Libertine (Mylène Farmer)/a été repris par Ludwig von 88
04 Paparazzi (Lady Gaga)
05 Lordi-Hard Rock Hallelujah
06 The Crazy World of Arthur Brown-Fire
07 Genesis-The Cinema Show
08 Marilyn Manson-Antichrist Superstar
09 Nina Hagen-Cosma shiva
10 Screamin' Jay Hawkins-I Put A Spell On You
Pour certains cela ne correspond qu'à une période de leur carrière mais voici des photos l'illustrant.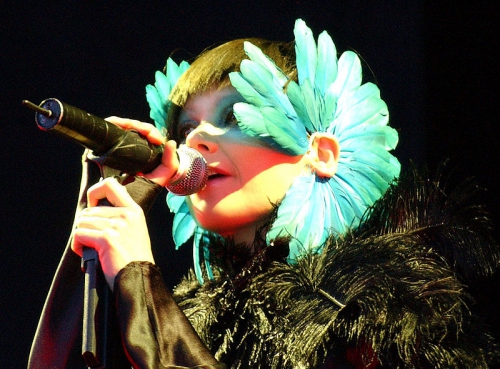 Björk en fleur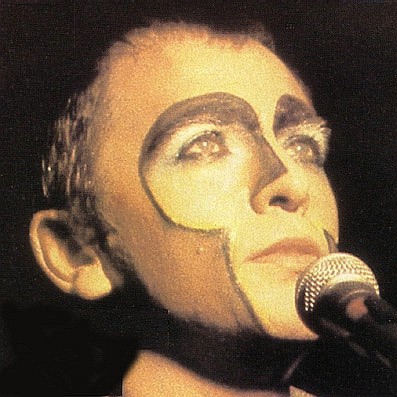 Peter Gabriel période Genesis
La Matrice 14 Just Team 12 Bande à part 12 No fear 9 Torseurs 8
Total écrit
Torseurs 67,5 La Matrice 59 Just Team 57 No fear 55 Bande à part 48
Les rapists nous ont rejoint pour la rapidité finale.
Rapidité
01 Beck-Devil's Haircut
02 Garbage-Queer
03 Michael Franks-Monkey See-Monkey Do
04 Aphrodite's Child-The Four Horsemen
05 Stray Cats-Storm The Embassy
06 Frida-I Know There's Something Going On
07 Martha & The Muffins-Monotone
08 Dead Kennedys-Too Drunk To Fuck
09 Day After Day (Pretenders)
10 Les Sales Majestés-C'est Pas Ma Faute
11 Lily Allen-Alfie
12 Diane Tell-Si J'Etais Un Homme
13 The Specials-Gangsters
14 Wham!-The Edge Of Heaven
15 Indeep-Last Night A DJ Saved My Life
16 Charles Gounod-Faust - Vin Ou Bière
17 Neu!-Hallogallo
18 Bloc Party-Song For Clay (Disappear Here)
19 Frank Zappa-Charlie's Enormous Mouth
20 Talking Heads-With Our Love
21 Paul McCartney & Wings-Band On The Run
22 Madness-Embarrassment
23 Arnold Turboust & Zabou-Adelaïde
24 The Darkness-Dinner Lady Arms
25 The Small Faces-Lazy Sunday
26 The Mamas & The Papas-Words Of Love
27 Patti Smith-People Have The Power (chanson utilisée pour la campagne de Syriza)
28 Guns N' Roses-My Michelle
29 Dave Brubeck quartet-Take Five
Total des deux rapidités
Torsueurs 14 Matrice 11 Rapist 9 Bande à Part 9 No fear 7 Just Team 3
Total du total
Torsueurs 81,5 Matrice 70 No fear 62 Just Team 60 Bande à Part 57
04/12/2014
Bonne ambiance ce soir. Nous avons commencé en retard mais le public ne nous en a pas voulu.
Le match fut serré entre les Torsueurs et les Fadés. les fadés gagnent en faisant la différence à l'écrit. Les Dest complètent le podium.
A bientôt (l'année prochaine probablement)
Rapidité cinéma
01 Primus-South Park Theme
02 L'Ile Aux Enfants
03 Pulp fiction (Kool & The Gang-Jungle Boogie)
04 Drôle de dames-Charlie's angels
05 Les choristes-Vois Sur Ton Chemin (Bruno Coulais)
06 Ron Grainer - The Prisoner theme
07 Le flic de Beverly hills-Beverly Hills Cop (Harold Faltermeyer-Axel F)
08 Jan Hammer - Miami Vice Theme-Deux flics à Miami
09 The James Bond theme (John Barry)
10 Nosferatu (Bruder des Schattens (Popol Vuh)
11 Drive (Nightcall-Kavinsky Feat. Lovefoxxxc)
12 Orange mécanique (Theme From A Clockwork Orange (Beethoviana) (Walter Carlos)
13 Donnie Darko (Mad World (Michael Andrews & Gary Jules)
14 Lost Highway (David Bowie-I'm Deranged (Edit))
15 O'Brother (Soggy Bottom Boys (the)-I Am A Man Of Constant Sorrow)
16 Charade (Main Title) (Henry Mancini)
17 Le grand bleu-The Big Blue Overture (Eric Serra)
18 Le lauréat-The graduate (Mrs. Robinson-Simon & Garfunkel)
19 Entretien avec un vampire- Interview With The Vampire (Guns N' Roses-Sympathy For The Devil)
20 Daria (Splendora-You're Standing On My Neck)
21 Full Monty (Hot Chocolate-You Sexy Thing)
22 Le roi lion ( Jason Weaver, Rowan Atkinson & Laura Williams-I Just Can't Wait To Be King)
23 Dirty dancing (Patrick Swayze-She's Like The Wind)
24 Nadine Delanoé Et Brigitte Winstel-Maya L'abeille
25 Vonda Shepard-Searchin' My Soul (BOF Ally McBeal)
26 Juan Montego & Kingston orchestra On the desert road (La Séquence Du Spectateur)
27 La Zizanie (Vladimir Cosma)
28 Bostweeds (the)-Faster pussycat, kill, kill (1965)
29 Bagdad café (Jevetta Steele-Calling You)
30 Le gendarme de Saint-Tropez ( Geneviève Grad-Douliou Douliou Saint-Tropez)
Theme 1 titre = 1èr mots
00 Pat Benatar-I Need A Lover
01 Rolling Stones-Angie
02 The Doors-When The Music's Over
03 Bérurier Noir-Salut à toi
04 Dire Straits-Six Blade Knife
05 François Béranger-Mamadou m'a dit
06 Supertramp-Rudy
07 Hey Jude (Beatles)
08 Deep Purple-Black Night
09 Pixies-Gouge Away
10 April March-Mon petit ami
Fadés 20 Torsueurs 19 Dest 13 ,5 Cat's eyes 13 Conquérantes 11
Thème 2 accord montant
00 Sparks-This Town Ain't Big Enough For Both Of Us
01 David Bowie-Space Oddity
02 Scorpions-In Trance
03 Don't Stand So Close To Me (Police)
04 Pink Floyd-Shine On You Crazy Diamond (Parts I-V)
05 Martha & The Muffins-Echo Beach
06 Led Zeppelin-In The Light
07 Judas Priest-Dissident Aggressor
08 Metallica-Orion
09 Blue Oyster Cult-Nosferatu
10 Abba-Fernando
11 Adrienne Pauly-J'veux Un Mec
Dest 18 Fadés 17 Torsueurs 13 Conquérantes 9 Cat's eyes 8
Theme 3 avortement
00 Alice Cooper-Dead Babies
01 Papa Don't Preach (Madonna)
02 Sex Pistols-Bodies
03 Slayer-Silent Scream
04 Aurélie (Colonel Reyel)
05 Sorry Angel (Serge Gainsbourg)
06 Vivre Ou Survivre (Daniel Balavoine)
07 Lord Abortion (Cradle Of Filth)
08 The Abortion Plan (Oceana)
09 Gérard Berliner - Louise
10 Brenda's Got a Baby (2Pac feat. Dave Hollister)
Fadés 15 Dest 14 Torsueurs 13 Cat's eyes 9 Conquérantes 9
Thème 4 bassiste chanteur
00 Sonic Youth-Kool Thing
01 Beatles-Magical Mystery Tour
02 Motörhead-Ace Of Spades
03 Slayer-South Of Heaven
04 King Crimson-Ladies Of The Road
05 Thin Lizzy-Killer On The Loose
06 The Police-Walking On The Moon
07 Level 42-Running In The Family
08 Cream-White Room
09 Primus-Pork Soda
10 Pink Floyd-Don't Leave Me Now
Fadés 15 Dest 12 Cat's eyes 10 Torsueurs 10 Conquérantes 7
Total écrit
Fadés 67 Dest 57 ,5 Torsueurs 55 Cat's eyes 40 Conquérantes 36
Rapidité artistes
01 Intro (XX)
02 Shoot the Runner (Kasabian)
03 Balulalow (Revolver)
04 Half Moon (Janis Joplin)
05 Riff Raff (AC-DC)
06 Long Distance Runaround (Yes)
07 Killers (Iron Maiden)
08 This War Is Silent (Ghinzu)
09 Minnie The Moocher (Cab Calloway)
10 Somewhere Only We Know (Keane)
11 Hooch (Melvins)
12 Sugar Cane (Izia)
13 Child Come Away (Kim Wilde)
14 The Good Ones (The Kills)
15 Lies (The Black Keys)
16 Mass In C Minor, K 427, Great - Kyrie (Wolfgang Amadeus Mozart)
17 Little Lies (Fleetwood Mac)
18 Le Cid (Francis Blanche)
19 Gutless (Hole)
20 Bette davis eyes (Kim Carnes)
21 Sea Song (Robert Wyatt)
22 léon le gros porc (Aggressive Agricultor)
23 If I Could Do It All Over Again I'd Do It All Over You (Caravan)
24 Juke Box Hero (Foreigner)
25 Ice 9 (Joe Satriani)
26 Mon Homme (Arletty)
27 Toute Première Fois (Jeanne Mas)
28 I'm Alive (Helloween)
29 See You Later Alligator (Bill Haley)
30 Anyway, Anyhow, Anywhere (The Who)
31 Running Up That Hill (A Deal With God) (Kate Bush)
32 Made in Malaysia (Cave)
33 Ray Of Light (Madonna)
34 Equinoxe Part 4 (Jean Michel Jarre)
35 Pop Corn (Hot Butter)
36 Quand t'es dans le désert (Jean Patrick Capdevielle)
37 Danger! High Voltage (Electric Six)
38 Barry Manilow – Copacabana
39 If You Have To Ask (Red Hot Chili Peppers)
40 Dance With Me (Lords of the New Church)
41 I've Told Every Little Star (Linda Scott)
42 Rich Girl (Gwen Stefani)
43 Plastic Surprise Box (Gina X Performance)
44 Wolf at the Door (Radiohead)
45 Keep on Truckin' (Hot Tuna)
46 The More I see You (Chris Montez)
47 Gravity's Rainbow (Klaxons)
48 Johnny Come Home (Fine Young Cannibals)
49 Bop Pills (The Cramps)
Torsueurs 29 Fadés 18 Dest 10 Cat's eyes 7 Conquérantes 6
Total du total
Fadés 85 Torsueurs 84 Dest 67,5 Cat's eyes 47 Conquérantes 42
08/11/2014
Ambiance chaleureuse, fair-play de tous les joueurs. Un seul incident qui n'avait pas de lien avec nos joueurs mais nous avons découvert qu'une cuite peut rendre aveugle.
Deux équipes au dessus du lot, Crozes fait la différence vis à vis des taupes rapist sur la rapidité. J'espère que tout le monde s'est amusé.
Rapidité cinéma
01 Midnight Express-Chase
02 Enrique-Goldorak
03 Jackie Brown/Across 110th Street (Bobby Womack & Peace)
04 Peau d'âne (Love…Love (Amour… Amour) (Michel Legrand)
05 Scream (Red Right Hand-Nick Cave & The Bad Seeds
06 Austin Powers The Spy Who Shagg me-Beautiful Stranger
07 West Side Story-America
08 La famille Adams
09 Yellow Submarine-(Hey Bulldog-Beatles)
10 Les Jeux De Vingt Heures
11 Bullitt (Main Title) (Lalo Schiffrin)
12 Mulholland Drive (Angelo Badalmenti)
13 La Grande Vadrouille -Pense à Nous Deux
14 Shirley Bassey-Moonraker
15 Mon âme par toi guérie (Nina Hagen-Future is now)
16 Iggy Pop-Nightclubbing (Trainspotting/Lunettes noires pour nuits blanches)
17 Blues Brothers- (Aretha Franklin-Think)
18 Le clan des siciliens (Ennio Morricone)
19 Billy Elliot (Cosmic Dancer-T.Rex)
20 C.W. McCall-Convoy/Le convoi
21 Quatre mariages et un enterrement (Wet Wet Wet-Love Is All Around)
22 Theme From New York, New York (Liza Minelli)
23 Barry Lyndon (Ó Ráida Women of Ireland (Mná na h-Éireann)
24 Little Miss Sunshine-How It Ends
25 Chantal Goya-Bouba
28 Phantom Of The Paradise (Bill Finley-Faust)
29 In The Mood For Love (Yumeji's Theme (Umebayshi Shigeru)
30 Here comes the double deckers (L'autobus à impériale) -Get On Board


Ecrit
Série 1 La pluie
00 Naked In The Rain (Red Hot Chili Peppers)
01 It's raining again (Supertramp)
02 Creedence clearwater revival-Have you ever seen the rain (repris par Bonnie Tyler)
03 Eruption-I Can't Stand The Rain
04 Jimi Hendrix-Still Raining, Still Dreaming
05 Blues Trottoir - Un soir de pluie
06 Walking in the Rain (Flash & The Pan)
07 Here Comes The Rain Again (Eurythmics)
08 Rihanna-Umbrella
09 Aphrodite's Child-Rain And Tears (adaptation du canon de Pachelbel)
10 Jermaine Jackson & Pia Zadora-When the rain begins to fall
11 Gene Kelly-Singin' In The Rain
12 November Rain (Guns n' roses)
Taupes Rapist 25 Crozes 23 Zobi 18 DEST 18 Babinsky 17 No Fear 16,5 Otac 7,5
Série 2 titres trompeurs
00 You Got It (Roy Orbison)
01 Enya-Orinoco Flow
02 Come Out And Play (Offspring)
03 Le Loup, La Biche Et Le Chevalier (Henri Salvador)
04 Paolo Conte-Via Con Me
05 Creedence Clearwater Revival-Proud Mary
06 Sympathique (Pink Martini)
07 James Brown-I Got You
08 Pink Floyd-Brain Damage
09 Patricia Carli-Demain tu te maries
10 Supertramp-The Logical Song
11 The Beatles-Eleanor Rigby
Taupes Rapist 18 Crozes 16 No Fear 14 Zobi 12 DEST 11 Babinsky 8 Otac 6,25
Série 3 groupes multi nationaux
00 Manfred Mann-Ha Ha Said The Clown (pianiste sud-africain et groupe anglais)
01 Garbage-Stupid Girl (chanteuse écossaise et groupe américain)
02 The Police-So Lonely (batteur américain et groupe anglais)
03 Metallica-...And Justice For All (batteur danois et groupe américain)
04 The Mamas & the Papas-Monday Monday (Dennis Doherty canadien et groupe américain)
05 Slayer-At Dawn They Sleep (Chanteur chilien et groupe américain)
06 Stranglers-Sometimes (bassiste français et groupe anglais)
07 UFO-Time On My Hands (guitariste allemand et groupe américain)
08 Mahavishnu Orchestra-Birds Of Fire (guitariste anglais, pianiste tchèque, batteur panaméen, bassiste irlandais, violoiniste écossais)
09 The Velvet Underground feat Nico-I'll Be Your Mirror (Nico allemande et groupe américain)
10 Elli et jacno-Main Dans La Main (duo franco-uruguayen)
Crozes 11 Zobi 9 DEST 7 Taupes Rapist 7 Otac 6 Babinsky 5,5 No Fear 4,5
série 4 reprises où je demandais aussi les originaux
00 I Love Rock 'N Roll (Joan Jett & The Blackhearts)/original Arrows
01 The Rolling Stones-Susie Q/Dale Hawkins
02 She's Not There (Santana)/Zombies
03 Coolio-Gangsta's Paradise/Stevie Wonder
04 The Man Who Sold The World (Nirvana)/David Bowie
05 Le Poinçonneur Des Lilas (Starshooter)/Serge Gainsbourg
06 Hallelujah (Jeff Buckley)/Leonard Cohen
07 Jeff Beck-Love Is Blue (L'Amour Est Bleu)/Andre Popp ou Vicky Leandros
08 Birdland (Manhattan Transfer)/Weather Report
09 Ludwig Von 88-Libertine/Mylène Farmer
10 10 Cassius Clay-Stand by me/Ben E. King
11 Les 4 barbus-La pince à linge/Beethoven (5ème symphonie)
Crozes 23 Taupes Rapist 21 Zobi 17 Babinsky 15 No Fear 14 DEST 12 Otac 11
Total écrit Crozes 75 Taupes Rapist 71 Zobi 56 No Fear 49 DEST 48 Babinsky 45, 5 Otac 30,75
Rapidité
01 Blue Öyster Cult-Black Blade
02 X-Ray Spex-I Am A Cliche
03 Depeche Mode-People Are People
04 Abba-The Name Of The Game
05 Cradle of Filth-Malice Through the Looking Glass
06 Earth, Wind & Fire-Magic Mind
07 Iron Maiden-Caught Somewhere In Time
08 The B-52's-6060-842
09 Indochine-Canary Bay
10 ZZ Top-Backdoor Love Affair
11 Yeh-Yeh (Matt Bianco)
12 Barbra Streisand-Woman In Love
13 Judas Priest-Better By You, Better Than Me
14 Pixies-Motorway To Roswell
15 Vampire Weekend-M79
16 Deep Purple-Living Wreck
17 Gerry Rafferty-Baker Street
18 Motörhead-Steal Your Face
19 Georges Bizet-La marches des rois
20 olivia newton john-Physical
21 The Jam-'A' Bomb In Wardour Street
22 Smashing Pumpkins-Quiet
23 Richard Wagner-La Chevauchée des walkyries
24 Dire Straits-Expresso Love
26 Johnny Winter-Good Morning Little Schoolgirl
27 Frank Zappa-Montana
28 Bruce Springsteen-Rosalita (Come Out Tonight)
29 Steely Dan-Hey Nineteen
30 Blondie-The tide is high
31 Stewart Copeland feat Ray Lema-Koteja (Oh Bolilla)
32 Bernard Lavilliers-Fensch vallee
33 AC/DC-Down Payment Blues
34 Foo Fighters-DOA
35 Talk Talk-Life's What You Make It
36 Glenn Miller-In The Mood
37 Doucement (Liane Foly)
38 Killing Joke-Millenium
39 L'Anamour (Serge Gainsbourg)
40 Jakie Quartz-Mise au point
41 Caribou-Melody Day
42 The Cure-Primary
43 Tappi Tikarass (Björk)-Ilti ebni
44 France Gall-Gare A Toi...Gargantua
45 Edie Brickell-Tomorrow Comes
46 Interpol-Length Of Love
47 Editors-Fingers In The Factories
Rapidité Crozes 31 Taupes Rapist 15 No Fear 9 DEST 7 Bounty 6 Zobi 2 Bounty 6 Fad Desire 3 Babinsky 1 Otac 1
Total du total Crozes 106 Taupes Rapist 86 No Fear 58 Zobi 58 DEST 50 Babinsky 46,5 Otac 31,75
A bientôt.
Yves
10/06/2014
Le blind-test du 3 juin s'est bien déroulé, dans une bonne ambiance (trop par moments).
Suivent les play-list et les résultats.
Série 1 Les gentils (brus et gendres idéaux)
01 Yesterday (Beatles)
02 Pink Floyd-Money
03 Supertramp-Goodbye Stranger
04 Depeche Mode-People Are People
05 MGMT-Kids
06 Dire Straits-Sultans Of Swing
07 Renaud-Ma Chanson Leur A Pas Plu...
08 Abba-Super Trouper
09 Emilie Simon-Alicia
10 The Beach Boys-Good Vibrations
11 Alain Souchon-J'ai Dix Ans
New Team 20 p'tits Caribous 19 Turlute 17,5 Copains 17,5 KCDK 17 Rikakak 17 Berlioz 17 Cannibales 17 Avant derniers 16 Rampage Team 16 Gnéé! 12 Banana slip 11,5 cléclé manie 9,5 Tcta 5
Série 2 les méchants (vos parents n'aimeraient pas que vous les rameniez à la maison)
01 The Rolling Stones- Jumpin' Jack Flash
02 My Name Is (Eminem)
03 Michel Sardou-Je suis pour
04 Hole-Celebrity Skin
05 Lily Allen-Fuck You
06 mOBSCENE (Marilyn Manson)
07 Sex Pistols-God Save The Queen
08 AC/DC-Dirty Deeds Done Dirt Cheap
09 Pixies-Alec Eiffel
10 ZZ Top-Beer Drinkers & Hell Raisers
11 Electric Six-Danger! High Voltage
12 Slayer-Angel Of Death
New Team 17 Cannibales 16 Rampage Team 14 Turlute 14 Berlioz 13 p'tits Caribous 10 Copains 10 Gnéé! 9 Rikakak 9 Avant derniers 8 Banana slip 7,5 KCDK 7 Tcta 7 cléclé manie 6
Série 3 chanteurs ayant été acteurs x, porno (à trouver)
01 Rita Mitsouko-Les Histoires D'a.
02 Clara Morgane-Sexy Girl
03 Dj Junior feat Michelle Wild – 69
04 Cicciolina – Satisfaction
05 Ramones feat Traci Lords-Somebody To Love
06 Paris Hilton-Stars Are Blind
07 Baila (Alliage)
08 Laure Sainclair - Pourquoi Tu Pars?
09 More, More, More (Andrea True Connection)
10 Brigitte Lahaie-Caresse tendresse
Cannibales 18,5 Rikakak 12 Rampage Team 10,5 New Team 10 KCDK 10 p'tits Caribous 9 Banana slip 9 Turlute 9 Copains 8 Berlioz 7 Gnéé! 7 cléclé manie 6 Avant derniers 5 Tcta 4
Série 4 Shuffle (à trouver!)
01 The Cranberries-Ode To My Family
02 Je Veux (Zaz)
03 Mon Coeur Mon Amour (Anaïs)
04 Lil Wayne-Monster
05 Oops!... I Did It Again (Britney Spears)
06 The Cure-Let's Go To Bed
07 Björk-Army Of Me
08 Sugarhill Gang-Rapper's Delight
09 Reptilia (Strokes)
10 Amy Winehouse-You Know I'm No Good
11 Tryo- Con par raison
Cannibales 18 Les p'tits Caribous 17, 5 Rampage Team 17 Berlioz 14 Gnéé! 14 New Team 13,5 KCDK 13,5 La Turlute 13 Avant derniers 13 Copains 12 Rikakak 12 Tcta 12 Banana slip 10,5 cléclé manie 8
Gloubi-boulga
01 Star Wars Main Theme
02 Grease (Olivia Newton-John & John Travolta-Summer Nights)
03 Drive (Nightcall (Kavinsky Feat. Lovefoxxxc)
04 Magnum
05 Prélude Et Fugue N 1 (Clavier Bien Tempéré, Livre 1, Bwv 846) (SFR)
06 La panthère Rose/The Pink Panther Theme (Henry Mancini)
07 Amicalement vôte (The Persuaders!)/Zemmour et Nauleau
08 Adele-Skyfall
09 Pulp Fiction- (Chuck Berry-You Never Can Tell)
10 Ennio Morricone-Mon nom est Personne
11 Toyota (The Free Design-Love you)
12 Baauer-Harlem Shake (intrus: c'est vous qui faites le film)
13 Albator
14 Virgin Suicide-Playground Love (Air)
15 Rita Pavone-Viva la pappa col pomodoro (Orange fibre/Il giornalino di Gian Burrasca)
16 Chapi Chapo
17 Psychose/Psycho-The Murder (Bernard Hermann)
18 Schweppes (Chico Buarque-Essa Moca Ta Diferente)
19 Interview With The Vampire/Entretien avec un vampire (Guns 'n roses-Sympathy For The Devil)
20 Good Morning Vietnam-Louis Armstrong-What a Wonderful World
21 Astérix mission cléopâtre: Mission Cleopatra (Jamel Debbouze and Snoop Dogg)
22 Grandmaster Flash-The Message (parfum Lacoste)
23 The Lion King (Le roi lion)-I Just Can't Wait To Be King
Cannibales 18 New Team 18 Rampage Team 17 p'tits Caribous 16 Turlute 15 Rikakak 15 Berlioz 14,1 Copains 13 KCDK 13 Avant derniers 13 Banana slip 13 Gnéé! 12 Tcta 10,5 cléclé manie 9
Quelques équipes ont été mal corrigées (les Gnéé entre autres qui perdent des points, La new team qui en gagne et termine 2ème au final). Certains devraient apprendre à faire une addition.
Les cannibales gagnent en faisant la différence sur le X (et oui!)? La Tcta probablement arrivée en retard gagne la bouteille de l'avant dernier. Sinon bien joué à toutes les équipes.
total
Cannibales en hélicopère feat bites ovales 87,5
New Team 81
Rampage Team 74,5
Les p'tits Caribous 71,5
La Turlute c'est chouette 68,5
Berlioz de derrière les fagots 65,1
Rikakak tendresse et cétacé 65
Les Copains d'abord 60,5
KCDK 60,5
Avant derniers 55
Gnéé! 54
Banana slip 51,5
Tcta 39,5
cléclé manie (pas sûr du nom exact) 38,5