22/05/2015
Belle soirée à l'Ouest à l'abri du froid régnant à Grenoble.
Un blind-test qui se résuma essentiellement à un duel entre deux belles équipes: les torseurs faisant la différence à l'écrit en trouvant les 3 thèmes. L'OVS était seul une bonne partie du jeu et les barmen occupés à servir la clientèle
Rapidité cinéma
01 Mad Max (Main Title) (Brian May)
02 Reservoir Dogs (Little Green Bag (George Baker Selection)
03 John Williams-The Imperial March
04 Slumdog Millionaire (M.I.A.-Paper Planes)
05 The Party (Vocal) (Henry Mancini)
06 Les Reed-The Saint
07 Frankie Valli-Grease
08 Urgences (James Newton Howard)
09 Cabaret-Willkommen (Joel Grey & Company)
10 Dirty dancing (Mickey & Sylvia-Love Is Strange)
11 Requiem For A Dream (Clint Mansell-Summer Overture)
12 Les Demoiselles de Rochefort (Nous voyageons de ville en ville)
13 Cinéclub (Les Etoiles Du Cinema (Francis Lai)
14 Little Miss Sunshine (DeVotchKa-How It Ends)
15 Inspecteur Gadget (Apollo)
16 L'homme qui en savait trop (1956) (Doris Day- Que sera)
17 La Famille Adams (Vic Mizzy)
18 La Petite Maison Dans La Prairie (David Rose)
19 In The Mood For Love (Yumeji's Theme)
20 Barry Lyndon (Sarabande-Haëndel)
21 Amicalement vôtre-Theme from "The Persuaders!" (John Barry)
22 Histoire Sans Paroles (Chicken Reel - Joseph M. Daly)
23 Sacco & Vanzetti (La Ballata Di Sacco E Vanzetti)- (Ennio Morricone & Joan Baez)
24 Sept Sur Sept (Jean-Claude Pierric)
25 Chapeau Melon et bottes de cuir (musique de fin des épisodes avec Tara King)
26 La vie de Brian/Life of Brian (Always Look on the Bright Side of Life)
27 Absolutely Fabulous (Julie Driscoll- Wheels of fire)
28 Vous n'aurez pas l'Alsace et la Lorraine (Le chevalier blanc)
29 Major Crimes
30 Miss Fisher Enquete
Theme écrit (thèmes 1, 3 et 4 à trouver)
Un mot commun dans les titres qui se suivent
00 Crosby, Stills & Nash- Suite Judy Blue Eyes
01 Led Zeppelin-Black Dog
02 AC/DC-Back In Black
03 The Beatles-Back in the U.S.S.R.
04 Coldplay-Life In Technicolor
05 Iggy Pop-Lust For Life
06 Pink Floyd-Young Lust
07 Jamiroquai-Too Young to Die
08 Carole King-It's Too Late
09 Run DMC -It's Like That
10 Ace Of Base-All That She Wants
11 Metallica-...And Justice For All
Torseurs 22 Garces y More 16 OVS 14,5 Barmen 11
Thème 2 eurovision
00 M.A. Charpentier-Te Deum
01 ABBA-Waterloo
02 Conchita Wurst-Rise like a Phoenix
03 Vicky Leandros-L'Amour Est Bleu (composé par André Popp et n'a pas gagné l'eurovision)
04 Marie Myriam-L'oiseau et l'enfant
05 Lordi-Hard Rock Hallelujah
06 Jacqueline Boyer - Tom Pilibi (composé par André Popp)
07 Anne Marie David-Tu Te Reconnaitras
08 Izhar Cohen & The Alphabeta-A-Ba-Ni-Bi
09 Katrina & the waves-Love shine a light
10 Ell ft Nikki-Running Scared
Torseurs 10 Garces y More 8,5 OVS 4,5 Barmen 3,5
Thème 3 Trios
00 Emerson, Lake & Palmer-Jerusalem
01 Nirvana-Smells Like Teen Spirit
02 The Police-Don't Stand So Close To Me
03 Revolver-Balulalow
04 Hot Tuna-Invitation
05 the Supremes-Stop! in the Name of Love
06 Matt Bianco-Get Out Of Your Lazy Bed
07 Da Da Da (Trio)
08 Rock This Town (Stray Cats)
09 Carmel-Sally
10 The Jam-It's Too Bad
11 ZZ Top-Backdoor Love Affair
Torseurs 11 Garces y More 10 OVS 6,5 Barmen3
Thème 4 Morceaux avec de l'eau qui coule
00 Yes-Close To The Edge
01 Oasis-Champagne Supernova
02 Dorothée-La valise
03 Pink Floyd-Signs Of Life
04 Otis Redding-(Sittin' On) The Dock of the Bay
05 Chris Rea-On The Beach
06 Jean-Michel Jarre-Oxygène, Pt. VI
07 Singing In The Shower (Les Rita Mitsouko & The Sparks)
08 Heart-Dreamboat Annie
09 Stranglers-Down In The Sewer
10 Weather Report-Gibraltar
11 Ludwig Von 88-Les Blobs Attaquent La Plage
Garces y More 15 Torseurs 14 OVS 6,5 Barmen 4
Total écrit
Torseur 57 Garces y More 49,5 OVS 32 Barmen 21,5
Rapidité
01 Everyday I Have The Blues (B.B. King)
02 Renaud-Le Blues de la Porte d'Orléans
03 Kraftwerk-The Model
04 The Rolling Stones-Live With Me
05 Slayer-Divine Intervention
06 Earth, Wind & Fire-Magic Mind
07 Kim Wilde-Stay Awhile
08 Supertramp-Child Of Vision
09 Sonic Youth-Youth Against Facism
10 Iron Maiden-Drifter
11 Lords of the New Church-Live for today
12 Santana-Yours Is the Light
13 New Born (Muse)
14 Nina Hagen- Iki Maska
15 Carl Orff-Cour D'Amours_ Circa Mea Pectora
16 Bruce Springsteen-Thunder Road
17 Arctic Monkeys-Brainstorm
18 Niagara- J'ai vu
19 Jeff Buckley-Opened Once
20 Lil Wayne-Monster
21 Justice-Genesis
22 Julie Pietri-Eve, leve toi
23 Marianne Faithfull-Broken English
24 Eric Clapton-Let It Grow
25 Percy Sledge-When A Man Loves A Woman
26Two Weeks (Grizzly Bear)
27 Madonna-Music
28 Nasty (Prodigy)
29 Scissor Sisters-Skin This Cat
30 Blondie-Sunday Girl
31 Patti Smith-Rock n Roll Nigger
32 Eurythmics-It's Alright (Baby's Coming Back)
33 Kid Creole & The Coconuts-I'm a Wonderful Thing, Baby
34 Cansei de Ser Sexy -Alala
35 Frank Zappa-Cosmik Debris
36 Iron Maiden – The Number of the beast (chanté par votre serviteur)
Rapidité
Garces y More 25 Torseurs 21 Barmen 12 OVS 4
Total du total
Torseur de merde sacrée 78 Garces y More 74,5 OVS 36 Barmen 33,5
22/04/2015
Bilan du blind-test d'hier que j'organisais au Tord Boyaux.
D'abord les play-list
Série 1 tour du monde de la musique (je demandais aussi le pays d'origine)
01 Psy-Gangnam Style/Corée du sud
02 Papaoutai (Stromae)/Belgique
03 AC/DC-Hells Bells/Australie
04 a-Ha-Take On Me/Norvège
05 Sabrina - Boys (Summertime Love)/Italie
06 Cesaria Evora-Sodade/Cap vert
07 Loca (Shakira feat. Dizzee Rascal)/Colombie
08 ABBA-Chiquitita/Suède
09 Björk-Hyperballad/Islande
10 Toi mon toit (Elli Medeiros)/Uruguay
11 amandine rappeuse du 38-333 franc mille cfa/France hélas
12 Falco-Der Kommissar/Autriche
Team Rocket 30,5 Insulte moi 29 Turlute 28 Pas Nous 28 Topo Dorado 28 Rocher Thermal 27,5 Bites ovales 27 Birdy Miam miam 27 Berlioz 26 Cailloux creux 25,5 Tontons 24 Mouettes 23 Chats 22 Testicules 20 Bah ouais 19 Filles 10
2 Artistes francais qui chantent en anglais (thème à trouver)
01 Daft Punk-One More Time
02 Down The Road (C2C)
03 Air-Sexy Boy
04 Phoenix-Lisztomania
05 Patrick Juvet - I Love America (intrus car Suisse)
06 My name is Stain (Shaka Ponk)
07 Yodelice-Sunday With A Flu
08 Les Rita Mitsouko-Don'T Forget The Night (intrus quelques mots en français)
09 Skip The Use-Ghost
10 Revolver-Get Around Town
11 Justice-Dance
Berlioz 26 Rocher Thermal 26 Birdy Miam mian 25 Team Rocket 25 Insulte moi 25 Turlute 23 Mouettes 23 Bites ovales 22 Chats 21 Tontons 20 Topo Dorado 19 Cailloux creus 19 Testicules 17 Pas Nous 15 Bah ouais 10 Filles 1
3 Artistes au gros nez (thème à trouver)
01 Love On The Beat (Serge Gainsbourg)
02 Barbra Streisand-Woman In Love
03 Couleur Menthe A L'Eau (Eddy Mitchell)
04 Pink Floyd-Wish You Were Here (pour Roger Waters)
05 Amy Winehouse-Back To Black
06 Lucky Man (Emerson, Lake & Palmer) (pour Greg Lake)
07 Baba O'Riley (Who) (pour Pete Townshend)
08 Noir C'Est Noir (Johnny Hallyday)
09 Sunshine Of Your Love (Cream) (pour Jack Bruce)
10 Jenny Wilson-Anchor Made of Gold (nez très long, plus long que gros)
Berlioz 20 Topo Dorado 18 Insulte moi 17 Pas Nous 17 Birdy Miam mian 16 Team Rocket 16 Turlute 16 Rocher Thermal 15 Cailloux creux 15 Chats 12 Tontons 11 Mouettes 10 Bites ovales 10 Testicules 9 Bah ouais 8 Filles 0
4 shuffle
01 The Police-Message In A Bottle
02 Chic-Good Times (These Are The)
03 Marie Myriam-L'oiseau et l'enfant
04 Jimi Hendrix-Purple Haze
05 Grandmaster Flash-The Message
06 Bob Marley & The Wailers-Could you be loved
07 Pixies-Broken Face
08 Percy Sledge-When A Man Loves A Woman
09 France Gall-Les Sucettes
10 Deep Purple-Highway Star
11 J'entends Siffler Le Train (Richard Anthony)
Team Rocket 21 Berlioz 20 Bites ovales 20 Birdy Miam mian 18 Rocher Thermal 15 Insulte moi 15 Chats 14 Cailloux creux 13 Turlute 13 Pas Nous 12 Mouettes 12 Testicules 11 Filles 10 Tontons 9 Topo Dorado 7,5 Bah ouais 5
gloubi-boulga: Films musicaux (thème à trouver)
01 Singin' In The Rain (Gene Kelly)
02 Grease-Olivia Newton-John & John Travolta-Summer Nights
03 Bette Midler-The Rose
04 The Wizard Of Oz/Le magicien d'Oz-Over The Rainbow (Judy Garland)
05 The Wall (Pink Floyd-Another Brick In The Wall Part 2)
06 South Park le film (Chef Aid-Simultaneous)
07 Le Roi et l'Oiseau-Berceuse paternelle
08 Moulin Rouge (Nicole Kidman-One Day I'll Fly Away)
09 Les Hommes préfèrent les blondes Gentlemen prefer blondes) Marilyn Monroe-Diamond's Are A Girl's Best Friend
10 West Side Story-I Feel Pretty
11 ratatouille (Le Festin (Camille)
12 Le Roi Lion (Jason Weaver, Rowan Atkinson & Laura Williams-I Just Can't Wait To Be King)
13 Yellow Submarine
14 The Rocky Horror Picture Show-(Touch-A, Touch-A, Touch Me (Susan Sarandon)
15 New York, New York (Theme From New York, New York (Liza Minelli)
16 Cendrillon
17 Dancer in the dark (Björk-Cvalda)
18 Band Wagon/Tous en Scène (Triplets-Fred Astaire, Nanette Fabray & Jack Buchanan)
19 Tommy-Acid Queen
20 Cabaret (Willkommen (Joel Grey & Company)
Insulte moi 22 Topo Dorado 19 Mouettes 18 Rocher Thermal 17 Turlute 16 Berlioz 15 Pas Nous 15 Birdy Miam miam 15 Cailloux creux 15 Bites ovales 14 Filles 14 Tontons 9 Team Rocket 10 Chats 6 Testicules 6 Bah ouais 4
Total
Insulte moi en Russe et en Prusse108
Team Rocket 102,5
Berlioz 102
Rocher Thermal 101,5
Birdy Miam miam 101
La Turlute c'est Chouette 96
Les Bites Ovales 92
El topo Dorado 91,5
Les Cailloux creux 87,5
C'est Pas Nous 87
Les Mouettes Tueuses 86
Les Chats qui explosent 77
Les Tontons Branleurs 75
Blind Testicules 65
Bah ouais 46
Les Filles 35
Bonne ambiance chaleureuse hier au tord boyaux.
Victoire de Insulte moi qui fait la différence sur le gloubi-boulga où la Team rocket est assez moyenne.
Les Birdy Miam miam ont donc chuté (bon à 1 point du podium, on relativisera leur défaite vu qu'ils n'ont pas trouvé les thèmes gros nez et comédie musicales).
La feuille des Bites ovales a été mal corrigée (de grâce apprenez à faire une addition) et sont au final assez bien classées. Mention à Sylvain de El Topo dorado qui a joué tout seul et assuré à part sur le shuffle.
Les filles terminent dernières mais elles sont arrivées en retard et ont donc raté deux thèmes.
A bientôt
16/04/2015
Bonne ambiance ce mercredi soir
Quatre équipes en présence + une faisant de la figuration (mais sympathique)
Chose curieuse les torseurs et les Cool brillants à la rapidité ne l'ont pas été à l'écrit, à l'inverse des Dest et de Cémoi.
Rapidité cinéma
01 La panthère rose/The Pink Panther Theme (Henry Mancini)
02 The Police-Murder By Numbers (Police) (Copycat)
03 Opera sauvage-L'année de tous les dangers (Vangelis-L'enfant)
04 Culture pub
05 Apocalypse now (Richard Wagner-Ride Of The Valkyries)
06 La fièvre du samedi soir-Saturday night fever (Stayin' Alive-Bee Gees)
07 Gdf Suez (Bibio-Lovers' Carvings)
08 Pulp Fiction-Zed's Dead Baby Bullwinkle Part II
09 Highlander (Queen-Princes Of The Universe)
10 Muppets Show - The Muppet Show Theme
11 Blow up (The Yardbirds-The Train Kept a Rolling)
12 Eric Charden-San Ku Kaï
13 Donnie Darko (Mad World-Michael Andrews & Gary Jules)
14 Le Temps Des Gitans (Ederlezi)
15 Dirty Dancing (Bill Medley & Jennifer Warnes-(I've Had) The Time Of My Life)
16 Pour quelques dollars de plu-For A Few Dollars More-Per Qualche Dollaro In Più -Ennio Morricone
17 Ratatouille (Camille-Le Festin)
18 Les dents de la mer-Main Title (Theme From 'Jaws') (John Williams)
19 Alice Nevers Le juge est une femme (Syntax-Pride)
20 La vie est un long fleuve tranquille (Patrick Bouchitey - Jésus Revient)
21 Drive- (Kavinsky Feat. Lovefoxxx-Nightcall)
22 Benny Hill (Boots Randolph-Yakety Sax)
23 La soupe aux choux-Oxo la Terre
24 Bruno Coulais – Microcosmos
25 Bowling for Columbine (R.E.M.-How The West Was Won And Where It Got Us)
26 (La Séquence Du Spectateur) Juan Montego & Kingston orchestra "On the desert road"
27 Ron Grainer - The Prisoner theme
28 Daria (Splendora-You're Standing On My Neck)
29 Orange mécanique-Clockwork orange Walter Carlos-Timesteps (Excerpt)
30 Broadchurch
Theme 1 Groupes de quatre
00 Pink Floyd-Careful With That Axe, Eugene
01 The Beatles-A Hard Day's Night
02 The Doors-Light My Fire
03 Slayer-South Of Heaven
04 Dave Brubeck Quartet-Take Five
05 The Mamas & the Papas-Monday Monday
06 The Kinks-Sunny Afternoon
07 Pixies-Alec Eiffel
08 Telephone-Argent trop cher
09 Abba-Tiger
10 Ramones-Blitzkrieg Bop
11 The Clash-The Magnificent Seven
Cool 16 Dest 16 Cémoi 15 Torseurs 10
Theme 2 Noir ou blanc dans le nom de l'artiste
00 My Patch (Jim Noir)
01 Lonely Boy (Black Keys)
02 Bérurier Noir-Salut à toi
03 Tostaky (Le Continent) (Noir Desir)
04 Jimmy the exploder (White stripes)
05 Iron Man (Black Sabbath)
06 Le Cid (Francis Blanche)
07 Dactylo Rock (Chaussettes Noires)
08 Los Angeles (Frank Black)
09 Tony Joe White- Polk Salad Annie
10 Pick Up The Pieces (Average White Band)
Dest 20 Torseurs 15 Cémoi 14 Cool 11
Theme 3 chansons faisant référence à une oeuvre littéraire
00 Blue Oyster Cult-The Red and The Black (Stendhal)
01 Sympathy For The Devil (Rolling Stones) (Le Maître et Marguerite/Mikhaïl Boulgakov)
02 The Cure-Killing An Arab (l'étranger-Albert Camus)
03 Iron Maiden-Phantom Of The Opera (Gaston Leroux)
04 Moby Dick (Led Zeppelin-Herman Melville)
05 Steppenwolf-Born to Be Wild (Herman hesse)
06 Kate Bush-Wuthering Heights (Emily Bronte)
07 White Rabbit (Jefferson Airplane) (Alice aux pays des merveilles-Lewis Caroll)
08 Metallica-The Call Of Ktulu (H.P Lovecraft)
09 The Doors -End Of The Night (Voyage au bout de la nuit-Céline)
10 Venus In Furs (Velvet Underground) (Sacher-Masoch)
11 Bruce Springsteen -The Ghost Of Tom Joad (Les raisins de la colère-John Steinbeck)
12 Dave-Du Coté De Chez Swann (Marcel Proust)
13 Fun Lovin' Criminals-Crime And Punishment (dostoievski)
Cémoi 29 Torseurs 19 Dest 18 Cool 17
Theme 4 rock garage d'hier et de maintenant
00 The Sonics-Psycho
01 Wild Thing (Troggs)
02 Kick Out The Jams (MC5)
03 The Hives-Walk idiot walk
04 The Stooges-No Fun
05 The Flamin' Groovies-Teenage Head
06 Sam the Sham & the Pharaos "Wooly Bully"
07 Electric Prunes-Kyrie Eleison
08 The Standells-Dirty Water
09 Question Mark & The Mysterians-96 Tears
10 The Rivieras-California Sun
Cémoi 10 Torseurs 4 Cool 4 Dest 3
Total écrit
Cémoi 68 Dest 57 Cool 48 Torseurs 48
01 Toto-Rosanna
02 Twisted Sister-We're Not Gonna Take It
03 Joe Satriani-Crushing Day
04 Depeche Mode-Everything Counts
05 Accept-Son Of A Bitch
06 Ange-Ego et Deus
07 All Right Now (Free)
08 Red Hot Chili Peppers-Walkabout
09 Nada Surf-L'aventurier
10 Creedence Clearwater Revival-Effigy
11 Hole-Gutless
12 Gwen Stefani-The Sweet Escape
13 Status Quo-Hard Time
14 Franz Ferdinand-Walk Away
15 William Sheller-Rosanna Banana
16 Jeff Beck/Jimmy Page-Beck's Bolero
17 Rize of the Fenix (Tenacious D)
18 Mecano-Hijo De La Luna
19 Smashing Pumpkins-Glass And The Ghost Children
20 Henri Salvador-Blouse du dentiste
22 Jeff Healey Band-See The Light
23 Blur-Chemical World
24 Bernard Lavilliers-Fensch vallee
25 Niagara-Assez !
26 Janis Joplin-Kozmic Blues
27 Enya-Orinoco Flow
28 Lady Gaga-Boys Boys Boys
29 Le Tigre-My My Metrocard
30 Aerosmith-Dream On
31 a-Ha-Take On Me
32 Ayo-Help Is Coming
33 Nirvana-On A Plain
42 Kaiser Chiefs-I Predict A Riot
34 Stevie Wonder-I Wanna Talk To You
35 Living Colour-Memories Can't Wait
Rapidité
Cool 25 Torseurs 24 Cémoi 10 Dest 6
Total du total
Cémoi 78 Cool 73 Torseurs 72 Dest 63
Victoire donc de Cémoi qui assure surtout sur la série littéraire.
A bientôt
14/03/2015
Bonne ambiance ce mercredi à l'Ouest
4 équipes mais hélas les chiens fous n'ont pas rendu leur copie: hé Laurie, je ne me serais pas moqué de toi, tu as de trop beaux yeux pour que je me le permette.
La rapidité fut chaude mais ce fut à l'écrit que les Barboulins assurèrent leur victoire. Mention aussi à Karo des Télétubbies qui joua l'essentiel du blind-test toute seule
Rapidité cinéma
01 Fantomas (Theme De Fantomas)
02 Mission impossible (Limp Bizkit-Take A Look Around (2000)
03 Once Upon A Time In The West-Il était une fois dans l'Ouest (Farewell to Cheyenne)
04 Profondo Rosso-Deep Red-Les frissons de l'angoisse (Goblin-Death Dies)
05 O Brother (The Soggy Bottom Boys-I Am A Man Of Constant Sorrow)
06 Orange mécanique-A Clockwork Orange- (Rossini_ William Tell - Overture (Abridged)
07 Monty's Python's flying circus
08 La famille Adams
09 Hair (Aquarius-Let The Sunshine In)
10 Camping (Ryan Paris-La dolce vita)
11 Astérix et Obélix Mission Cléopâtre- (Jamel Debbouze and Snoop Dogg-Mission Cleopatra)
12 Ford Fiesta (Smash Mouth-Walkin' on the sun)
13 Virgin Suicides-Suicide Underground (Air)
14 Oss 117-Bambino
15 Psychose-Psycho (Psycho suite)
16 Cabaret (Two Ladies)
17 Chanel mademoiselle Coco (Zombies-She's Not There)
18 Midnight Express-Chase
19 Téléfoot (Piero Umiliani-Mah Nà Mah Nà)
20 Le monde ne suffit pas-The World Is Not Enough (Garbage)
21 Evian (Wordy Rappinghood -Uffie)
22 Vangelis-(Les chariots de feu-Chariots Of Fire)
23 Esprit rebel (Coolio-Gangsta's Paradise)
24 Nike football (Sergio Mendez & Brazil '66-Mas Que Nada)
25 Chantal Goya-Bouba
26 Le dernier des Mohicans-The Last Of The Mohicans
27 Scoubidou
28 Intervention divine (Natacha Atlas-I Put A Spell On You)
29 Trafic d'influence (i will survive)
30 Star Trek
Ecrit
Thème 1 albums les plus vendus au monde
00 Meat Loaf-Bat Out Of Hell
01 Pink Floyd-Time/Dark Side Of The Moon
02 AC/DC- Hells Bells/Back In Black
03 Walk of Life (Dire Straits)/Brothers In arms
04 Don't Stop (Fleetwood Mac)/Rumours
05 Beat It (Michael Jackson)/Thriller
06 Alanis Morissette-Hand In My Pocket/Jagged Little Pill
07 Paradise City (Guns N' roses)/Appetite for Destruction
08 Candle In The Wind (Elton John)/Goodbye Yellow Brick Road
09 The Beatles-Fixing a Hole/Sgt. Pepper's Lonely Hearts Club Band
10 Dancing In The Dark (Bruce Springsteen)/Born in the U.S.A
11 Led Zeppelin-Rock and Roll/ Led Zeppelin IV
Télétubbies 22 Barboulins 22 Aqui 18
2 Morceau contenant une seule ligne mélodique
00 The Police-Voices Inside My Head
01 The Rolling Stones-Hot Stuff
02 The Velvet Underground-I'm Waiting For The Man
03 Talk Talk-Life's What You Make It
04 Daft Punk-Harder, better, faster, stronger
05 Jesse Garon-C'est Lundi
06 Pixies-U-Mass
07 Abba-Rock Me
08 Jean Michel Jarre-Oxygene (Part III)
09 David Bowie-The Jean Genie
10 Jacques Dutronc-Le bras mécanique
11 ZZ Top-Tush
12 Knack (The)-My Sharona
Barboulins 18 Aqui 14,5 Télétubbies 12
3 artistes ennemis
00 Anthrax-One Man Stands (morceau choisi à cause de sa phrase « Your ennemy is dead »)
01 Oasis-Supersonic
02 Blur-Song 2
03 Miss You (Rolling Stones)
04 Roxy Music-More Than This
05 Metallica-Battery
06 Megadeth-Five Magics
07 Taylor Swift-Shake It Off
08 I Kissed a Girl (Katy Perry)
09 Eminem-My Name Is
10 Moby-Natural Blues
11 Angel Of Death (Slayer)
12 Roots Bloody Roots (Sepultura)
Certains on fait la paix depuis (Blur et Oasis, Slayer et Sepultura).
Barboulins 26 Aqui 25 Télétubbies 17
4 rupture amoureuse (thème préparé par Gillain)
00 Schism (Tool)
01 Je Suis Venu Te Dire Que Je M'en Vais (Serge Gainsbourg)
02 Letter To Hermione (David Bowie)
03 Nat King Cole – Perfidia
04 Elliott Smith - Somebody That I Used To Know
05 CA Va Ça Vient? (Boby Lapointe)
06 Last Goodbye (Jeff Buckley)
07 Black (Pearl Jam)
08 Elvis Costello - I Want You
09 The Buzzcocks - Ever Fallen In Love (With Someone You Shouldn't've)
10 You Can't Quit Me Baby (Queens of the Stone Age)
11 Smoke Gets In Your Eyes (Platters)
12 Mark Lanegan- Don't Forget Me
Barboulins 21 Aqui 13 Télétubbies 12
Total écrit
Barboulins 87 Aqui 70,5 Télétubbies 62
01 10 CC- I'm Not In Love
02 Helicopter (Bloc Party)
03 Skunk Anansie-I Can Dream
04 Depeche Mode-Everything Counts
05 Kim Carnes-Draw of the cards
06 K.C. & The Sunshine Band-Get Down Tonight
07 Arctic Monkeys-All My Own Stunts
08 Blue Oyster Cult-Mistress Of The Salmon Salt (Quicklime girl)
09 Yodelice-Sunday With A Flu
10 The Cardigans-My Favourite Game
11 Ray Charles-I Got A Woman
12 Body Count-Born Dead
13 Santana-Soul Sacrifice, Head,Hands & Feet
14 Matmatah-Ribette's
15 Visage-Fade To Grey
16 Tom Novembre-Parcours santé
17 Noir Désir – Charlie
18 Faith No More-Kindergarten
19 The Doors-Cars Hiss By My Window
20 Stravinsky-The Firebird Suite - Infernal Dance Of King Katschei
21 Silmarils-Cours Vite
22 Tom Petty & The Heartbreakers-Learning To Fly
23 Jimi Hendrix-Still Raining, Still Dreaming
24 The Black Keys-Lonely Boy
25 Klaxons- Gravity's Rainbow
26 Joe Jackson-Down To London
27 Big Brother And The Holding Company-Piece Of My Heart
28 Psy-Gangnam Style
29 The Troggs-Love Is All Around
30 Genesis-It
31 Fleetwood Mac-Little Lies
32 Quincy Jones-Ai No Corrida
33 Giles, Giles & Fripp-Elephant song
34 Dover-Winter Song
35 Ringo Starr-Wrack My Brain
36 No More Heroes (Stranglers)
37 The Who-I Can See For Miles
38 Nino Ferrer-Les Cornichons (Big Nick)
39 Iron Maiden-Infinite Dreams
40 Van Halen-Runnin' With The Devil
41 Ottawan-Haut les mains
42 R.E.M.-Crush With Eyeliner
43 Tears for Fears-Mad World
44 Suicide Blonde (Inxs)
45 Andreas Johnson-Glorious
46 Grandmaster Flash-The Message
47 Chic-Good Times (These Are The)
48 Jermaine Jackson & Pia Zadora-When the rain begins to fall
Rapidité
Aqui 31 Barboulins 19 Télétubbies 16 Chiens fous 5
Total du total
Barboulins 108 Aqui 101,5 Télétubbies 78
Bravo à tous
et à bientôt
31/01/2015
Bonne ambiance globale lors de ce blind-est (un peu trop sur la rapidité que j'ai écourtée)
Deux équipes au dessus du lot les Torseurs de Rotule et la Matrice (ah si les Rapist avaient été là au début!)
01 Hélène et les garçons
02 quand Hary rencontre Sally (Harry Connick, Jr.-Love Is Here To Stay)
03 Il était une fois dans l'Ouest-Once Upon A Time In The West (Farewell to Cheyenne)
04 Les Shadocks
05 Le Corniaud -Generique
06 Arabesque (murder she wrote)
07 Who Framed Roger Rabbit-Qui veut la peau de Roger Rabbit (Why Don't You Do Right)
08 La famille Adams
09 Philadelphia (Bruce Springsteen-Streets Of Philadelphia)
10 Certains l'aiment chaud-Play It Again, Charlie (Adolph Deutsch)
11 Michel Polnareff-La Folie Des Grandeurs
12 Dancer in the Dark (Björk-Cvalda)
13 Nino Rota-La Dolce Vita
14 Help (Beatles-You've Got To Hide Your Love Away)
15 Daria (Splendora-You're Standing On My Neck)
16 Dumb & Dumber (The Cowsills-The Rain, The Park And Other Things)
17 Culture pub
18 Malcolm X (Lionel Hampton-Flying Home)
19 Les Mystérieuses Cités D'or
20 Demain ne meurt jamais-Die Another Day (Madonna)
21 L'équipe du soir (Sugarhill Gang-Rapper's Delight)
22 Les Oiseaux
23 Charlie's Angels 2000 / Drôles de dames
24 La kermesse de l'ouest (Lee Marvin -Wand'rin Star)
25 Tonnere mécanique (Tangerine Dream- Le Parc (L.A. - Streethawk)
26 Les Matinales/Hanouna Plage (Le Baron-Le Sifflet Du Baron)
27 Ma sorcière bien aimée
28 Matrix-Chaîne-XXL (Rammstein-Du Hast)
29 Tommy (Who feat Tina Turner-Acid Queen)
30 West Side Story-Jet Song
série 1 Chanson = titre del'album
00 Slayer-South Of Heaven
01 Renaud-Marche à l'ombre
02 Blood Sugar Sex Magik (Red Hot Chili Peppers)
03 Boys Don't Cry (Cure)
04 The Rolling Stones-It's Only Rock 'N Roll/Batteur Charlie Watts
05 Pink Floyd-Wish You Were Here
06 The Doors-L.A. Woman
07 Crache Ton Venin (Telephone)
08 Metallica-Master Of Puppets
09 Highway To Hell (AC/DC)
10 Abba-Super Trouper
11 The Clash-London Calling
12 Exodus (Bob Marley & The Wailers)
Torseurs 27 No fear 24 La Matrice 21 Just Team 21 Bande à part 19
Série 2 Chansons hommages à d'autres musiciens (ce n'est pas toujours un hommage!)
00 Lisztomania (Phoenix)
01 Duck Sauce-Barbra Streisand
02 Les Wampas-Manu Chao
03 Laurent Voulzy-Les nuits sans Kim Wilde (il semble que la femme est plus célébrée que l'artiste)
04 Motörhead -Ramones
05 Roll Over Beethoven (Chuck Berry)
06 Weezer-Buddy Holly
07 Lou Reed-Lady Day
08 Frank Zappa-Variations on the Carlos Santana secret chord progression
09 Mr Schubert I Love You (Mike Brant)
10 Calling Elvis (Dire straits)
11 The Servant-Hey Lou Reed
Torseurs 15 Just Team 13 No fear 11 La Matrice 9,5 Bande à part 9
série 3 Morceaux repris par Joe Cocker
00 The Box Tops-The Letter
01 Human Touch (Bruce Springsteen)
02 The Beatles-With a Little Help from My Friends
03 Everybody Hurts (R.e.m)
04 Julie London-Cry me a river
05 The Lovin' Spoonful-Summer In The City
06 Many Rivers To Cross (Jimmy Cliff)
07 Robert Palmer-Every Kinda People
08 Procul Harum-Whiter Shade Of Pale/Adaptation de l'aria de Bach
09 Randy Newman-You Can Leave Your Hat On
Torseurs 17,5 La Matrice 14,5 Just Team 11 Bande à part 9 No fear 5
série 4 artistes très grimés (j'ai oublié Kiss comme me l'a souligné un ami)
00 Kimera-The Lost Opera
01 Björk-Army Of Me
02 Poison (Alice Cooper)
03 Libertine (Mylène Farmer)/a été repris par Ludwig von 88
04 Paparazzi (Lady Gaga)
05 Lordi-Hard Rock Hallelujah
06 The Crazy World of Arthur Brown-Fire
07 Genesis-The Cinema Show
08 Marilyn Manson-Antichrist Superstar
09 Nina Hagen-Cosma shiva
10 Screamin' Jay Hawkins-I Put A Spell On You
Pour certains cela ne correspond qu'à une période de leur carrière mais voici des photos l'illustrant.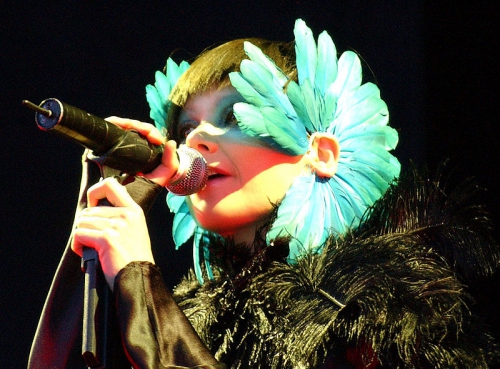 Björk en fleur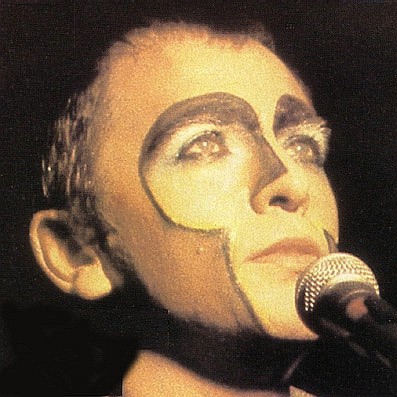 Peter Gabriel période Genesis
La Matrice 14 Just Team 12 Bande à part 12 No fear 9 Torseurs 8
Total écrit
Torseurs 67,5 La Matrice 59 Just Team 57 No fear 55 Bande à part 48
Les rapists nous ont rejoint pour la rapidité finale.
Rapidité
01 Beck-Devil's Haircut
02 Garbage-Queer
03 Michael Franks-Monkey See-Monkey Do
04 Aphrodite's Child-The Four Horsemen
05 Stray Cats-Storm The Embassy
06 Frida-I Know There's Something Going On
07 Martha & The Muffins-Monotone
08 Dead Kennedys-Too Drunk To Fuck
09 Day After Day (Pretenders)
10 Les Sales Majestés-C'est Pas Ma Faute
11 Lily Allen-Alfie
12 Diane Tell-Si J'Etais Un Homme
13 The Specials-Gangsters
14 Wham!-The Edge Of Heaven
15 Indeep-Last Night A DJ Saved My Life
16 Charles Gounod-Faust - Vin Ou Bière
17 Neu!-Hallogallo
18 Bloc Party-Song For Clay (Disappear Here)
19 Frank Zappa-Charlie's Enormous Mouth
20 Talking Heads-With Our Love
21 Paul McCartney & Wings-Band On The Run
22 Madness-Embarrassment
23 Arnold Turboust & Zabou-Adelaïde
24 The Darkness-Dinner Lady Arms
25 The Small Faces-Lazy Sunday
26 The Mamas & The Papas-Words Of Love
27 Patti Smith-People Have The Power (chanson utilisée pour la campagne de Syriza)
28 Guns N' Roses-My Michelle
29 Dave Brubeck quartet-Take Five
Total des deux rapidités
Torsueurs 14 Matrice 11 Rapist 9 Bande à Part 9 No fear 7 Just Team 3
Total du total
Torsueurs 81,5 Matrice 70 No fear 62 Just Team 60 Bande à Part 57