08/06/2016
Bonne ambiance chaleureuse ce soir pour le dernier blind-test avant les vacances, public presque discipliné, les yupankis font la différence à l'oral, très bel écrit des 3 putos malgré une petite faiblesse sur la soul. bon retour des Torseurs et 1ère participation des titis habitués du subway.
Nous avons commencé en retard mais c'est parce qu'une partie du public n'était pas prête.
A un de ces jours.
Rapidité cinéma
01 4 mariages et un enterrement- Four Weddings And A Funeral-(Wet Wet Wet-Love Is All Around)
02 En face
03 Dexter
04 Michel Portal-Droit De Reponse
05 More (Pink Floyd-Green Is The Colour)
06 Chapeau melon et Bottes de cuir/The Avengers
07 Le Club Des Monstres
08 Saturnin
09 les temps modernes
10 Rocky Horror Picture Show (Susan Sarandon-Touch-A, Touch-A, Touch Me)
11 Le bon la brute et le truand (Hugo Montenegro)
12 Jackie Brown-(Bobby Womack-Across 110th Street)
13 Matrix Reloaded-(Rob Zombie-Reload)
14 La panthère rose/Le fils de la panthère rose (Bobby McFerrin-The Pink Panther Theme)
15 Wonder Woman (Charles Fox)
16 Buena Vista Social Club-Chan Chan
17 20th century fox
18 New York, New York- (Liza Minnelli-Theme From New York, New York)
19 The Omen/La malédiction (Jerry Goldsmith-The Altar)
20 Canal +
Theme 1 albums sans titre (éponyme)
00 Animal Nitrate (Suede)
01 Enter Sandman (Metallica)
02 Song 2 (Blur)
03 Mama (Genesis)
04 Abba-Mamma Mia
05 Steppenwolf-Born to Be Wild
06 Chris Isaak-Blue Hotel
07 Alabama Song (Whiskey bar) (Doors)
08 Running Free (Iron Maiden)
09 The Beatles-Blackbird
10 Le poinçonneur des lilas (Serge Gainsbourg)
11 Van Halen-You Really Got Me
12 Led Zeppelin-Dazed And Confused
Putes borgnes 24 moutonwar 23 tros putos 23 Torseurs 23 Yupankis 21 titi & gertrude 20 Gorges pimplochées 19
Theme 2 pays présents à l'Euro
00 Falco-Der Kommissar
01 Björk-Army Of Me/Islande
02 U2-Pride (In the Name of Love)/Irlande
03 La Bonne Du Curé (Annie Cordy)/Belgique
04 Paolo Conte-Via Con Me/Italie
05 Ace Of Base-All That She Wants/Suède
06 Kraftwerk-Radioactivity/Allemagne
07 Double-The Captain Of Her Heart/Suisse
08 Them-Gloria/Irlande du Nord
09 Alexandra Stan-Mr. Saxo beat/Roumanie
10 Laibach-God Is God/Slovénie
11 Messer Chups-Voodoo Man/Russie
12 We Are The Champions (Queen)/Angleterre
tros putos 24,5 titi & gertrude22,5 Torseurs 20,5 Putes borgnes 19,5 Yupankis 16,5 moutonwar 15,5 Gorges pimplochées 10
Thème 03 stax vs motown
00 Smokey Robinson & The Miracles - The Tears Of A Clown/Motown
01 Otis Redding-Try A Little Tenderness/Stax
02 the Supremes-You Keep Me Hangin' on/Motown
03 Edwin Starr-War/Motown
04 James Brown-I Got You (I Feel Good)/intrus chez Polydor
05 Wilson Pickett-In The Midnight Hour/Stax
06 Superstition (Stevie Wonder)/Motown
07 Eddie Floyd-Knock On Wood/Stax (repris par Amii Stewart)
08 I Heard It Through The Grapevine (Marvin Gaye)/Motown
09 The Temptations-Papa was a rollin' stone/Motown
10 Sam & Dave-Hold On, I'm Comin'/Stax
11 Booker T & The MG.s-Green Onions/Stax
12 Rare Earth-Get Ready/Motown
13 Four Tops- Reach out, I'll be there/Motown: repris par Rita Pavone
Yupankis 27 tros putos 21,5 Torseurs 17 Putes borgnes 16,5 titi & gertrude 15
Total écrit
tros putos 68 Yupankis 64,5 Torseurs 60,5 Putes borgnes 60 titi & gertrude 57,5 mouton noir 38,5 Gorges pimplochées 29
Rapidité
01 Creedence Clearwater Revival-Ramble Tamble
02 The Chemical Brothers-Block Rockin' Beats
03 Maserati-Monoliths
04 Diane Tell-Si J'Etais Un Homme
05 Justice-Phantom Part. I
06 Benny Goodman-Stompin' at the Savoy
07 Muhammad Ali (as Cassius Clay)-Stand By Me
08 The Rolling Stones-Monkey Man
09 Supertramp-If Everyone Was Listening
10 Slayer-Divine Intervention
11 Maria McKee-Life Is Sweet
12 The Stranglers-I Feel Like A Wog
13 David Bowie-Golden Years
14 Wham!-The Edge Of Heaven
15 Klaxons-As Above, So Below
16 Foo Fighters-Miracle
17 The Clash-I'm Not Down
18 John Coltrane-My Favorite Things
19 Steely Dan-Do It Again
20 Red Hot Chili Peppers-Baby Appeal
21 Megadeth-Reckoning Day
22 Garbage-As Heaven Is Wide
23 AC/DC-Let's Get It Up
24 Jimi Hendrix & Curtis Knight-Love, Love
25 Motörhead & Girlschool-Emergency
26 Yves Simon-J'ai Révé New York
27 Eels-My Beloved Monster
28 Magma-Thaud Zaia
29 The Whispers-And The Beat Goes On
30 Cat Stevens-Sad Lisa
31 Garland Jeffreys-Matador
Yupankis 15 Torseur 11 Putes borgnes 9 3 putos 4 Gorges pimplochées 4 Titi 3
Total du total Yupankis79,5 tros putos 72 Torseurs 71,5 Putes borgnes 69 titi & gertrude 60,5 mouton noir 38,5 Gorges pimplochées 33
26/05/2016
06/05/2016
Le prochain blind-test musical aura lieu le mardi 17 mai au bar à l'Ouest (pour changer).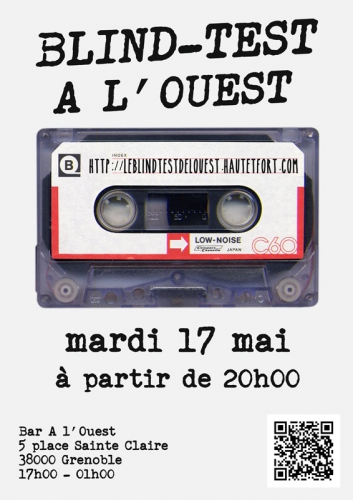 A bientôt
07/04/2016
12/03/2016
Keith Emerson a décidé de quitter ce monde. Il semblerait qu'il était en train de perdre l'usage de sa main droite (dur quand on a été le meilleur pianiste au monde).
Adieu donc et merci pour tout.