20/03/2017
16/02/2017
Ambiance fraternelle ce soir à l'Ouest. Victoire très nette des 3 suisses. belle participation des bourses et des glaviots pour terminer le podium. Dest et les prénoms chelous dans un mouchoir. Les parisiens un peu aidés par les barmen ont fait de la figuration sans doute encore au match de la veille.
Rapidité cinéma
01 Le silence des agneaux (The Silence of the Lambs-Main Title)
02 Jackie Brown-Across 110th Street (Bobby Womack & Peace)
03 Fritz The Cat (Alice Stuart)
04 Le Fabuleux Destin d'Amélie Poulain-La Valse d'Amélie
05 Des Chiffres Et Des Lettres
06 trainspotting/Lunettes noires pour nuits blanches (Iggy Pop-Nightclubbing)
07 Hiroshima Mon Amour
08 Airplane/Y'a t'il un pilote dans l'avion (Main Title-contains Jaws Theme By John Williams)
09 The Mask (Jim Carrey-Cuban Pete (C&C Pop Radio Edit)
10 The Party (Vocal) (Henry Mancini)
11 Le dernier des Mohicans/The Last Of The Mohicans-Main Title (Trevor Jones)
12 Le grand blond avec une chaussure noire-Sirba
13 La fièvre du samedi soir/Saturday Night Fever- (Bee-gees-You Should Be Dancing)
14 Creepshow !Prologue - Welcome to Creepshow) (John Harrison)
15 Lolita (Nelson Riddle-Lolita Ya Ya)
16 Buena Vista Social Club-Chan Chan
17 Les Aventures De Rabbi Jacob-Le Grand Rabbi
18 4 marriages et un enterrement -Four Weddings And A Funeral-(Wet Wet Wet-Love Is All Around)
19 JT Antenne 2
20 La soupe aux choux -Oxo la Terre 2
21 A la poursuite du diamant vert (Romancing the Stone) -Main Title (Alan Silvestri)
Ecrit
Theme 1 chansons pacifistes
00 Roudoudou-Peace and Tranquility to Earth
01 Russians (Sting)
02 Boris Vian-Le déserteur
03 Boom! (System of a Down)
04 Metallica-One
05 Edwin Starr -War (What is it good for)
06 The Unknown Soldier (Doors)
07 Clash-The Call Up
08 John Lennon-Give Peace A Chance
09 Love Missile F1-11 (Sigue Sigue Spoutnik)
10 Army Dreamers (Kate Bush)
12 The Police-Bombs Away
trois suisses 23 Glaviots 19,5 Bourses 19 Prénoms 12 Dest 9
Thème 2 John Mayall & co (le 18 mars à La belle Electrique)
00 John Mayall & The Bluesbreakers-Heartache
01 Eric Clapton-Cocaine
02 Fleetwood mac-Black Magic Woman
03 Led Zeppelin-Whole Lotta Love
04 Frank Zappa-Stink Foot (pour Aynsley Dunbar)
05 Cream-White Room
06 The Rolling Stones-Midnight Rambler (pour Mick Taylor)
07 The Yardbirds-For Your Love
08 ZZ Top-Francine
09 Creedence clearwater revival-Hey tonight
10 AC/DC-The Jack
trois suisses 14 glaviots 10 Dest 9 Bourses 9 Prénoms 7
Thème 3 Morceaux qui se répondent
00 David bowie-Ashes To Ashes
01 Lynyrd Skynyrd-Sweet Home Alabama (répond au 14)
02 Chuck Berry- Johnny B. Goode
03 John Lennon-How Do You Sleep?
04 La Lambada On N'aime Pas ça (Garçons Bouchers) (répond au 9)
05 Renaud-Où c'est qu ' j'ai mis mon flingue (répond au 16)
06 Lale Andersen-Lili Marlene
07 The Kids Are Alright (Who)
08 Antoine - Les élucubrations
09 Men At Work-Be Good Johnny (répond au 2)
10 Kaoma- Lambada
11 Johnny Hallyday-Cheveux longs et idées courtes (répond au 8)
12 Seemann (Rammstein) (répond au 6)
13 Let Me Roll It (Paul McCartney & Wings) (répond au 3)
14 Neil Young-Alabama
15 The Kids Aren't Alright (Offspring) (répond au 7)
16 Jean Ferrat-La femme est l'avenir de l'homme
trois suisses 31,5 Bourses 31 glaviots 24 Dest 17 Prénoms 17
Total des écrits trois suisses 68,5 Bourses sans cache nez 59,5 glaviots 53,5 Prénoms chelous 36 Dest 35
Rapidité
00 Al Jarreau - Blue Rondo a la Turk
01 Pat Benatar-Sex As A Weapon
02 King Crimson- Lament
03 Motörhead-I Don't Believe a Word
04 Haëndel - Organ Concerto #7 In B Flat, Op. 7_1, HWV 306 - Allegro
05 Kas Product -Never come back
06 Rondò Veneziano-La Serenissima
07 Moon Martin-Bad Case Of Lovin' You
08 Boby Lapointe-T'as Pas, T'as Pas Tout Dit
09 Tool-Schism
10 The Darkness-Dinner Lady Arms
11 Keny Arkana-Nettoyage Au Karcher
12 Abba-Super Trouper
13 The Rolling Stones-Cocksucker Blues
14 Pink Floyd-Astronomy Domine
15 Nirvana-Lithium
16 Les Frères Jacques-Pénélope
17 Primus-The Thing That Should Not Be
18 Concrete Blonde-Bloodletting (The Vampire Song)
19 Talk Talk-Life's What You Make It
20 Klaxons-Atlantis to Interzone
21 Cock Robin-The Promise You Made
22 Frank Black - I Heard Ramona Sing
23 Patrick Juvet-Où sont les femmes _
24 Jimi Hendrix-Purple Haze
25 The Cure-The Walk
26 T.Rex-Get It On
27 Olivia Ruiz-La Femme Chocolat
28 Rien à Dire (Marie & les Garçons)
29 Supertramp-Casual Conversations
30 The Algorithm-Bouncing Dot
31 Milan, Madrid, Chicago, Paris (Jay-Jay Johanson)
32 Joe Satriani-Ice 9
34 Jean-Pierre Mader-Disparue
total des 2 rapidité trois suisses 19 glaviots 11 Bourses 7 dest 6 prénoms 4
Total du total trois suisses 87,5 Bourses sans cache nez 66,5 glaviots 64,5 Des 41 Prénoms chelous 40
Les trois susses ont choisi de réécouterTalk Talk - Life's What You Make It
A bientôt.
03/02/2017
Le prochain blind-test aura lieu le 15 février à partir de 20h30: toujours au même endroit, le bar à l'Ouest.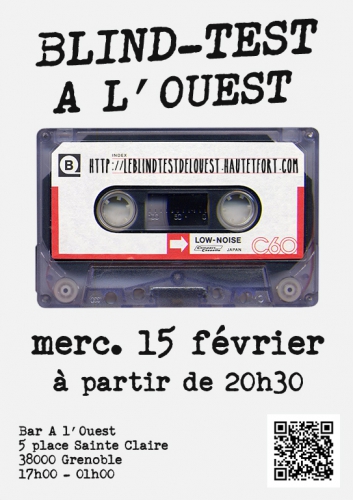 Venez nombreux.
20/01/2017
Ambiance chaleureuse à L'ouest, un peu trop chaude parfois (ça s'entendait). Victoire des Barmaid (merci Guillain) mais la bouteille revient aux hôtes à savoir les filles des Bourses sans cache nez. Ensuite viennent les Olives juste devant Yvette: à noter la participation d'équipes qui nous ont rejoint pour la rapidité.
A bientôt.
Rapidité cinéma
01 John Williams-Star Wars Main Theme
02 Debbie Reynolds-Singin' In The Rain (In A-Flat)
03 Des hommes et des dieux
04 Le Quai DesBrumes
05 Juan Montego-On the desert road (La Séquence Du Spectateur)
06 Phantom Of The Paradise-Somebody Super Like you (Beef Construction Song)
07 Les Demoiselles de Rochefort -La chanson d'un jour d'ete
08 Muppets Show - The Muppet Show Theme
09 Yellow Submarine-(Hey Bulldog-Beatles)
10 Broadchurch (end)
11 Once upon a Time in America (Il était une fois l'Amérique)
12 Goblin-Les frissons de l'angoisse=Profondo Rosso
13 Donnie Darko (Mad World-Michael Andrews & Gary Jules)
14 Mary Poppins sings Death Metal
15 La Traque
16 Les Guerriers de la nuit
17 Mike Post-Magnum
18 profilage
19 Vonda Shepard-Searchin' My Soul (BOF Ally McBeal)
20 Le convoi de la peur/Sorcerer (Tangerine Dream-Vengeance)
21 Kenny Loggins-Footloose
Thème 1 Anniversaire Olivier (je demandais aussi les années de sortie)
00 Who Are You (C2c Feat Olivier Daysoul)
01 Guns N' Roses-Welcome To The Jungle 1987
02 Adele-Skyfall 2012
03 Beat It (Michael Jackson) 1982
04 Noir Desir-Tostaky (Le Continent) 1992
05 Feist-1 2 3 4 2007
06 Deep Purple-Smoke On The Water 1972
07 Coldplay-Clocks 2002
08 Sex Pistols-God Save The Queen 1977
09 Céline Dion-My Heart Will Go On 1997
10 Dropkick Murphys-Blood 2017
Bourses sans cache nez 25 Barmaid 25 Yvette la Tourette 24 Olives 20 Chiflettes 18,5 Skr 14
Thème 2 aveugle/malvoyant
00 Blind Lemon Jefferson-Matchbox Blues
01 Stevie Wonder-Isn't She Lovely
02 Canned Heat-On the Road Again (pour Alan Wilson)
03 Black Eyed Peas-Pump It (pour apl.de.ap)
04 Gilbert Montagne-On va s'aimer
05 Ray Charles-I Got A Woman
06 Johnny Winter-Blinded By Love
07 Amadou & Mariam-beaux dimanches
08 Jose Feliciano - Light My Fire
09 Dave Brubeck Quartet-Take Five (pour Joe morello)
10 Jeff Healey Band-See The Light
Barmaid 19 Yvette la Tourette 17,5 Bourses sans cache nez 17,5 Olives 14,5 Chiflettes 11 Skr 8
03 conneries
00 Paris Hilton-Stars Are Blind
01 Stéphanie (de Monaco)-Ouragan
02 La Farandole de Jeanne (Jeanne Calment)
03 Desireless-Voyage Voyage
04 Betty Miranda-Take Me To The Top
05 Pino Dangio-Ma Quale idea
06 Claudia Phillips & the kicks-Quel souci la boetie
07 Michèle Torr-L'Amour est Bleu
08 Errol Dunkley-OK Fred
09 David & Jonathan-Est-Ce Que Tu Viens Pour Les Vacances¿
10 Mr. T - Treat Your Mother Right
Bourses sans cache nez 9 Olives 9 Chiflettes 7 Yvette la Tourette 7 Barmaid 6 Skr 3
Total écrit Bourses sans cache nez 53 Barmaid 50 Yvette la Tourette 49 Olives 43,5 Chiflettes 36,5 Skr 25
Rapidité
01 Jeff Buckley-Mojo Pin
02 Helicopter (Bloc Party)
03 Pink Floyd-Summer '68
04 Abba-On And On And On
05 La Femme-Sur La Planche 2013
06 Iron Maiden-Flash of the Blade
07 Zero (Smashing Pumpkins)
08 Carl Orff- In Taberna Quando Sumus
09 Led Zeppelin-How Many More Times
10 Bruce Springsteen-Darkness on the Edge of Town
11 The Police-The Other Way Of Stopping
12 The Rolling Stones-Mother's Little Helper
13 Sheila-Oui c'est pour toi
14 Wham!-The Edge Of Heaven
15 L7-Everglade
16 Kraftwerk-Abzug
17 Lili Drop-Monde Animal
18 XX-Crystalised
19 D.A.f (Deutsch-Amerikanische Freundschaft)-Sato-Sato
20 R.E.M.-Crush With Eyeliner
21 The Damned-Neat Neat Neat
22 Status Quo-Don't Drive My Car
23 Billy Idol-Eyes Without A Face
24 Scorpions-Coast To Coast
25 John Coltrane-Giant Steps
26 Ange-Un Trou Dans La Case (1'54")
27 The Runaways-Heartbeat
28 Moby-Run On
29 I'm A Rebel (Accept)
30 Gotye feat. Kimbra-Somebody That I Used to Know
total des rapidités Barmaid 12 Olives 11 Bourses sans cache nez 8,5 Chiflettes 6 Clara 3 Skr 2 Yvette la Tourette 1 A l'Ouest 1
Total du total
Barmaid 62 Bourses sans cache nez 61,5 Olives 54,5 Yvette la Tourette 49,5 Chiflettes 42,5 Skr 26
Les Bourses sans cache nez ont chois de réécouter Noir Désir - Tostaky
09/01/2017