31/01/2015
Blind test du 28 janvier à l'Ouest after.
Bonne ambiance globale lors de ce blind-est (un peu trop sur la rapidité que j'ai écourtée)
Deux équipes au dessus du lot les Torseurs de Rotule et la Matrice (ah si les Rapist avaient été là au début!)
01 Hélène et les garçons
02 quand Hary rencontre Sally (Harry Connick, Jr.-Love Is Here To Stay)
03 Il était une fois dans l'Ouest-Once Upon A Time In The West (Farewell to Cheyenne)
04 Les Shadocks
05 Le Corniaud -Generique
06 Arabesque (murder she wrote)
07 Who Framed Roger Rabbit-Qui veut la peau de Roger Rabbit (Why Don't You Do Right)
08 La famille Adams
09 Philadelphia (Bruce Springsteen-Streets Of Philadelphia)
10 Certains l'aiment chaud-Play It Again, Charlie (Adolph Deutsch)
11 Michel Polnareff-La Folie Des Grandeurs
12 Dancer in the Dark (Björk-Cvalda)
13 Nino Rota-La Dolce Vita
14 Help (Beatles-You've Got To Hide Your Love Away)
15 Daria (Splendora-You're Standing On My Neck)
16 Dumb & Dumber (The Cowsills-The Rain, The Park And Other Things)
17 Culture pub
18 Malcolm X (Lionel Hampton-Flying Home)
19 Les Mystérieuses Cités D'or
20 Demain ne meurt jamais-Die Another Day (Madonna)
21 L'équipe du soir (Sugarhill Gang-Rapper's Delight)
22 Les Oiseaux
23 Charlie's Angels 2000 / Drôles de dames
24 La kermesse de l'ouest (Lee Marvin -Wand'rin Star)
25 Tonnere mécanique (Tangerine Dream- Le Parc (L.A. - Streethawk)
26 Les Matinales/Hanouna Plage (Le Baron-Le Sifflet Du Baron)
27 Ma sorcière bien aimée
28 Matrix-Chaîne-XXL (Rammstein-Du Hast)
29 Tommy (Who feat Tina Turner-Acid Queen)
30 West Side Story-Jet Song
série 1 Chanson = titre del'album
00 Slayer-South Of Heaven
01 Renaud-Marche à l'ombre
02 Blood Sugar Sex Magik (Red Hot Chili Peppers)
03 Boys Don't Cry (Cure)
04 The Rolling Stones-It's Only Rock 'N Roll/Batteur Charlie Watts
05 Pink Floyd-Wish You Were Here
06 The Doors-L.A. Woman
07 Crache Ton Venin (Telephone)
08 Metallica-Master Of Puppets
09 Highway To Hell (AC/DC)
10 Abba-Super Trouper
11 The Clash-London Calling
12 Exodus (Bob Marley & The Wailers)
Torseurs 27 No fear 24 La Matrice 21 Just Team 21 Bande à part 19
Série 2 Chansons hommages à d'autres musiciens (ce n'est pas toujours un hommage!)
00 Lisztomania (Phoenix)
01 Duck Sauce-Barbra Streisand
02 Les Wampas-Manu Chao
03 Laurent Voulzy-Les nuits sans Kim Wilde (il semble que la femme est plus célébrée que l'artiste)
04 Motörhead -Ramones
05 Roll Over Beethoven (Chuck Berry)
06 Weezer-Buddy Holly
07 Lou Reed-Lady Day
08 Frank Zappa-Variations on the Carlos Santana secret chord progression
09 Mr Schubert I Love You (Mike Brant)
10 Calling Elvis (Dire straits)
11 The Servant-Hey Lou Reed
Torseurs 15 Just Team 13 No fear 11 La Matrice 9,5 Bande à part 9
série 3 Morceaux repris par Joe Cocker
00 The Box Tops-The Letter
01 Human Touch (Bruce Springsteen)
02 The Beatles-With a Little Help from My Friends
03 Everybody Hurts (R.e.m)
04 Julie London-Cry me a river
05 The Lovin' Spoonful-Summer In The City
06 Many Rivers To Cross (Jimmy Cliff)
07 Robert Palmer-Every Kinda People
08 Procul Harum-Whiter Shade Of Pale/Adaptation de l'aria de Bach
09 Randy Newman-You Can Leave Your Hat On
Torseurs 17,5 La Matrice 14,5 Just Team 11 Bande à part 9 No fear 5
série 4 artistes très grimés (j'ai oublié Kiss comme me l'a souligné un ami)
00 Kimera-The Lost Opera
01 Björk-Army Of Me
02 Poison (Alice Cooper)
03 Libertine (Mylène Farmer)/a été repris par Ludwig von 88
04 Paparazzi (Lady Gaga)
05 Lordi-Hard Rock Hallelujah
06 The Crazy World of Arthur Brown-Fire
07 Genesis-The Cinema Show
08 Marilyn Manson-Antichrist Superstar
09 Nina Hagen-Cosma shiva
10 Screamin' Jay Hawkins-I Put A Spell On You
Pour certains cela ne correspond qu'à une période de leur carrière mais voici des photos l'illustrant.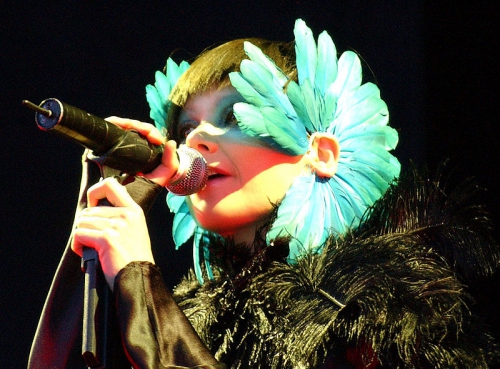 Björk en fleur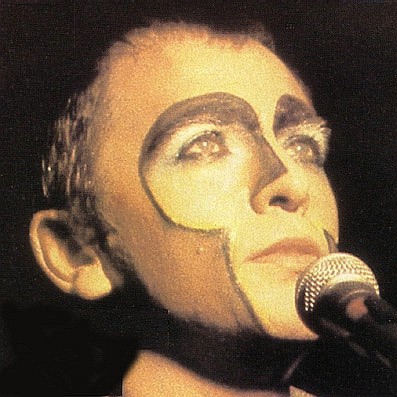 Peter Gabriel période Genesis
La Matrice 14 Just Team 12 Bande à part 12 No fear 9 Torseurs 8
Total écrit
Torseurs 67,5 La Matrice 59 Just Team 57 No fear 55 Bande à part 48
Les rapists nous ont rejoint pour la rapidité finale.
Rapidité
01 Beck-Devil's Haircut
02 Garbage-Queer
03 Michael Franks-Monkey See-Monkey Do
04 Aphrodite's Child-The Four Horsemen
05 Stray Cats-Storm The Embassy
06 Frida-I Know There's Something Going On
07 Martha & The Muffins-Monotone
08 Dead Kennedys-Too Drunk To Fuck
09 Day After Day (Pretenders)
10 Les Sales Majestés-C'est Pas Ma Faute
11 Lily Allen-Alfie
12 Diane Tell-Si J'Etais Un Homme
13 The Specials-Gangsters
14 Wham!-The Edge Of Heaven
15 Indeep-Last Night A DJ Saved My Life
16 Charles Gounod-Faust - Vin Ou Bière
17 Neu!-Hallogallo
18 Bloc Party-Song For Clay (Disappear Here)
19 Frank Zappa-Charlie's Enormous Mouth
20 Talking Heads-With Our Love
21 Paul McCartney & Wings-Band On The Run
22 Madness-Embarrassment
23 Arnold Turboust & Zabou-Adelaïde
24 The Darkness-Dinner Lady Arms
25 The Small Faces-Lazy Sunday
26 The Mamas & The Papas-Words Of Love
27 Patti Smith-People Have The Power (chanson utilisée pour la campagne de Syriza)
28 Guns N' Roses-My Michelle
29 Dave Brubeck quartet-Take Five
Total des deux rapidités
Torsueurs 14 Matrice 11 Rapist 9 Bande à Part 9 No fear 7 Just Team 3
Total du total
Torsueurs 81,5 Matrice 70 No fear 62 Just Team 60 Bande à Part 57