25/12/2019
On aurait bien aimé y être. Joyeux noël!
21/12/2019
20/12/2019
Ambiance chaleureuse malgré (ou grâce) à un problème de micro. Victoire des Illuminés essentiellement grâce à Xavier venu spécialement de Genève (2h à l'aller, 2h au retour). Gomez battus pour une fois et les bourses sans cache-nez ont été devancées par des Dest assez brillants à l'écrit.
A l'année prochaine le 8 janvier pour le blind-test spécial Maudit Festival
Rapidité cinéma
01 Il était une fois l'Amérique (Ennio Morricone) (R.I.P Danny Aiello)
02 Phantom Of The Paradise-Faust
03 West Side Story-Jet Song
04 Goblin- Tenebres
05 Astérix et Obélix Mission Cleopatra (Jamel Debbouze and Snoop Dogg)
06 vic le viking
07 Don McLean-Wonderful Baby (Total)
08 Les Tuche
09 Mulholland Drive-Jitterbug
10 L'équipe du soir (McFadden & Whitehead-Ain't No Stoppin' Us Now)
11 Will Smith-Men In Black
12 The Untouchables (Les Incorruptibles)
13 Bruno Lorenzoni- Les Jeux De Vingt Heures
14 jesus Christ Superstar-Judas' Death / Trial Before Pilate - Superstar
15 Robert Parker- Barefootin' (ikéa)
17 comment réussir quand on est Con Et Pleurnichard
18 Mission Impossible
19 Mongeville
20 Peau d'âne (Recipe for a Love Cake -Recette pour un cake d'amour)
21 Le milliardaire (My Heart Belongs To Daddy)
22 Hélène et les garçons
23 Opera sauvage / l'année de tous les dangers (Vangelis-L'enfant)
24 Mauvaises Herbes (Kheiron, Médine & Sofiane)
25 Hair (Aquarius-Let The Sunshine In)
26 Merci Bernard (fin)
27 Bobby Womack-Jackie Brown/Across 110th Street
28 Nutella (Andreas Johnson - Glorious)
29 Thierry La Fronde
30 sncf
Thème 1 Soumission amoureuse
00 Mon Homme (Mistinguett)
01 Ne Me Quitte Pas (Jacques Brel)
02 The Stooges-I Wanna Be Your Dog
03 Sex Pistols-Submission
04 Hit Me With Your Best Shot (Pat Benatar)
05 Je t'appartiens (Gilbert Bécaud)
06 Tammy Wynette-Stand by your man
07 Tant Pis Pour La Rime (Mireille)
08 I Belong to You (Lenny Kravitz)
09 Blue Öyster Cult-Dominance And Submission
10 Rina Ketty - J'attendrai /repris par Dalida
11 Under My Thumb (Rolling Stones)
Dest 19 illuminés 18 Gomez 16 bourses 14,5 barmen 11
Thème 2 grades
00 Commander Cody & His Lost Planet Airmen- Hot Rod Lincoln
01 Beatles-Sgt. Pepper's Lonely Hearts Club Band
02 Capitaine Abandonné (Gold)
03 Captain Sensible-Wot/ bassiste de the Damned
04 Pink Floyd-Corporal Clegg
05 General Elektriks-Raid The Radio
06 Capitaine Coeur De Miel (Ange)
07 Watch Out (Major Lazer)
08 Captain & Tennille-Love Will Keep Us Together
09 L'Adjudant Géreux (Billy ze Kick)
10 Le Rire Du Sergent (Michel Sardou)
11 XTC-Generals And Majors
12 Celui (Colonel Reyel)
13 Captain Jack (Captain Jack)
14 Heard It in a Love Song (Marshall Tucker Band)
illuminés 23 Dest 18 Gomez 18 bourses 14,5 barmen 5
Thème 3 longues intros
00 Janis Joplin-As Good As You've Been To This World
01 Martin Circus-Je M'éclate Au Sénégal
02 Metallica-Master Of Puppets
03 Bernard Lavilliers-Night Bird
04 Supertramp - Bloody Well Right
05 Alice Cooper-Halo Of Flies
06 Pink Floyd-Shine On You Crazy Diamond (Parts I-V)
07 The Offspring-Tehran ou Bagdad
08 Iron Maiden-To Tame A Land/ inspiré de Dune de Frank Herbert
09 Stranglers-Down In The Sewer: a) Falling b) Down In The Sewer c) Trying To Get Out Again d) Rat's Rally
10 Slayer- Seasons in the Abyss
11 David Bowie-Station To Station
12 Meat Loaf-Bat Out Of Hell
13 Led Zeppelin-How Many More Times
14 Judas Priest-Victim Of Changes
15 Joe Jackson-Crime Don't Pay
Gomez 18,5 illuminés 14,5 Dest 14 bourses 8 barmen 6
total écrit illuminés 55,5 Gomez 52,5 Dest 51 Bourses 43 barmen 22
Rapidité
01 Roxette - Listen To Your Heart (R.I.P Marie Fredriksson)
02 Toy Dolls-Glenda And The Test Tube Baby
03 Anna Karina- Sous Le Soleil Exactement
04 The Art Of Noise-Robinson Crusoe
05 Raymond Devos-Le Plaisir Des Sens
06 Renaud-Oscar
07 Manfred Mann's Earth Band-Fat Nelly
08 The Fall-Jawbone And The Air Rifle
09 Neil Young-The Needle And The Damage Done
10 Bonnie Tyler-Total Eclipse Of The Heart
11 Nirvana-On A Plain
12 The Kooks-Jackie Big Tits
13 Ray Charles-Georgia on My Mind
14 Les Charlots- Je Dis N'importe Quoi Je Fait Tout Ce Qu'on Me Dit
15 Rage Against the Machine-Bullet in the Head
16 Moon Martin-Bad Case Of Lovin' You
17 Claude Barzotti-Le Rital
18 Manu Dibango-Soul Makossa
19 Mahavishnu Orchestra-Be Happy
20 Michel Delpech-Quand j'étais chanteur
21 The Cure-The Holy Hour
22 The Pogues-Turkish Song Of The Damned
23 Julien Clerc-La Californie
24 ZZ Top - Mushmouth Shoutin'
25 Maserati-Monoliths
26 Lou And The Hollywood Bananas-Les Petites Rues De Singapour
27 Patti Smith-Till Victory
28 Vampire Weekend-A-Punk
29 Hervé Cristiani - Le palais du roi
30 Devin Townsend - Christeen
31 Flamin' Groovies - Brushfire
total rapidité
illuminés 16 Gomez 14 Dest 6 bourses 6 barmen 5 sans soucis 3
Total du total illuminés 71,5 Gomez 66,5 Dest 57 Bourses 49 Barmen 27
Les Illuminés ont choisi de réécouter
Captain Sensible-Wot
A l'année prochaine.
11/12/2019
Le prochain blind-test musical aura lieu le mercredi 18 décembre à partir de 20h.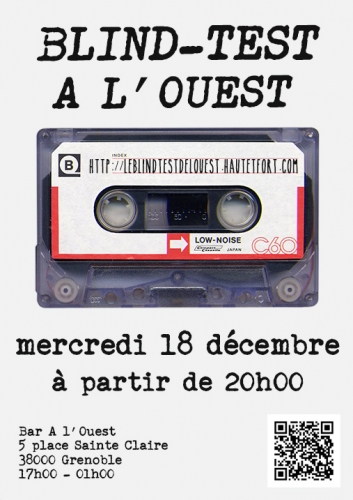 Vous y êtes les bienvenus.
05/12/2019
Bonne ambiance ce mercredi. peu d"équipes qui ont bravé le froid mais elles ont bien participé. Les Bourses sans cache nez font la différence sur les deux rapidités.
A bientôt au 18 décembre
Rapidité cinéma
01 Diamants sur canapé/Breakfast At Tiffany's-Moon River
02 John Williams-Theme From Superman
03 Inferno (Keith Emerson-Taxi ride (Rome))
04 Peau d'âne (Michel Legrand-Love…Love (Amour… Amour)
05 8 femmes (Mon amour mon ami-Virginie Ledoyen)
06 The Saint
07 Clérambard (Marie Laforêt - La Ballade de Clerambard)
8 chances de tout gagner
09 Higlander (Queen-Princes Of The Universe)
10 Fantasia chez les ploucs- (Ekseption-Peace Planet)
11 Francis Lai-Le petit poucet
12 Renault (Robert Palmer-Johnny & Mary)
13 Castle (Theme Ost) (Robert Duncan)
14 Nike football (Sergio Mendes -Mas Que Nada)
15 Merci Patron
16 Pour la peau d'un flic (Oscar Benton-Bensonhurst Blues)
17 Les hommes préferent les blondes (Marilyn Monroe-Diamond's Are A Girl's Best Friend)
18 Délivrance (Eric Weissberg & Steve Mandell-Dueling Banjos)
19 Stade 2
20 Shirley Bassey-Goldfinger
21 American Beauty-Any Other Name
22 tellement proches (Michael Zager Band - Let's All Chant)
23 L'équipe du soir (What You Know-Two Door Cinema Club)
24 La grande vadrouille-Pense à Nous Deux
25 Noam-Goldorak
26 Aujourd'hui madame (Grand'route)/Groland
27 Madame est servie
28 Les brigades du tigre
29 The Artist Ouverture (Ludovic Bource)
30 zapping
Thème 1 suisses
00 Olivia Pedroli-The Day
01 Marie Laforêt-Les vendanges de l'amour
02 Déjeuner En Paix (Stephan Eicher)
03 Double-The Captain Of Her Heart
04 Yello-The Race
05 Patrick Juvet-Où sont les femmes?
06 Kissing The Sun (Young Gods)
07 Headhunter (Krokus)
08 I Want you (She's so Heavy) (Coroner)/Reprise Beatles
09 Tina Turner-Private Dancer
10 Alain Delon-Comme Au Cinéma
Bourses 16 Lumières 16 Dest 12
Thème 2 a capella
00 Loituma-Ieva's Polka (Ievan polkka)
01 Suzanne Vega-Tom's Diner
02 Bobby McFerrin- Don't worry, be happy/Bo Cocktails
03 Le Lion Est Mort Ce Soir (Pow Wow)
04 The Real Group- Strawberry Fields Forever
05 Van Halen-Happy Trails
06 The Free Design-Love you
07 We Will Rock You (Queen)
08 Janis Joplin-Mercedes Benz
09 Manhattan Transfer-Foreign Affair
10 Yesterday (Boyz II Men)
11 Les 4 barbus-Chanson des compagnons
Lumières 14 Bourses 11 Dest 9
Thème 3 géographie du plus bas au plus haut
00 Tina Arena - Aller Plus Haut
01 Que Marianne Etait Jolie (Michel Delpech) (fosses des Mariannes -11000m)
02 Vaya Con Dios- Puerto Rico (-8600)
03 Glass Sandwich (Primus) (- 8 428 )
04 Sonic Youth & Lydia Lunch-Death Valley '69 (vallée de la mort -85m)
05 Jacques Brel-Amsterdam (-2 m)
06 Weezer-Island In The Sun
07 The Clash-London Calling (+ 14 m)
08 Mireille Mathieu-Paris En Colère/Bo paris Brûle-t'il? (34 m)
09 Siffler Sur La Colline (Joe Dassin)
10 Corcovado (Quiet Nights of Quiet Stars) (Stan Getz & Astrud Gilberto & João Gilberto) (710 m)
11 Jean Ferrat-La montagne
12 Luis Mariano- Mexico (2 250 m)
13 Djur Djura-Igwerdan AD Ddun Yidi (Liberté ! Les Enfants Iront Vers Toi) (2308 m)/kabyle
14 The Strokes-Machu Picchu (2430 m)
15 Montrose-Rock The Nation (4 634 m)
16 Pascal Danel - Les neiges du Kilimandjaro (5 895 m)
17 Everest (Ratatat) (8 848 m)
Dest 24 Bourses 22 Lumières 20
Total écrit
Lumières 50 Bourses 49 Dest 45
Rapidité
01 André Verchuren -Vive Poulidor
02 Les compagnons de la chanson-L'amour est bleu
03 Frank Zappa-Ya Hozna
04 King Crimson-Indiscipline
05 Gershon Kingsley-Pop Corn
06 Iron Maiden-Back In The Village
07 Eric Moréna - Oh Mon Bateau
08 Al Jarreau-Blue Rondo a la Turk
09 Pretenders-Day After Day
10 Slayer-Spill The Blood
11 Fleetwood Mac-I'm So Afraid
12 AC/DC-Rock 'n' Roll Singer
13 Led Zeppelin-Kashmir
14 The Police-Next to You
15 Pink Floyd- The Narrow Way
16 What Do I Get? (Buzzcocks live)
17 Fonky Family-Entre Deux Feux
18 Air-Kelly Watch The Stars
19 Pixies-Into The White
20 Rage Against the Machine-Freedom
21 Garbage-#1 Crush
22 Baby Shambles-Delivery
23 Toop Toop (Cassius)
24 Olivia Ruiz-La Femme Chocolat
25 Beatsteaks-Hand In Hand
26 Fatboy Slim-The Rockafeller Skank
27 Jeff Beck-Rock My Plimsoul
28 Big Jumps (Emiliana Torrini)
29 Housse De Racket-Roman
30 Léo Ferré-Préface
total des 2 rapidités
Bourses 23 Dest 8 Barmen 8 Lumières 7
Total du total
Bourses 72 Lumières 57 Dest 53