22/05/2015
Belle soirée à l'Ouest à l'abri du froid régnant à Grenoble.
Un blind-test qui se résuma essentiellement à un duel entre deux belles équipes: les torseurs faisant la différence à l'écrit en trouvant les 3 thèmes. L'OVS était seul une bonne partie du jeu et les barmen occupés à servir la clientèle
Rapidité cinéma
01 Mad Max (Main Title) (Brian May)
02 Reservoir Dogs (Little Green Bag (George Baker Selection)
03 John Williams-The Imperial March
04 Slumdog Millionaire (M.I.A.-Paper Planes)
05 The Party (Vocal) (Henry Mancini)
06 Les Reed-The Saint
07 Frankie Valli-Grease
08 Urgences (James Newton Howard)
09 Cabaret-Willkommen (Joel Grey & Company)
10 Dirty dancing (Mickey & Sylvia-Love Is Strange)
11 Requiem For A Dream (Clint Mansell-Summer Overture)
12 Les Demoiselles de Rochefort (Nous voyageons de ville en ville)
13 Cinéclub (Les Etoiles Du Cinema (Francis Lai)
14 Little Miss Sunshine (DeVotchKa-How It Ends)
15 Inspecteur Gadget (Apollo)
16 L'homme qui en savait trop (1956) (Doris Day- Que sera)
17 La Famille Adams (Vic Mizzy)
18 La Petite Maison Dans La Prairie (David Rose)
19 In The Mood For Love (Yumeji's Theme)
20 Barry Lyndon (Sarabande-Haëndel)
21 Amicalement vôtre-Theme from "The Persuaders!" (John Barry)
22 Histoire Sans Paroles (Chicken Reel - Joseph M. Daly)
23 Sacco & Vanzetti (La Ballata Di Sacco E Vanzetti)- (Ennio Morricone & Joan Baez)
24 Sept Sur Sept (Jean-Claude Pierric)
25 Chapeau Melon et bottes de cuir (musique de fin des épisodes avec Tara King)
26 La vie de Brian/Life of Brian (Always Look on the Bright Side of Life)
27 Absolutely Fabulous (Julie Driscoll- Wheels of fire)
28 Vous n'aurez pas l'Alsace et la Lorraine (Le chevalier blanc)
29 Major Crimes
30 Miss Fisher Enquete
Theme écrit (thèmes 1, 3 et 4 à trouver)
Un mot commun dans les titres qui se suivent
00 Crosby, Stills & Nash- Suite Judy Blue Eyes
01 Led Zeppelin-Black Dog
02 AC/DC-Back In Black
03 The Beatles-Back in the U.S.S.R.
04 Coldplay-Life In Technicolor
05 Iggy Pop-Lust For Life
06 Pink Floyd-Young Lust
07 Jamiroquai-Too Young to Die
08 Carole King-It's Too Late
09 Run DMC -It's Like That
10 Ace Of Base-All That She Wants
11 Metallica-...And Justice For All
Torseurs 22 Garces y More 16 OVS 14,5 Barmen 11
Thème 2 eurovision
00 M.A. Charpentier-Te Deum
01 ABBA-Waterloo
02 Conchita Wurst-Rise like a Phoenix
03 Vicky Leandros-L'Amour Est Bleu (composé par André Popp et n'a pas gagné l'eurovision)
04 Marie Myriam-L'oiseau et l'enfant
05 Lordi-Hard Rock Hallelujah
06 Jacqueline Boyer - Tom Pilibi (composé par André Popp)
07 Anne Marie David-Tu Te Reconnaitras
08 Izhar Cohen & The Alphabeta-A-Ba-Ni-Bi
09 Katrina & the waves-Love shine a light
10 Ell ft Nikki-Running Scared
Torseurs 10 Garces y More 8,5 OVS 4,5 Barmen 3,5
Thème 3 Trios
00 Emerson, Lake & Palmer-Jerusalem
01 Nirvana-Smells Like Teen Spirit
02 The Police-Don't Stand So Close To Me
03 Revolver-Balulalow
04 Hot Tuna-Invitation
05 the Supremes-Stop! in the Name of Love
06 Matt Bianco-Get Out Of Your Lazy Bed
07 Da Da Da (Trio)
08 Rock This Town (Stray Cats)
09 Carmel-Sally
10 The Jam-It's Too Bad
11 ZZ Top-Backdoor Love Affair
Torseurs 11 Garces y More 10 OVS 6,5 Barmen3
Thème 4 Morceaux avec de l'eau qui coule
00 Yes-Close To The Edge
01 Oasis-Champagne Supernova
02 Dorothée-La valise
03 Pink Floyd-Signs Of Life
04 Otis Redding-(Sittin' On) The Dock of the Bay
05 Chris Rea-On The Beach
06 Jean-Michel Jarre-Oxygène, Pt. VI
07 Singing In The Shower (Les Rita Mitsouko & The Sparks)
08 Heart-Dreamboat Annie
09 Stranglers-Down In The Sewer
10 Weather Report-Gibraltar
11 Ludwig Von 88-Les Blobs Attaquent La Plage
Garces y More 15 Torseurs 14 OVS 6,5 Barmen 4
Total écrit
Torseur 57 Garces y More 49,5 OVS 32 Barmen 21,5
Rapidité
01 Everyday I Have The Blues (B.B. King)
02 Renaud-Le Blues de la Porte d'Orléans
03 Kraftwerk-The Model
04 The Rolling Stones-Live With Me
05 Slayer-Divine Intervention
06 Earth, Wind & Fire-Magic Mind
07 Kim Wilde-Stay Awhile
08 Supertramp-Child Of Vision
09 Sonic Youth-Youth Against Facism
10 Iron Maiden-Drifter
11 Lords of the New Church-Live for today
12 Santana-Yours Is the Light
13 New Born (Muse)
14 Nina Hagen- Iki Maska
15 Carl Orff-Cour D'Amours_ Circa Mea Pectora
16 Bruce Springsteen-Thunder Road
17 Arctic Monkeys-Brainstorm
18 Niagara- J'ai vu
19 Jeff Buckley-Opened Once
20 Lil Wayne-Monster
21 Justice-Genesis
22 Julie Pietri-Eve, leve toi
23 Marianne Faithfull-Broken English
24 Eric Clapton-Let It Grow
25 Percy Sledge-When A Man Loves A Woman
26Two Weeks (Grizzly Bear)
27 Madonna-Music
28 Nasty (Prodigy)
29 Scissor Sisters-Skin This Cat
30 Blondie-Sunday Girl
31 Patti Smith-Rock n Roll Nigger
32 Eurythmics-It's Alright (Baby's Coming Back)
33 Kid Creole & The Coconuts-I'm a Wonderful Thing, Baby
34 Cansei de Ser Sexy -Alala
35 Frank Zappa-Cosmik Debris
36 Iron Maiden – The Number of the beast (chanté par votre serviteur)
Rapidité
Garces y More 25 Torseurs 21 Barmen 12 OVS 4
Total du total
Torseur de merde sacrée 78 Garces y More 74,5 OVS 36 Barmen 33,5
13/05/2015
Le prochain blind test aura lieu le mercredi 20 mai à l'Ouest.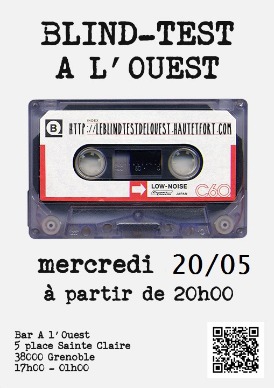 A bientôt !