30/01/2014
29/01/2014
Bonne ambiance pour ce blind-test (peut-être un peu trop bonne par moment)
Rapidité cinéma
1 Philadelphia (Bruce Springsteen "Streets Of Philadelphia")
2 Theme From Superman
03 Le Cercle de minuit (Ye Ye Ye - Geoffrey Oryema)
04 Rocky (Gonna Fly Now (Theme From Rocky) (De Etta Little & Nelson Pigford)
05 Le corniaud-(YouKoun-Koun)
06 Trainspotting ou Lunettes noires pour nuits blanches (Iggy Pop-Nightclubbing)
07 Charade (Main Title) (Henry Mancini)
08 Ulysse 31 (Appollo)
09 Mon nom est Personne (Ennio Morricone)
10 Les Compères
11 Jackie Brown (Across 110th Street)
12 Sugar Man
13 Agathe Cléry (Nino Ferrer-Je Veux Être Noir)
14 Titanic (My Heart Will Go On)
15 Requiem For A Dream- (Clint Mansell -Summer Overture)
16 West Side Story- (A Boy Like That - I Have A Love)
17 Grease (Frankie Valli)
18 Juno (Antsy Pants-Vampire)
19 Interview With The Vampire /Entretien avec un vampire (Guns N' Roses-Sympathy For The Devil)
20 Death And The Maiden/ La jeune fille et la mort-Allegro (Franz Schubert)
21 Cabaret (Willkommen (Joel Grey & Company)
22 Le Frisson Des Vampires (Jean Rollin) (Acanthus)
23 (The Wizard Of Oz-Le magicien d'oz)-Over The Rainbow
24 Microcosmos (Bruno Coulais-Theme)
25 Chantons sous la pluie-Singin' In The Rain (In A-Flat) (Debbie Reynolds)
26 Les Shadocks
27 Le roi lion (Jason Weaver, Rowan Atkinson & Laura Williams-I Just Can't Wait To Be King)
28 Profondo Rosso-Les frissons de l'angoisse-Deep red (Goblin)
29 Beautés empoisonnées/Heartbreakers (Sigourney Weaver-Back In Ussr)
30 Four Weddings And A Funeral-quatre mariages et un enterrement (Wet Wet Wet-Love Is All Around)
question bonus: Debbie Reynolds mère de Carrie Fisher alias la princesse Leïa de star Wars (trouvé par les grasses).
Vulvite aigüe 11 Les grasses 9 Tonseurs de Dude 4 Lily weed 4 Potaoes 3 D.E.S.T 1,5 jean Mich 1
Morceaux sans intro (commençant direct sur le chant)
00 The Rolling Stones-Dear Doctor
01 The Beatles-Yellow Submarine
02 Jefferson Airplane-Somebody To Love
03 Abba-Super Trouper
04 Queen-Fat Bottomed Girls
05 PJ Harvey-Down By The Water
06 The Beach Boys-Good Vibrations
07 Amy Winehouse-Rehab
08 Moby-Natural Blues
09 Pink Floyd-Young Lust
10 The Who-Christmas
11 The Police-Born in the 50's
12 The Jacksons-Can You Feel It
13 Elvis Presley-Heartbreak Hotel
14 Roxy Music-Do The Strand
15 Dès que le vent soufflera... (Renaud)
16 Talking Heads-Found A Job
17 Cher-The Shoop Shoop Song (It's in His Kiss)
18 Notorious (Duran Duran)
19 Ange-La Bataille Du Sucre
20 Edith Piaf et Les Compagnons De La Chanson-Les Trois Cloches
21 Bonnie Tyler-If You Were A Woman (And I Was A Man)
D.E.S.T 35 Lily weed & the Procks 28 Tonseurs de Dude 23,5 Vulvite aigüe 22,5 Les grasses 19,5 Jean-Mich 18,5
Titres en pointillés
00 John Mellencamp-R.o.c.k. in the u.s.a.
01 Ottawan-D.I.S.C.O.
02 R.E.M.-Losing My Religion
03 Justice-D.a.n.ce
04 Black Sabbath-N.I.B.
05 AC/DC-T.N.T
06 Grand Funk Railroad-T.N.U.C.
07 Françoise Hardy-V.I.P
08 Jean-Jacques Perrey-E.V.A.
09 Cream-N.S.U.
10 The Shadows-F.B.I.
D.E.S.T 15 Tonseurs de Dude 14 Lily weed 14 Les grasses 13 Vulvite aigüe 8 Jean-Mich 8
Hymnes détournés
00 Dieudonné-Marseillaise des Moutons
01 Sex Pistols-God Save The Queen
02 Beatles-All You Need Is Love
03 Serge Gainsbourg-Aux armes et caetera
04 Brigitte Bardot-Le Diable Est Anglais
05 Star Spangled Banner (Jimi Hendrix)
06 God Save The Queen (Queen)
07 L'Echo Raleur-La Carmagnole
08 Mel Brooks-It's Good to be the King (Part I)
09 Nico-Das Lied der Deutschen
10 Anthrax - Friggin In The Riggin
Lily weed 16 Jean-Mich 16 Les grasses 15 D.E.S.T 14 Tonseurs de Dude 14 Vulvite aigüe 11
Total écrit
D.E.S.T 64 Lily weed 58 Tonseurs de Dude 51,5 Les grasses 47,5 Jean-Mich 42,5 Vulvite aigüe 41,5
Rapidité
01 Oxygène, Pt. I (Jean-Michel Jarre)
02 Toy Dolls-Glenda And The Test Tube Baby
03 Skunk Anansie-I Can Dream
04 Caravan Palace-Jolie Coquine
05 Led Zeppelin-Heartbreaker
06 Depeche Mode-New Life
07 Scorpions-He's A Woman - She's A Man
08 Cradle Of Filth-To Eve The Art Of Witchcraft
09 The Stranglers-Duchess
10 Slayer-Spill The Blood
11 Soeur sourire -Dominique
12 Cyndi Lauper-I Drove All Night
13 The Who-The Kids Are Alright
14 Carpenters-(They Long To Be) Close To You
15 Svinkels-C-réal killer
16 Status Quo-Rockers Rollin'
17 Tony Bennett & Lady Gaga-The Lady Is A Tramp
18 Buzy-Dyslexique
19 Nobody Knows (Mahalia Jackson)
20 Diana Rigg-Everyday A Little Death
21 Samantha Fox-Touch Me (I Want Your Body)
22 Robert Wyatt-Last Straw
23 Mahavishnu Orchestra-The Noonward Race
24 François Deguelt-Le ciel, le soleil et la mer
25 Ronny Jordan-So What
26 Yuksek-Miracle
27 ZZ Top-Cheap Sunglasses
28 Cure (the)-Killing An Arab
29 Modern Talking-Brother Louie
30 Life Is Simple In The Moonlight (Strokes)
31 Intro (XX)
32 Beethoven-Symphony #5 Andante Con Moto
33 Frank Zappa & The Mothers Of Invention-Po-Jama People
34 Musical Youth-Pass the Dutchie
35 Red Hot Chili Peppers-Walkabout
36 Dave Brubeck-Take Five
37 Iron Maiden-Wratchild
38 France Gall-Die Schönste Musik, Die Es Gibt
39 Björk-Army Of Me
40 Carmel-Mercy
41 Mike Oldfield-To France (évoque la destinée de Mary Stuart)
42 Blondie-Here's Looking At You
Rapidité D.E.S.T 14 Lily weed 9 Vulvite aigüe 7 Tonseurs de Dude 5 Les grasses 4 Jan Mich 1
Total rapidité Vulvite aigüe 18 D.E.S.T 15,5 Lily weed 14 Les grasses 13 Tonseurs de Dude 9 jean Mich 2
Les manches furent serrées à l'oral mais c'est l'écrit qui fait la différence. Le retour des D.E.S.T n'est pas passé inaperçu. Mention à Philippe qui y a fait une entrée brillante.
Signalons aussi les Vulvite premiers à la rapidité et derniers à l'écrit, je n'avais jamais vu un tel cas.
Total du total
1) D.E.S.T 78
2) Lily weed & the Procks 72
3) Tonseurs de Dude 60,5
4) Les grasses 60,5
5) Vulvite aigüe 59,5
6) Jean Mich 44,5
12/01/2014
Le prochain blind-test musical aura lieu au bar à l'Ouest place sainte Claire, le mardi 28 janvier à partir de 20h.
En espérant vous y voir nombreux et enjoués.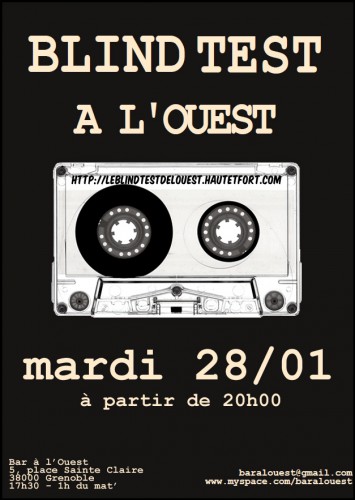 09/01/2014
Je ne l'avais pas annoncé ici mais un blind-test organisé par radio campus pour l'ouverture du magasin Sélection vins Eric Esnaut situé rue de Strasbourg à Grenoble, a eu lieu ce 8 janvier au bar à l'Ouest.
Outre un quiz sur le vin il y eut deux play-list musicales.
Je vous fournis ces play-list, il y manque quelques titres mais j'ai tous les artistes.
1) Artistes produisant du vin (pour les cuvées contacter radio campus)
1 Kiss- Rock'n'roll all nite
2 A Perfect Circle -
3 AC/DC- Back in Black
4 Slayer-Rainin' Blood
5 Primus-
6 Bob Dylan – Subterrannean homesick blues
7 Simply Red- Money's too tight (to mention)
8 The Police-Message in a bottle
9 Pink Floyd – Time
10 The Rolling Stones – Gimme Shelter
11 Motörhead- Ace Of Spades
2) Morceaux parlant d'alcool
1 Beastie Boys- Body movin'
2 Queen- Killer queen
3 Jeff Buckley - Lilac Wine
4 Oasis – Champagne supernova
5 Joni Mitchell – A Case of you
6 Gun' n' Roses – Night Train
7 Nancy Sinatra & Lee Hazlewood – Summer Wine
8 Iggy Pop-
9 Neil Diamond – Red red wine (repris par UB40)