28/02/2013
Le prochain blind-test musical aura lieu à l'Ouest le mardi 12 Mars à partir de 20h30.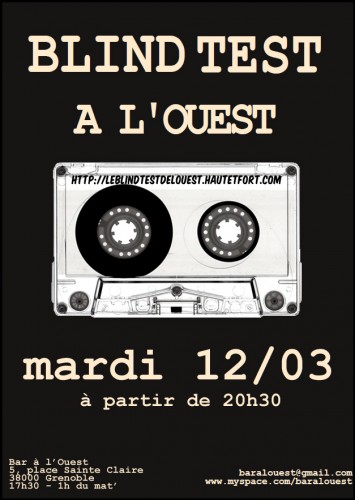 16/02/2013
Bonne ambiance ce mercredi à L'Ouest et bon blind-test
rapidité Cinéma
01 Four Weddings And A Funeral/4 mariages et un enterrement
02 8 femmes (Ludivine Sagnier-Papa t'es plus dans l'coup).
03 Muppets-Muppet Show Theme (Extended)
04 Mike Post-Magnum
05 Psycho(se)-The Murder
06 Chapi Chapo
07 Thierry La Fronde
08 The Untouchables (Les Incorruptibles)
09 Rocky (De Etta Little & Nelson Pigford-Gonna Fly Now)
10 West Side Story-I Feel Pretty
11 Frankie Valli-Grease
12 L'Aile Ou La Cuisse-Concert Gastronomique
13 Jamel Debbouze and Snoop Dogg-Mission Cleopatre
14 Sacco E Vanzetti-Here's To You
15 La Horse
16 Le Corniaud -Generique
17 Maya L'abeille
18 The Lord Of The Rings/Seigneur des anneaux (Enya-May It Be)
19 Tenebres (tenebrae)
20 Apollo 440-Charlie's Angels 2000/Drôles de dames
21 Lolita (Nelson Riddle-Charlotte Is Dead)
22 New York, New York
23 la riviere sans retour/river of no return (Marilyn Monroe-One Silver Dollar)
24 Wait Until Dark/Seule dans la nuit
25 Des Chiffres Et Des Lettres
26 Noam-Goldorak
27 Les Étoiles Du Cinéma/Cinéma de minuit
28 Le Grand Blond (Vladimir Cosma)
29 Pulp Fiction (Dusty Sprinfield-Son Of A Preacher Man)
30 Here comes the double deckers (L'autobus à impériale)
Série 1 morceaux sortis uniquement en 45 tours
00 Deep Purple-Black Night
01 The Rolling Stones-Jumpin' Jack Flash.
02 Earth Wind & Fire-September (dans le film Intouchable)
03 Day Tripper (Beatles)
04 Iron Maiden-Women in uniform
05 Arnold Layne (Pink Floyd)
06 Abba-Summer Night City
07 Hey Joe (Jimi Hendrix)
08 Twisting By The Pool (Dire straits)
09 The Clash-(This Is) Radio Clash
10 C'mon Everybody (Eddie Cochran)
11 Haunting the chapel (Slayer)
HD 17 Cahuetes Grillées 16 Ce que tu veux 8
série 2: Chaque morceau est une reprise de l'artiste précédent
01 Johnny B. Goode (Chuck Berry)
02 Rock And Roll Music (Beatles)
03 Rolling Stones-I Wanna Be Your Man
04 (I Can't Get No) Satisfaction (Otis Redding)
05 Aretha Franklin-Respect
06 Save Me (Nina Simone)
07 Don't Let Me Be Misunderstood (The Animals)
08 We Gotta Get Out Of This Place (Blue Oyster Cult)
09 Metallica-Astronomy
10 Motorhead - Enter Sandman (Fuck Metallica)
11 RAMONES-R.A.M.O.N.E.S.
12 Havana Affair (Ludwig Von 88)
Cahuetes Grillées 17 Ce que tu veux 16 HD 14
Série 3 Morceaux parlés (hors rap): pas que des chefs-d'oeuvre

00 Variations sur Marilou (Serge Gainsbourg)
01 Midnight Summer Dream (Stranglers)
02 One Night In Bangkok (Murray Head)
03 Elegance-Vacances J'Oublie Tout
04 Lou Reed-Coney Island Baby
05 Pet Shop Boys-West End Girls
06 Camillo Fergen-Sag Warum
07 Jean - Francois Maurice-28° à l'ombre
08 Loser (Beck)
09 Ange-Les noces
10 Sacha Distel-Le bateau blanc
11 Préface (Léo Ferré)
12 Kazero-Thai Na Na
Cahuetes Grillées 12 HD 11 Ce que tu veux 10
Total écrit: Cahuetes Grillées 45 HD 42 Ce que tu veux 34
Utopia, Nous , les barmaid et Hypnoses n'ont pas rendu leur copie (on ne serait pas moqué de vous, je vous jure)
Rapidité
01 Gene Vincent-Be-Bop-A-Lula
02 Didier Barbelivien-Elsa
03 King Crimson-Red
04 The Art Of Noise-Robinson Crusoe
05 Paradise (New Order)
06 Kim Wilde-Chequered Love
07 Sofia Loren-Zoo be zoo be zoo
08 AC/DC-Ride On
09 Chopin-Nocturne nº 2, in E flat major
10 Neil Young-Words (Between The Lines Of Age)
11 The Specials-Gangsters
12 Lily Allen-Nan You're A Window Shopper
13 Genesis-Anyway
14 France Gall-Jazz A Gogo
15 The Stooges-1969
16 Stone-Fille ou garçon (Sloop John B)
17 Red Hot Chili Peppers-The Brothers Cup
18 Gotye feat. Kimbra-Somebody That I Used to Know
19 Moby-Honey
20 olivia newton john-Physical
21 Rick James-Super Freak
22 Soft Machine-Why Are We Sleeping?
23 Sophie Marceau-Berezina
24 Brenda Lee-Dum Dum
25 Jeanne Mas-Toute Première Fois
26 David Bowie-Time
27 T.Rex-Buick Mackane
28 The Troggs-I Can't Control Myself
29 Frank Zappa-Republicans
30 Madness-The Prince
31 Supergrass-Mansize Rooster
32 Pixies-Alec Eiffel
33 Mano Negra- Pas Assez De Toi.
34 Garbage-As Heaven Is Wide
35 Maserati-Monoliths
36 Ten Years After-Love Like a Man
37 delpech mode-enjoy the loir et cher
38 Kool & The Gang-Funky Granny
39 French Affair-My Heart Goes Boom
40 Ryan Paris-dolce vita
41 Led Zeppelin-When the Levee breaks
42 The Who-Bargain
43 Herman Dune - I Wish That I Could See You Soon
44 John McLaughlin-Do You Hear The Voices That You Left Behind
45 Anthrax-Sects
46 Carmel-Every Little Bit
47 Nino Ferrer-Mirza
48 Pretenders- Brass In Pocket
49 Simple Minds-Alive And Kicking
50 Emerson, Lake & Palmer-Tank
rapidité Hd 30 Cahuetes Grillées 25 Barmaid 7 Ce que tu veux 5 Utopia 3 Nous 2 Hypnoses 1
Total
Hd 72
Cahuetes Grillées 70 C
Ce que tu veux 39
03/02/2013